---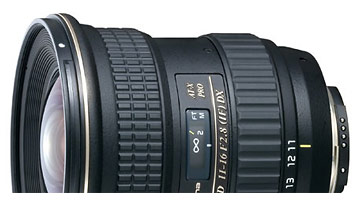 Wide-angle lenses are fun. They allow you to shoot in tight spaces like elevators and cars, they provide a dynamic perspective and they're also great for grand landscape photos. Standard zoom lenses (24-70mm for full-frame cameras and 18-55mm for APS-C sensor cameras) do have a wide end but it's not *that* wide. True wide-angle fans want much shorter focal lengths. The 16-35mm f/2.8 zoom is the standard super-wide for pros with full-frame cameras and you can now get comparable zooms made for APS-C cameras – 10-20mm, 11-16mm, 12-24mm. Sigma even makes an excellent 8-16mm zoom for crop-sensor digital SLRs. Our top pick for a super-wide zoom is the Tokina AT-X 116 Pro DX 11-16mm f/2.8 lens for crop-sensor digital SLRs. It's the only super-wide for APS-C DSLRs with a fast f/2.8 aperture, it's really wide and the community has given it an excellent 4.6 rating. For full-frame camera owners or people on a tighter budget, you'll find some other wide-angle lens options below the Tokina 11-16mm f/2.8 lens review and shopping links.
More Pro Telephoto Zoom Lenses:
Tamron SP AF10-24mm f/3.5-4.5 Di II LD Aspherical (IF) ($479)
Sigma 8-16mm f/4.5-5.6 DC HSM ($1100)
Canon EF 16-35mm f/2.8L II ($1699)
Canon EF-S 10-22mm f/3.5-4.5 USM ($799)
Nikon AF-S Nikkor 16-35mm f/4G ED VR ($1259)
Nikon AF-S DX Nikkor 10-24mm f/3.5-4.5G ED ($899)
Note: Because of all the different formats and camera brands there might not be a lens here to fit your camera. If there isn't, please check the lens reviews or post on our forums to get some recommendations.
next lens category – Pro Standard Zoom Lens >>