Last week Adobe announced new, special pricing for Photoshop and Lightroom. For a monthly fee of $10, you can enroll in the "Photoshop Photography Program" and get Photoshop CC and Lightroom 5. The offer begins next week (Sept 16, 2013) and lasts through the end of the year.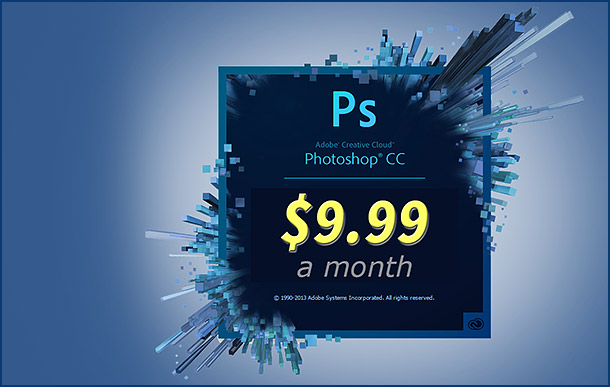 Adobe came up with the new Photoshop Photography Program pricing in response to the public outcry over their new Creative Cloud (CC) cloud-based software service. In the words of Winston Hendrickson, Adobe's Digital Imaging Vice President of Engineering:
"Since introducing Photoshop CC, we've listened to feedback from a spectrum of our customers, from advanced professionals to casual enthusiasts. One common request was a solution specifically tailored for photographers."
The situation isn't quite as simple as he makes it sound, of course. There was a huge backlash in the photography and design community earlier this year when Adobe announced they were making all of their Creative Suite software products part of the new Creative Cloud service. With Creative Cloud, photographers pay $50 a month to have access to all Creative Cloud products, including Photoshop and Lightroom. Reactions ranged from passive acceptance to unrestrained outrage. The three main issues people have with the Creative Cloud service are:
Not everyone wants or needs all the programs available in Creative Cloud. If you only need one or two programs, the $600 yearly rate doesn't look so good. Photographers who only want Photoshop and/or Lightroom are at the top of the list of people who would have a hard time justifying paying for the full service.
Many photographers upgrade Photoshop selectively, only buying every second or third version (that's what I've been doing). With Creative Cloud, that's not possible. You're either paying every month to have the service, or you can't use it.
Many people are concerned about "renting" instead of owning the software. They worry about what will happen if they decide to switch software or can't afford to pay the monthly fee. This is really the larger, long-term question. Is cloud-based software safe for photography and design professionals? Does it put us too much at the mercy of Adobe if we buy into the Creative Cloud service? What happens if we don't pay? Do we lose access to all of our PSD, layered TIFF and DRG RAW files?
Arguments and concerns about Creative Cloud aside, it is nice that Adobe has recognized and addressed the needs of photographers who don't require and can't justify paying $600 a year for the full Creative Cloud package. Creative Cloud is a good deal if you use three or more of the included applications and upgrade regularly. I decided to pull the trigger and enrolled on August 31st in order to get in on a $39.99 a month introductory rate – and so I could upgrade from Premiere Elements to Premiere Pro for video editing. Besides Premiere, I also use Photoshop, Lightroom, Dreamweaver, and Illustrator. So for me, it's worth the money. Although, given a choice, I would still prefer to buy every second or third version of the software I use. Adobe will definitely be making more money from me now. On the other hand, I'll be getting more from them, too. So I guess it works out.
The Adobe Photoshop Photography Program will be available beginning on September 16th, to coincide with the release of Lightroom 5.2. You have to be a registered owner of Photoshop CS3 or higher to qualify. The $9.99 monthly subscription rate includes Photoshop CC and Lightroom 5 along with all regular updates. You also get 20GB of cloud storage, Adobe's Behance portfolio service, and access to Creative Cloud Learn's training resources. The $10 a month isn't just an introductory price, either. Photographers that sign up before the end of the year will get that rate for life – or until they cancel the service.
What do you think of Adobe's new Creative Cloud service? Do you think the Photoshop Photography Program is a good compromise for photographers who don't need the whole Creative Cloud package? Have you enrolled in Creative Cloud or are you planning to? Please share your thoughts in the comments section, below. I'd really like to know how people are feeling about this now, now that people have had some time to think about it, and Adobe has made some compromises.
Adobe Photoshop Photography Program Announcement >>
Related Content:
All Adobe Photo Software User Reviews
Photography Software Forum
All Adobe Photography Software News
Adobe Web Site