If you're a fan of panoramic photography and the creative use of technology, then you're gonna dig the Ball Camera. The Ball Camera is a foam-padded ball with 36 2-megapixel camera phone sensors arranged to capture a 360-degree spherical image. It was created by German student Jonas Pfeil as a university thesis project in 2010. When you throw the ball in the air a built-in accelerometer calculates when it will reach the highest point and then takes a picture with the embedded cameras. After you download the image files you can view the 360-degree image with special spherical panoramic viewer software on your computer.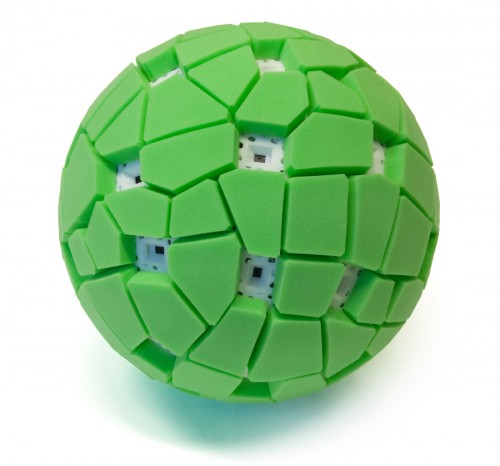 As you can see in the sample photos and demo video below, the image quality from the Ball Camera's 2-megapixel camera phone sensors is a little rough, as is the software blending. But the Ball Camera panoramas provide a unique perspective and throwing a ball up in the air is definitely a fun and novel way to take pictures. It's also a lot smarter than throwing your Canon EOS 5D Mark III up in the air for a photo.
Ball Panoramic Camera Demo Video:
Unfortunately, the Ball Camera is not for sale – yet. It was created in 2010 but they haven't found funding to produce it yet. They are looking for investors or someone to license the technology, though. At this point, I think the cameras and software need to be updated to produce better quality. But it's still a fun product and for the right price I think the Ball Camera could be a big seller.
For more information, please visit the Ball Camera Web page: