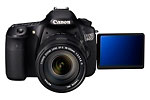 Canon has announced a new mid-range digital SLR, positioned between the entry-level T2i / 550D and the EOS 7D. As a step-up, enthusiast digital SLR, The new Canon EOS 60D follows mostly in the footsteps of the 20D, 30D and 50D, which it is replacing. It shares the same 18-megapixel resolution, 9-point auto focus, sensitivity range and basic video specs as the T2i; but the build and design are closer to the 50D and 7D – i.e., main dial control by the shutter release and the Quick Control Dial on the rear for aperture or exposure compensation control. However, there's one design change that makes the new 60D stand out – it's the first digital SLR from Canon with a "vari-angle" tilt-swivel LCD. This is an important feature for videographers, landscape photographers and studio photographers who work on a tripod – even if they don't know it yet. I've been using digital SLRs with tilt-swivel LCDs for a few years now and I've found them very useful in the field and even more valuable in the studio.


Key Canon EOS 60D Specs And Features:
18-megapixel CMOS sensor
DIGIC 4 processing
ISO 100-6400, extended to ISO 12,800
1080p video at 24, 25 and 30 frames per second; 60 frames per second at 720p
New 3-inch vari-angle LCD with 3:2 ratio and 1-million dot resolution
5.3 frames per second burst rate (68 high quality JPEG / 16 RAW)
Auto focus system – 9 points, all cross-type
Dedicated Live View start/stop button (movie mode accessed via Command Dial)
External microphone input
New video sound levels control and wind filter
Artificial horizon display
Exposure compensation + /- 5 stops
Integrated Speedlite Transmitter wireless flash control via pop-up flash
96% viewfinder
The tilt-swivel LCD isn't the only new feature on the EOS 60D. Canon also combined the joystick control that was on the back of the 50D with the Command Dial and they've added new consumer-friendly in-camera processing tools. The 60D can process RAW files and save a JPEG in the camera. It also has new creative filters and can do in-camera resizing.
The new EOS 60D looks like a solid upgrade for T1i, 40D, 50D and other older DSLR owners. The 18-megapixel sensor in the 7D and the T2i is pretty good and a real improvement over the 50D. I'm not sure the 60D uses the exact same sensor but I think we can expect it to produce comparable image quality (Canon EOS 7D studio sample photos). It should appeal to photographers who want or need a better build than the T2i offers – the body has an aluminum chassis and polycarbonate shell with weather sealing comparable to the EOS 50D. It also has a more robust buffer, hence the 5.3 frames-per-second vs. the T2i's 3.7 FPS burst rate. I think 5 FPS is the minimum, for serious action photography so the 60D will make a good lightweight, inexpensive body for beginning sports photographers or a backup for working pros. More serious action sports photographers should still look to the 8-FPS 19-point AF EOS 7D or the 10-FPS 45-point AF EOS-1D Mark IV. But photographers who want a relatively inexpensive, lightweight pro-level body should take a close look at the new 60D. Yes – you can get more if you spend more. But the EOS 60D and even the T2i will get the job done for most photographers, most of the time. If I didn't already own an EOS 7D, I'd be first in line to replace my old 50D with the new 60D. And I sure wish my 7D had that tilt-swivel LCD!
The Canon EOS 60D is scheduled to be in stores in late September. The suggested retail price for the body alone is $1099. The 60D will also be available in a kit with the Canon EF-S 18-135mm f/3.5-5.6 IS zoom lens for $1399. Canon is also introducing new 70-300 f/4-5.6L IS, 300mm f/2.8L II, 400mm f/2.8L II and 8-15mm f/4L zoom fisheye lenses along with 2 updated tele-extenders this fall. There will also be a new battery grip for the EOS 60D for $270.


Official Canon EOS 60D Press Release >>

Related Content:
Canon Digital SLR User Reviews
All Canon User Reviews
Canon Cameras Forum
All Canon News & Articles
Canon Cameras Web Site