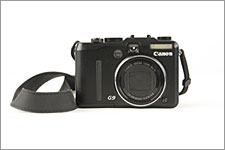 The Canon PowerShot G9 is a rangefinder-style premium compact digital camera. It has a 12-megapixel sensor, image stabilized 6x optical zoom lens, a huge 3-inch LCD, a brand new control layout, and lots of manual controls. It also marks the return of RAW shooting capability to Canon's G-Series compact digital cameras.
Want to buy a Canon PowerShot G9?
Compare prices and shop For Canon PowerShot G9 >>
Pros
Great image quality for a compact digital camera
RAW shooting ability
Nice camera design
6x image-stabilized optical zoom lens
Compact and powerful
Flash hot shoe
Built-in neutral density filter
Full range of exposure controls

Cons
Slow start-up and shot-to-shot time
Unpredictable flash performance
Focus lock feel is a little vague
35mm wide zoom isn't wide enough
I would prefer dedicated ISO button
Exposure inconsistencies between RAW and JPEG

Introduction
The Canon G-Series has been around quite a while now and the PowerShot G9 is without a doubt the nicest of the series. Canon definitely stepped it up with this one. The question a lot of serious photographers, including myself have, is how serious a camera is it? Is it a digital SLR replacement or just a really nice compact camera?
The ConsumerREVIEW.com company founder, Francis Cebedo, bought a G9 as soon as it was available. He tried to keep it from me, but when I visited the office in California and discovered his secret, I demanded that he hand it over for a bit so that I could "test" it.
I've had the camera for a little over a week and done a fair amount of shooting with it, including some grim Northern Nevada winter scenery, obligatory kitty-cat portraits, and a couple of days of awesome skiing at Alta, just outside Salt Lake City, Utah. I would have liked to use it for a couple more weeks, but Francis is demanding its return. And he's my boss…


Features
Canon PowerShot G9 Key Features:
12-megapixel sensor
6x optical zoom lens
Image stabilization
RAW shooting
ISO 80 to 1600
Advanced Face Detection
DIGIC III Processing
23 Shooting modes
3-inch LCD
Optical viewfinder
Optional accessory lenses
Video mode
The Canon PowerShot G9 offers a lot of the features and functionality of a digital SLR in a very compact package. The 12-megapixel CCD sensor captures huge, detailed 4000 x 3000 pixel files. That's large enough to print a 10×13-inch print at 300 dpi without any resizing. The G9s predecessor, the PowerShot G7, had lost the RAW capability that had been one of the hallmarks of the Canon G-Series cameras. The G9 brings RAW shooting back. You can shoot JPEG, RAW, and even RAW+JPEG with the G9.
Canon PowerShot G9 6x f/2.8-4.8 optical zoom lens & top controls

The 6x f/2.8-4.8 optical zoom lens has a range equivalent to a 35-210mm lens on a 35mm camera. The lens incorporates Canon's proven optical image stabilization system to compensate for camera shake and improve low light and telephoto photography. Photos can be taken with either the 3-inch LCD or the optical viewfinder. The LCD display options include a live histogram display and a composition grid. The optical viewfinder has a diopter correction for people who wear glasses. The G9 also allows you to add accessory lenses if you want to shoot wider or longer. There's even an underwater housing available.

For exposure control, Canon gave the G9 user 23 shooting modes: Auto, Program, shutter priority (Tv), aperture priority (Av), manual, two programmable Custom Settings, and 16 scene modes (SCN). The sensitivity range is ISO 80 to 1600 and there's also an Auto ISO setting which will select the best sensitivity for the lighting conditions. The scene modes include an ISO 3200 mode which shoots at a resolution of 1600 x 1200 pixels. There's a Stitch Assist mode for creating large panoramic images (see panoramic photo above). The G9 also has a movie mode that can capture video at 640 x 480 resolution and 30 frames-per-second. It can also capture 1024 x 768 resolution video at 15 frames-per-second.
G9 processing is powered by Canon's new DIGIC III processor, which controls auto focus, startup, shutter response, and image processing. Other features are continuous auto focus, manual focus, and Advanced Face Detection. Face detection systems have been around for about two years now and are really very impressive. Canon's Advanced Face Detection can identify, lock onto, and track up to nine different faces. You can even select just one of the identified faces to track.
There are two options for flash photography. The G9 has a built-in flash with a maximum reach of 13 feet, and a hot shoe on the top for external flashes if you need more reach or a faster recycle time. It can take full advantage of the Canon 580EX II Speedlight or control external flashes with the Speedlite Transmitter ST-E2.
Camera Menus
| | | |
| --- | --- | --- |
| Canon PowerShot G9 playback with all info on and histogram | | Canon PowerShot G9 capture display with all info and exposure compensation display |
| Canon PowerShot G9 main menu | | Canon PowerShot G9 Function menu |

Design
The first thing you notice about the Canon PowerShot G9 is the serious look of the camera and the substantial, professional feel of the textured, metal body. The G9 doesn't look or feel like your average toy compact digital camera. Contributing to the serious, pro feel of the camera are two, traditionally-styled dials on the top of the body. On the right side is the Mode Dial and on the left is a dedicated ISO dial. The dials feel substantial, have positive detents so they won't accidentally rotate, and the knurled edges make them very easy to grip and turn. In photos and on paper they may not seem like a big deal. But the dials give the G9 a real professional feel.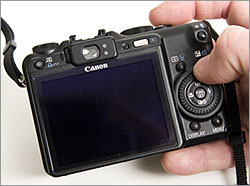 The rear of the camera is dominated by the huge 3-inch LCD. To the right is a thumb-controlled Control Dial similar to that found on Canon's high-end DSLRs like the EOS-1D cameras or the EOS 40D. There are dedicated buttons for exposure compensation, macro, flash, and capture rate/self-timer, display mode, menu, auto focus point selection, and up higher is a button for playback. The dedicated buttons inside the Control Dial also act as directional scroll buttons when the menu is displayed. The Control Dial controls exposure settings like aperture, shutter speed, or exposure compensation – depending on the exposure mode selected.
Camera Experience
I loved shooting with the G9. The image quality is excellent for a compact digital camera. And every time I took it out I felt like a stud. I'm generally a pretty low-key guy. But the G9 is a sexy camera. And I have to admit, I like being seen with it.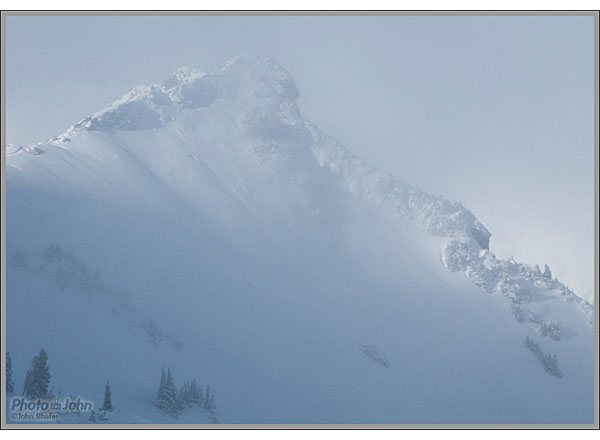 Most of my shooting was done on the ski slopes – demanding conditions if there ever were any. Lighting conditions are brutal, it's cold (between 25 and 34 Fahrenheit while I was shooting), and it's not always easy to set up a shot when you've got big, slippery boards strapped to your feet. For straight-up landscape and snapshot photos the G9 is awesome. But if you are in a hurry (e.g. trying to take out and turn on the camera to catch a subject in motion) it's a bit on the pokey side. Shutter-lag is reasonable for a compact – certainly much faster than cameras from a couple of years ago. But the start-up and shot-to-shot times are pretty poor. There are three continuous shooting modes; Continuous, Continuous Shooting AF, and Continuous Shooting LV (Live View). The fastest of these will still only capture at 1.5 frames-per-second. That's actually not bad considering that this is a 12-megapixel compact camera. But it's not going to be a great action camera. With the proper technique and some planning great cycling, running, hiking, and ski photos will be possible. But I wouldn't expect it to be very good for less predictable action like kids playing soccer or dogs chasing balls. I was able to shoot great ski slope landscapes and general ski photos. But when I tried to shoot tighter action I was less successful. The G9 wouldn't be my first choice if action photos were my main thing.
I had some trouble with the focus lock on the shutter release. All auto focus cameras have a slight detent on the shutter release where the focus locks. You press down on the button and when you feel a little pressure, you know the focus is locked. Press down the rest of the way and the camera takes the picture. I had trouble feeling the spot where the focus locks on the G9. It may have something to do with me shooting in the cold. But this isn't a problem I've encountered with other cameras – even when shooting in the snow. I would probably get used to it if I used the camera more. But it did make it hard for me to quickly and accurately compose some photos so it's something to take note of.
The 6x optical zoom lens offers a pretty nice range of 35-210mm (35mm equivalent). However, like many compact digital cameras, I wish the lens was wider. I'd happily trade a bit on the long end for a 28mm – or better yet – 24mm wide end. That said, I did enjoy the 210mm telephoto end of the lens. In the mountains it allowed me to pull in distant peaks and rocks pretty easily and made possible some really nice photos that a shorter lens wouldn't have been able to do (see East Greeley photo, above). And Canon's optical image stabilization means you can make those long shots with less chance of camera shake ruining your photos. I had very few photos with motion blur from camera shake.
When I shot the studio samples I noticed something weird. There are obvious differences between RAW and JPEG files. I shot two sets of studio tests without changing settings. One was shot RAW and one was shot in JPEG. At ISO 80 the RAW file was pure white on the white section of the Macbeth color chart. However, the JPEG file, at the exact same exposure settings, was just a hair under pure white. I was using aperture priority to shoot the tests and the only thing that can account for the difference is the G9′s in-camera processing. I would expect some differences in contrast, color, and tonal values between RAW and JPEG. But this appears to be an actual exposure difference. And that I don't like. It would make it hard for me to trust the G9 in RAW mode. On the other hand, I was pleased with the RAW photos I shot in the mountains and elsewhere. But exposure should be more consistent between RAW and JPEG shooting.
The G9 has a very wide sensitivity range. In the end, I really only tested it from ISO 80 to ISO 400. I did shoot studio sample photos across the whole range. But in the field, I didn't go any higher than ISO 400. And that's because the G9′s optical image stabilization made it possible for me to keep the ISO low, where the image quality is best. I love mechanical image stabilization. Not only does it help get sharp photos when you're at long telephoto focal lengths (long zoom), but it also helps you keep the ISO down and hence improves image quality. So I'm sorry I didn't shoot a bunch of photos at ISO 1600. But I didn't ever feel the need.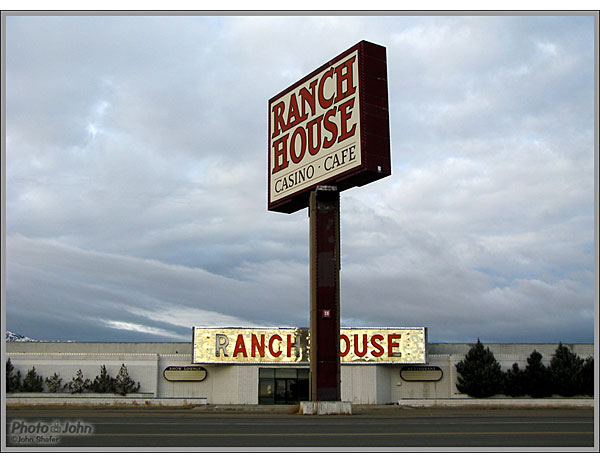 Image Quality
The Canon PowerShot G9 has outstanding image quality for a compact digital camera. At ISO 80 or 100 the 12-megapixel sensor is almost noise-free and the images are creamy smooth with wonderful highlight detail. In the past, Canon compacts have had a tendency to blow out the highlights. I think that has been much improved with the G9. Consider that I shot a ton of snowy alpine photos and the highlight details are excellent. However, when the tonal range gets really wide, you'll still have some highlight clipping. The ability to shoot in RAW mode gives you more flexibility as far as highlight and shadow details go, and make the G9 a very powerful little camera. I did have some issues with RAW vs. JPEG exposure, though. See the previous, Camera Experience section, for more on the RAW exposure difference.
I have been very curious about the new batch of 12-megapixel compact digital cameras. After all, that's a whole lot of pixels on a tiny little sensor. Shortly before I stole the G9 from Francis, I bought a Canon PowerShot SD950 IS for a personal pocket camera. It's also a 12-megapixel camera, although I'm not sure if they use the same sensor. I have been very pleased with the SD950′s image quality. However, the G9 has a tonal subtlety that the SD950 IS doesn't have. I opened the ISO 80 studio sample photos from both cameras in Photoshop and they're definitely different. It looks like the SD950 IS is applying more in-camera processing for increased contrast and sharpening. The files are just about the same size, so the JPEGs are being compressed the same. But the G9 sample photo has a distinctively softer, smoother look. JPEG images from the G9 may not look quite as snappy right out of the camera as other Canon PowerShot cameras, but they will definitely have more post-processing potential. And RAW will be even more flexible. That shows that Canon had serious photographers in mind when they designed this camera – photographers who are willing to sacrifice a little instant gratification in return for better ultimate image quality.
Being able to shoot RAW also offers you the option of saving photos as 16-bit TIFFs, which have the potential for smoother tonal blends and richer colors. I converted my Canon G9 RAW files to 16-bit TIFFs using Adobe Photoshop Lightroom and then did the final post-processing in Photoshop CS3. Unless otherwise noted, all of the images in this review have had some adjustment in Adobe Photoshop Lightroom and/or Photoshop CS3. These images show the image quality potential of the G9 and not what comes out of the camera. Of course, the studio sample photos are untouched.
The Canon G9 has wonderful, silky-smooth, DSLR-like image quality. JPEG files are excellent and the option to shoot RAW gives the sophisticated photographer the ability to squeeze even more out of the image files. I was able to shoot at ISO 80 or 100 almost all the time with the G9 because of the camera's excellent optical image stabilization. This is a side-benefit of image stabilization that isn't often mentioned. Being able shoot at slower shutter speeds means you can use lower ISO settings and keep the camera in the sensitivity sweet spot. For the G9, I think that's between ISO 80 and 400. ISO 800 and higher sensitivity settings are useable – but I'd only use them if I had to.
Click on thumbnails to view sample photos.


Conclusion
The Canon PowerShot G9 is a great compact digital camera. It's even close to being a digital SLR replacement as long as you aren't shooting action and you're ok with the zoom range. To make it perfect, I'd like to see a full APS-C size sensor, a lens that's at least 28mm on the wide end, and a faster shutter response. Is this too much to ask? Probably. But that's still what I want and I know there are other photographers out there who want the same thing. But the G9 really is very impressive. It has near- digital SLR image quality if you keep the sensitivity down at ISO 80 and 100, with a tonal subtlety that I am not used to seeing in a compact camera. It also has a more professional, substantial feel than most compact digital cameras. And as far as size goes, it is pretty compact. It's not a pocket camera. But it wouldn't be out of the question to carry it in a small case on a belt or backpack shoulder strap so that it's always available.
If you're trying to decide whether to buy the Canon PowerShot G9, I give you permission. In fact, I encourage you to buy it. If you're not sure, consider your true needs and wants and see if it really does what you want it to do. It's small (compared to a digital SLR), the image quality is very good, and the speed is ok for most purposes. I really enjoyed shooting landscape photos with it. That's what it's best at. But with some compromise, good technique, and adjusted expectations, you could shoot almost anything with it.
Who Should Buy It
Experienced amateur or pro photographers who want a compact camera to compliment or even stand in for a digital SLR should take a good look at the Canon PowerShot G9. Although it's not a DSLR replacement, it's a reasonable option when you don't want to pack the full SLR rig. It's also a good choice for backpackers and other outdoor enthusiasts who want a powerful, compact, lightweight digital camera. The G9 will also appeal to people who aren't ready for or can't afford a digital SLR but want a full-featured digital camera with minimal compromises.
- end -
Contents of the Canon PowerShot G9 Box

Canon PowerShot G9 Body
Lithium Battery Pack
Battery Charger
MMC Plus Card
Neck Strap
Digital Camera Solution CD-ROM
USB Interface Cable
AV Cable

Other Resources:
Shop For Canon PowerShot G9 >>
Canon PowerShot G9 User Reviews >>
Write a Canon PowerShot G9 Review >>
Canon PowerShot G9 Camera Specs >>
Canon PowerShot G9 Sample Gallery >>
Canon Web site >>
Canon PowerShot G9 Camera Manual >>
All Digital Camera Pro Reviews >>
Digital Camera Buyer's Guide >>
All Digital Camera Sample Images >>
Photo-John Profile >>