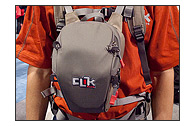 I spend a lot of time using and thinking about backpacks. Too much time, really. Well – too much time thinking about them, anyway. Camera backpacks seem to be designed with little thought about the reality of serious outdoor activity. Sure, many of them hold a lot of gear, protect it well, and have reasonably comfortable harness systems. But anyone who spends a lot of time shooting on the trail – especially in the backcountry – knows that water is the top priority. And so far I've seen very few dedicated camera backpacks that address the critical need for water when you're on the trail. Over the years I've gone through a lot of dedicated camera packs and big hydration packs. I always end up going back to big hydration backpacks that can carry a DSLR bag and a big zoom in a lens case. But I'm hoping that's about to change. Let me introduce new camera backpack maker, Clik Elite.

"We started from an outdoor paradigm…"
Bryce Thatcher
Clik Elite President and Lead Designer
Clik Elite is new to camera bags but they have a long history with technical backpack design. Clik Elite's founder Bryce Thatcher has over 25 years pack-making experience as well as a passion for serious outdoor adventure. He founded endurance sports pack company Ultimate Direction, in 1986. He's also an experienced adventure racer and holds the record for the Grand Teton "ascent-descent" – 18 miles and 7000 (each direction) vertical feet in 3.1 hours. For the past 5 years Thatcher has been the president of StatPacks, designing "fast packs for medics." In 2008 he decided to apply his cumulative experience to packs for serious backcountry photographers. Click Elite is the result.
I was introduced to Clik Elite just before the PMA tradeshow this year. When I looked at their Web site I got excited because, unlike all of the big camera bag companies, it looked like Clik Elite really understands what backcountry photographers need. So I made it a point to visit them on the first day of the show. They're nice guys and were excited to show me their packs. They were also genuinely interested in what I want from a camera backpack. I've gotten a lot of lip service from camera bag makers in the past so having a manufacturer be really interested in making what I need is refreshing. All the elements are there – hydration-compatibility, padded camera compartments, easy camera accessibility, even a ChestPack that can accommodate a DSLR and medium-sized zoom lens. I'll have to take one out on the trail to see how it performs in the real world. But it's obvious that they know outdoor gear and photography and want to make packs for the photographers who are really out there, pushing the limits on skis, bikes, etc.
Clik Elite's products include small and SLR-sized ChestPacks, the Medium Nature pack, the 2500 cubic inch Pro Elite backpack, the Large Hiker and the CompactSport backpack. The ChestPack's Convertible Harness can be used as a shoulder strap and also converts into a four-point chest harness, designed to fit comfortably under any backpack. The ChestPack can also be attached to ChestPorts on the shoulder straps of any Clik Elite backpack.
Personally, I'm most interested in the CompactSport and Medium Nature packs – especially in combination with the SLR ChestPack. Both packs have my top priority – hydration sleeves with drinking tube ports. Water is not optional. Having a hydration bladder and drinking tube so you don't have to stop and take out a bottle is critical when you're on the bike on skis. The Medium Nature backpack has a 450 cubic-inch padded camera compartment and height-adjustable harness. The CompactSport has a 350 cubic-inch padded camera compartment with a side-opening zipper for quick camera access. Both packs have weather-resistant zippers and ChestPorts for direct attachment of the ChestPack. The CompactSport looks to be about the right size for regular mountain bike rides with a digital or 35mm SLR. Clik Elite's Medium Nature pack looks good for backcountry rides and inbounds or "sidecountry" skiing with a full digital SLR kit. Most importantly, both packs allow photographers to comfortably carry easily accessible water and a digital SLR. For really big trips, the Large Hiker backpack has a 1000 cubic-inch H2O / gear compartment, an 800 cubic-inch padded camera section and strap points for attaching a tent, sleeping bag, tripod, etc.
I've been waiting for someone to make backpacks like this for a long time. Spring has arrived here in Salt Lake City and epic backcountry mountain bike rides lie ahead. I'm looking forward to finding out if Clik Elite's backpacks can improve my backcountry photography experience. Stay tuned for updates and reviews on Clik Elite camera packs.
Related Content:
2009 PMA Tradeshow Coverage
All Clik Elite User Reviews
Camera Backpack User reviews
Clik Elite Web Site