Friends are always asking me for advice about what kind of digital camera to buy. These are normal people, not photographers or techies, and they just want a reasonably priced camera that's easy to use and takes good pictures. This digital camera buyer's guide is for regular people like them.

These days, it's hard to go completely wrong when buying a digital camera. The quality is constantly improving, and prices just keep coming down. All the major manufacturers – like Kodak, Sony, Canon, Nikon, Olympus and Panasonic — make good cameras. It's entirely possible to buy a good point-and-shoot for less than $200. You can even spend as little as $100 and get a decent camera. And of course, the more you spend, the more features and performance you get.
However, it's important to understand that an expensive camera does not automatically result in great photographs. To paraphrase a popular slogan: Cameras don't take pictures, people do. A good photographer can take good photos with a cheap camera — and vice versa. What really matters is to get a camera that meets your needs, goals and skill level. (Learning good photo-editing skills helps, too, but that's another article.)
Let's break it down.
First, identify your needs. What do you plan to use your camera for?
Friends and family snapshots – portraits, parties, performances.
Travel and landscapes – scenery, sunsets.
Action and outdoors – sports, skiing, boating.
Artistic – macro (close-up), self-portraits, long exposure, black and white.
You may have other uses not listed here. Keep them all in mind when evaluating camera features.
What will you do with the end result?
Share with friends and family on the Web.
Make prints for scrapbooking.
Make fine art enlargements for hanging on a wall.
Sell to publications.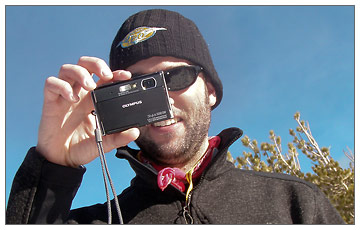 The last two will require more megapixels (and money) than the first two. Image quality comprises many things, among them color, contrast and "noise" – grainy flecks that show up at larger sizes – and some photographers are more discerning than others. My "normal" friends probably won't notice the moderate noise you can expect from a $200 camera. But more experienced photographers who are enlarging their images – say to 11×14 or higher – might notice this noise. For them, it's probably best to invest in a more expensive camera that has better image quality.
How much do you want to spend?

Don't forget to budget for a memory card – most cameras do not include them and the small amount of built-in memory some cameras have is only meant for emergency overflow. Many cameras do come with batteries, but if you travel or shoot a lot, it's nice to have a back-up. Accessories that are less vital but worth considering include a camera case, tripod, external flash, remote control and waterproof housing.
next page – Digital Camera Categories >>