Digital Picture Frame Buying Guide
Chris Perry, Which Frame? (http://www.whichframe.com)
Digital Picture Frames: Product Overview
Ever since the beginning of the digital age, photography has been constantly evolving. And with the development of the digital camera offering you new and better ways to take pictures came the innovation of the digital picture frame offering you new and better ways to store, display and share your pictures.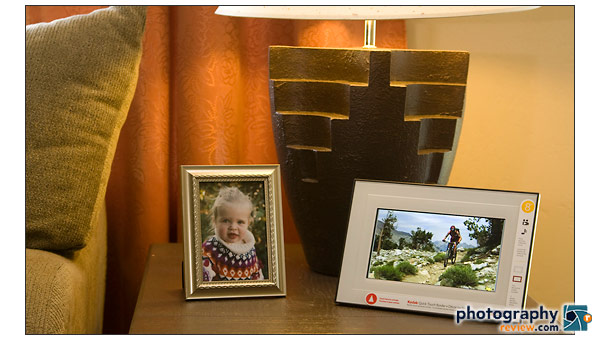 Before the digital picture frame, the number of pictures you could display was limited by the amount of surface or wall space you had. Most of your photos were either displayed in an album or stored in a box.
Now, the digital picture frame offers you the opportunity to store and display all of your photos. While it was considered a novelty and a high-end camera accessory when it first appeared in the early 2000s, the digital picture frame has become increasingly popular and common in the home as people begin to move away from solely gifting them and more toward purchasing them to replace their traditional static picture frames.
This digital picture frame buying guide will introduce you to digital picture frames and the various standard and optional features and capabilities available, help you determine how to choose a frame that will best meet your preferences and needs, and offer some recommendations.

Standard Features
It is typical for most consumers to base their purchasing decisions on price.
When it comes to digital picture frames, price can be an important factor; however, there are many more standard features to consider before choosing the right frame, such as:
Display Size: Digital picture frame screen sizes are measured diagonally in inches. The 7" to 9" digital picture frames are most popular, because they closely match standard film print sizes, such as 4" x 6" and 5" x 7". There are also 1" frames as small as key chains, and multiple 22" + options that almost rival big-screen televisions.
Aspect Ratio: The aspect ratio is the ratio of the horizontal dimension of your picture to the vertical dimension. A standard full-size screen typically offers a 4:3 ratio. Many frames come with a widescreen option that produces a ratio of 16:9.
Resolution: Obviously, the greater the number of pixels, the crisper the details in your pictures will be.
USB: The Universal Serial Bus (USB) is the almost-universal standard for connecting consumer electronics, computers and computer peripherals (i.e. printers etc.). USB allows you to plug your digital frame into your computer or camera and download files directly. A USB connection is an essential component on your digital frame.
Internal Memory: Many digital picture frames come with built-in internal memory. This is nice when you do not want to leave your memory card or USB flash drive in the frame for extended periods of time. It also allows you to store your picture, audio and video files directly in the frame. The internal memory in today's digital frames range from 0MB to 10GB.
External Memory: If you take a lot of pictures, your digital picture frame's internal memory may not be big enough to hold them all. This is where external memory, or memory cards and USB drives come into play. They can range up to 32GB, depending on model. Current digital picture frames support a variety of memory cards like Memory Stick, CompactFlash, MultiMediaCard, Secure Digital, xD Picture Card and even USB drives. It is a good idea to buy a frame that supports the memory card or device that your camera and/or computer already use. While many frames fortunately have a built-in memory card reader with multiple memory card slots to fit different models, please make sure that your new frame is memory-compatible.
Frame Design: Depending on the frames or mattes included, digital picture frames can range from consumer electronic designs to more traditional home décor styles. Sony's frames, for example, look very sleek and modern, where others go with more standard wood or painted frames. Kodak and a few other companies have recently launched frames that let you interchange the frames and faceplates so you can better customize your frame's design to match your home.
Optional Features
There are also a number of optional features available on many digital picture frames to consider when choosing the right frame, such as:
Audio: Many digital picture frames now have small built-in speakers that allow you to add your own music to your picture slideshows. Your audio and music files have an extension (filename.ext); be certain that your digital picture frame can play your audio file formats. The most common audio file formats have MP3, WMA and WAV extensions. Frames with audio capabilities are often referred to as multimedia frames.
Video: Many frames can play video files. Similar to audio, your video and motion files have an extension (filename.ext); be certain that your digital picture frame is compatible with these video file formats. AVI, ASF, DAT, MPEG 1, MPEG 2, MPEG 4 and WMV formats are very common. Frames with video capabilities are also often referred to as multimedia frames.
Bluetooth Connectivity: Bluetooth is software that allows different components to communicate with one another. Some digital picture frames offer Bluetooth connectivity, which means that you can take pictures on your camera-phone and send them directly to your digital frame. Beware of Bluetooth-connected frames that require a special connection device (almost never included), and make sure that your camera-phone is not only Bluetooth-compatible, but can also send pictures via Bluetooth. You will avoid hassle and frustration if you check these both prior to purchase.
Wireless Connectivity: Some digital frames come with built-in wireless, or WiFi, connectivity. While this feature can add to the cost of the frame, it is a very unique and exciting feature, it allows you to transfer files wirelessly from your PC to your frame. This offers you a new way to update your frame content. Some let you update your frame over this wireless connection with pictures and content your social networking websites, such as Flickr, Facebook, Photobucket and more. Beware of wireless frames that require a special connection device (almost never included) or that offer this connectivity through paid subscription programs, as that only adds to your costs.
PictBridge: This software, pre-installed in many digital pictures frames and photo printers, allows you to connect your frame directly to a printer and print digital photos without using a computer.
Extra Features: There are a number of additional options that may be included with digital picture frames such as built-in clocks or calendars, auto-shutoff, remote controls and more. Each option and its usefulness is a matter of personal preference.
next page – Digital Picture Frame Recommendations >>