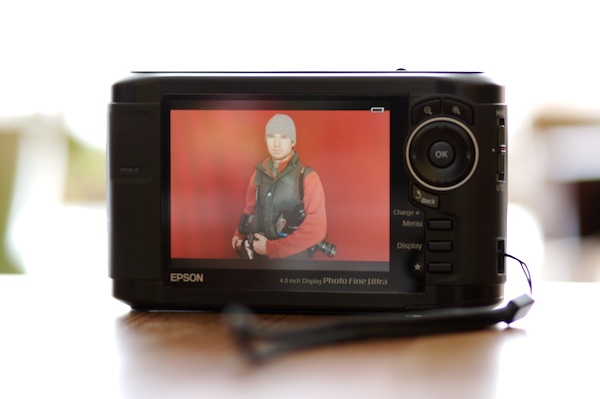 If you look at the $700 Epson P-5000 image tank and think to yourself "That's what a low-end laptop costs with a larger HD and big screen! Why would I want that?!" then this review isn't for you. But if you look at your laptop before every shoot and dread having to deal with it, then read on.

There are several key problems with laptops for on-location work:
The size requires additional baggage or the use of a larger camera bag
The battery life is short
They are easy targets for theft, requiring supervision when I'd rather be shooting
They require accessories to be fully functional (card readers, external HDs, etc.)
They add a lot of weight to an already heavy set of gear
I evaluated my use of laptops and recognized the following primary uses, in order of importance:
Downloading cards to back up images
Downloading cards to free them up
Previewing images
Editing (picking the best images) the shoot
Showing images to a client
(I don't mention email/web. The small size and always-on connectivity of smartphones replaced my laptop for these tasks long ago.)
A lot of the negatives go against my desire to become untied from a central location when shooting. The need to watch bags of gear and set up stashes of bags off in a corner somewhere goes against my ethos of being free and mobile when shooting. This makes me much more effective at documenting the event. During the last year I have come to a balance between mobility and the amount of gear I carry, and how I carry it. The only remaining wart was the laptop. I carry 99% of what I need in my ThinkTank belt system, allowing me to be self-sustained anywhere. This means I have no need to go back to bags or cases, no need to worry about leaving too far from a stash of expensive gear. However, the belt system has no way to accommodate a laptop. Even if it did, I would refuse to attach that much weight and bulk. So I began to look for a device that can fulfill my needs on location while making the laptop unnecessary.
I narrowed my search to devices that had large color screens to fulfill the preview need. I also looked for features targeted toward photographers, stuff that I use on my camera and on the laptop; histogram and metadata displays, highlight and shadow warnings, efficient way to edit and organize the images, stuff like that. These criteria quickly narrowed down the field. There were many alternatives that had slightly faster card download speeds or were cheaper with more storage, but there were few units on the market that had a feature set that was targeted to photogs. Most were just general media players that also had card readers and displayed metadata. They were useless to my workflow.
The two units I purchased were the Jobo GIGAVu Evolution and the Epson P-5000, with the intent of returning the one I deemed less useful to me. After one day, it was obvious that the Jobo had to go. That product is a disaster, but that's a different post. I have now used the Epson for several months and on several shoots, and can comfortably say that it easily takes the place of a laptop in a huge majority of situations while also surpassing a laptop in some interesting ways.
Real-world Use
A device such as this will inherently be designed with a certain feature set in mind. Its form factor makes it next to impossible to make an equivalent general-use device to a personal computer. All of the unnecessary functions are stripped away and the necessary functions are all behind one interface and control set, resulting in a much more streamlined workflow.
During Asylum Steve's Chicago shoot this past December we used it to back up the files as well as quickly browse the cards to get an idea of what compositions and settings work, if the images are sharp, etc. The device was always with me, so we did this on the fly.
I also use the Epson P-5000 to download cards while I'm shooting weddings. When you stick the card in the download screen pops up. Start the download, stick it back in the belt and keep shooting. At the end of the day I use its star rating capability to very efficiently rate images. The desktop software Epson provides makes sure these ratings carry over to my desktop software, even for RAW files. It even allows you to view images of a certain rating right from the home screen.
Overall I find that the Epson P-5000 meets all of my on-site needs perfectly. Not only that, the nature of the product has made the process of downloading and editing down the images a much smoother experience.
However, there is one major thing I would change. All card backups go into a special section on the drive reserved for backups, and each card goes into a new folder named by date and sequence. I would have preferred the ability to dump the files into a custom folder, or at least get the option to put them into an already existing backup folder. The way it stands right now, I have to make a new folder in the non-backup section of the drive and copy the files from each individual backup folder to get them all into one place. A few extra steps I'd rather not have to take, but by no means a deal-breaker.
Cool Features
One of the main selling points of this unit is the screen which can display up to 88% of the AdobeRGB gamut using a four-color filter instead of the typical three-color RGB filter.
It has mass storage support. One of its two USB ports supports the use of external media, USB disks or hard drives. The port isn't powered, so hooking up an external HD requires a power adapter. I carry the same portable USB drive I would carry with my laptop and use it as a backup to the P-5000 if I want the extra redundancy.
And probably the least obvious but still cool feature is the user interface. The unit is very user friendly and the button layout makes one-handed use relatively easy, albeit only for right-handed people.
The loupe function is a joy to use. Hit "OK," position the outline over the area you want to enlarge and hit "OK" again.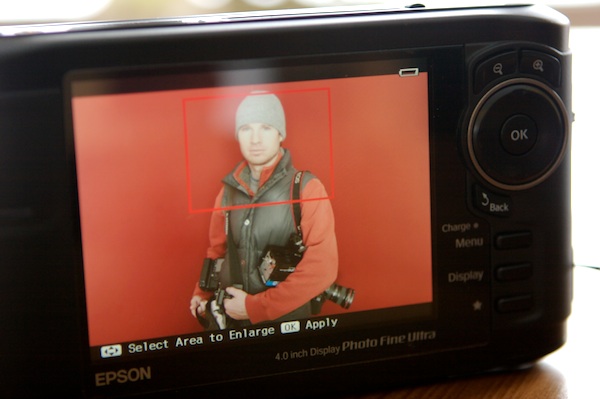 Hitting the "Display" button cycles through the four available
information screens:
This is the histogram/EXIF screen: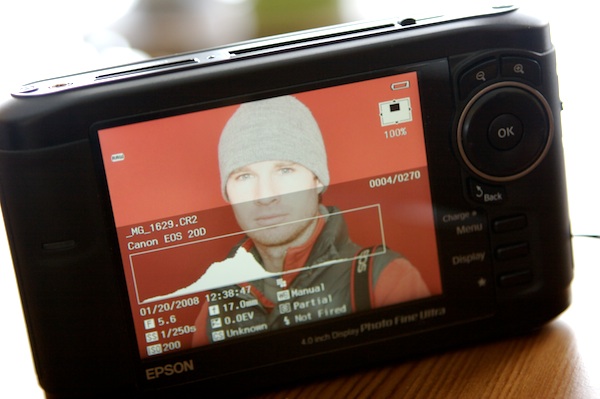 There's also a highlight/shadow clipping warning. Highlights flash black, shadows flash white (windows are blown out):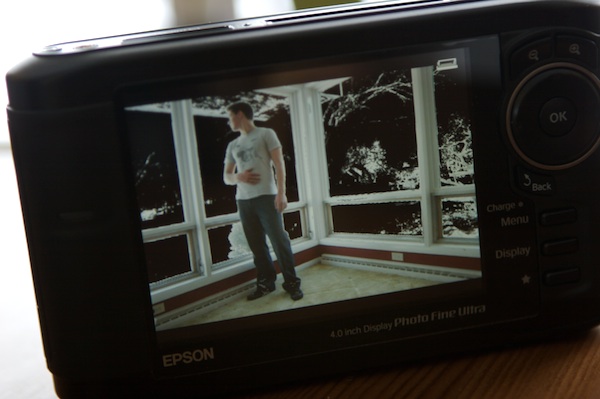 So you get an idea of its size: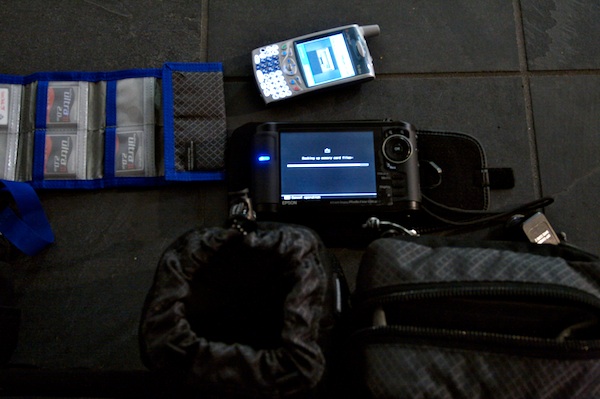 Related Content:
Portable Digital Storage Reviews
All Epson Reviews