Wireless gadgets, USB gadgets, and wireless USB gadgets generally don't warrant a second thought, but the Eye-Fi Card is a new wireless product for casual photographers that automates the process of downloading pictures to your computer and uploading them to your photo sharing service. You shoot, it does the rest.
The Eye-Fi Card comes in SD (Secure Digital) format and is aimed at those people who don't want to mess with cords or bother with using a card reader. In addition, the automation handles resizing the images for online use while also saving them to your computer as well.
Once you set up your Eye-Fi to work with your home wireless network and a service like Flickr (it takes about two minutes), the Eye-Fi will automatically detect and transfer JPEG files to your online account and/or your home computer whenever it's powered on.
That's pretty much it, but don't forget to leave the camera on and turn off its auto-power saving function (the Eye-Fi draws its power from your camera battery). It's that simple.
The great thing is that the software and hardware is smart enough to accommodate real-world glitches like powering down the camera during a transfer or losing your wireless signal. Both of these happened to me while testing the Eye-Fi and it simply picked up where it left off before the interruptions.
You will still have to download pictures the old-fashioned wired way if you have RAW format files or if you have movies shot with your camera on the card. Eye-Fi simply ignores these file formats. I could not test TIFFs.
The card conveniently comes with a card reader and the setup is handled by simply plugging the card and card reader into your computer's USB slot. On my Mac, the Eye-Fi Manager application launched Firefox (you have to set Firefox or IE as your default browser, a hassle if you use something else like Safari or Camino) and started the process. Each step was well documented and you are told what is happening.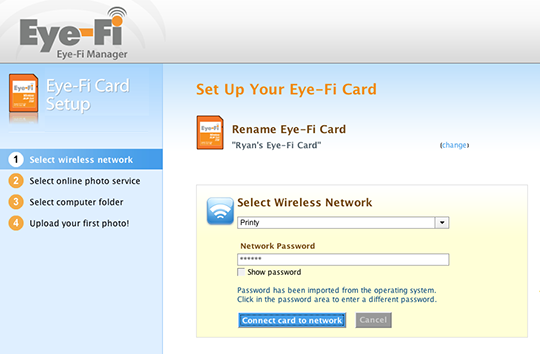 Once you're set up, you don't need to have the Eye-Fi Manager application running. If you do, it will show you the progress of individual pictures being transferred to your online account and/or your computer's hard drive. If you don't have it running, you won't see anything if transferring online, but you will get a little pop up box and progress bar as it transfers to the hard drive. Unfortunately there is no "all done" confirmation message to remind you to turn off your camera.
A bit of detail about how Eye-Fi works: the card has a dedicated computer inside which connects to Eye-Fi's servers over your network. At this time it apparently cannot transfer files via a public hotspot which requires signing on through a log-on page. Once connected however, Eye-Fi transfers full size files. If your online service limits the file size, no problem, Eye-Fi's software does that for you. And as I mentioned, if your computer is off and you have Eye-Fi set up to save to the hard drive, that will happen automatically the next time your computer is online.
Here are the services that Eye-Fi works with at the time of this review:
Walmart
Vox
Shutterfly
Fotki
Phanfare
Sharpcast
SmugMug
Flickr
Snapfish
Webshots
Gallery2
dotPhoto
Typepad
Facebook
Picasa Web Albums
Kodak Gallery
Photobucket
Eye-Fi Card Benefits:
* Easy setup
* Easy use
* Smart hardware/software accommodates interruptions
Eye-Fi Card Drawbacks:
* No RAW file support
* If you need speed, you ain't got speed (compared to card readers)
* Eye-Fi Manager has no "transfer complete" confirmation, although there are progress bars for individual pictures
* Need to keep the camera on (and turn off the camera's auto-power off)
* Battery drain is higher with Eye-Fi than with regular SD card.
* Only one online photo service at a time
My guess is that if you're in the product's target market, you won't be put off by the Eye-Fi's disadvantages. Serious photographers, who are shooting up cards and cards full of photos won't find this product to be of any interest. However casual snapshooters making just a couple pictures here and there may find a lot to like in this unique little gadget. If you're one of those folks, this could be a nice little timesaver. As Joe Bob used to say, "Check it out." Eye-Fi's website is here at www.eye.fi.
Laurence Chen
www.lchenphoto.com