Fujifilm is taking their X-Series mirrorless line to the next level with a professionally-spec'd DSLR-style camera. The new Fujifilm X-T1 uses the same 16.3-megapixel APS-C X-Trans CMOS II sensor and EXR Processor II from their X-E2 and X100S cameras, for what is arguably the best available image quality from an APS-C sensor camera. To that they add a die-cast weather-sealed aluminum body, a huge OLED electronic viewfinder (EVF), and super-fast auto focus with continuous burst shooting up to 8 frames per second. Design-wise, the X-T1 may be a mirrorless camera. But build and performance-wise it's a professional workhorse, designed to be used and abused in the field.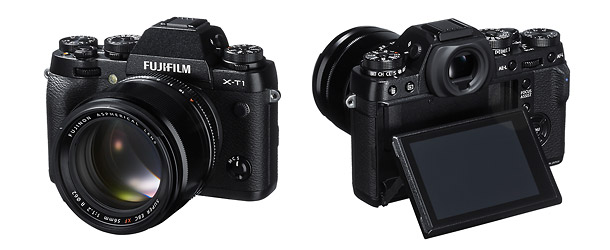 Fujifilm X-T1 Key Features and Specs:
16.3 Megapixel APS-C X-Trans CMOS II sensor
EXR Processor II
Lens Modulation Optimizer technology
1920 x 1080 60p full HD video
3-inch 1.04-million-dot tilting LCD display
Sensitivity: ISO 200 to 6400, expandable to ISO 100 and 25,600
8 FPS burst in continuous AF mode (JPEG)
75 points of weather sealing
Built-in Wi-Fi
Freezeproof
Built-in intervalometer
Compatible with super-fast SDXC UHS-II memory cards
When they first hit the market, I thought mirrorless cameras would be a smaller, lighter alternative to DSLRs. I'm starting to think differently about that, though. Fujifilm's X-Series cameras are larger than most other mirrorless system cameras, and they aren't actually that much smaller and lighter than the average APS-C sensor DSLR. Given their size, the high quality of the Fujinon lenses and Fujifilm's outstanding X-Trans APS-C sensors, I see the X-Series cameras as more of a DSLR replacement than a compact, travel camera system. The new X-T1 is anything but a step-up camera for point-and-shoot owners. It's more of a lateral alternative for professionals and enthusiast DSLR owners. It's also one more step towards the elimination of the DSLR as we know it.
Spec-wise, the X-T1 isn't dramatically different from previous Fujifilm X-Series cameras. It has the same APS-C X-Trans CMOS II sensor and EXR Processor II Fujifilm used in the X-E2 and X100S, so the overall performance and image quality should be about the same. The X-T1's 8 FPS burst rate is one frame faster than the X-E1 and the auto focus, startup time and shutter-lag are also quicker. However, it's the robust build, big viewfinder and controls that really set the X-T1 apart from previous X-Series cameras. Fujifilm took a very traditional and minimalist design approach with their mirrorless cameras. The X-T1 is a major departure. The top deck looks like a pro DSLR with five control dials, including two double-decker dials similar to the Release Mode Dial on Nikon's pro DSLR bodies. Also like a pro DSLR, there are command dials on the front and back of the camera as well as six programmable Fn (Function) buttons. Basically, Fujifilm took their rangefinder-styled X-Series camera concept and put it in a DSLR-style body.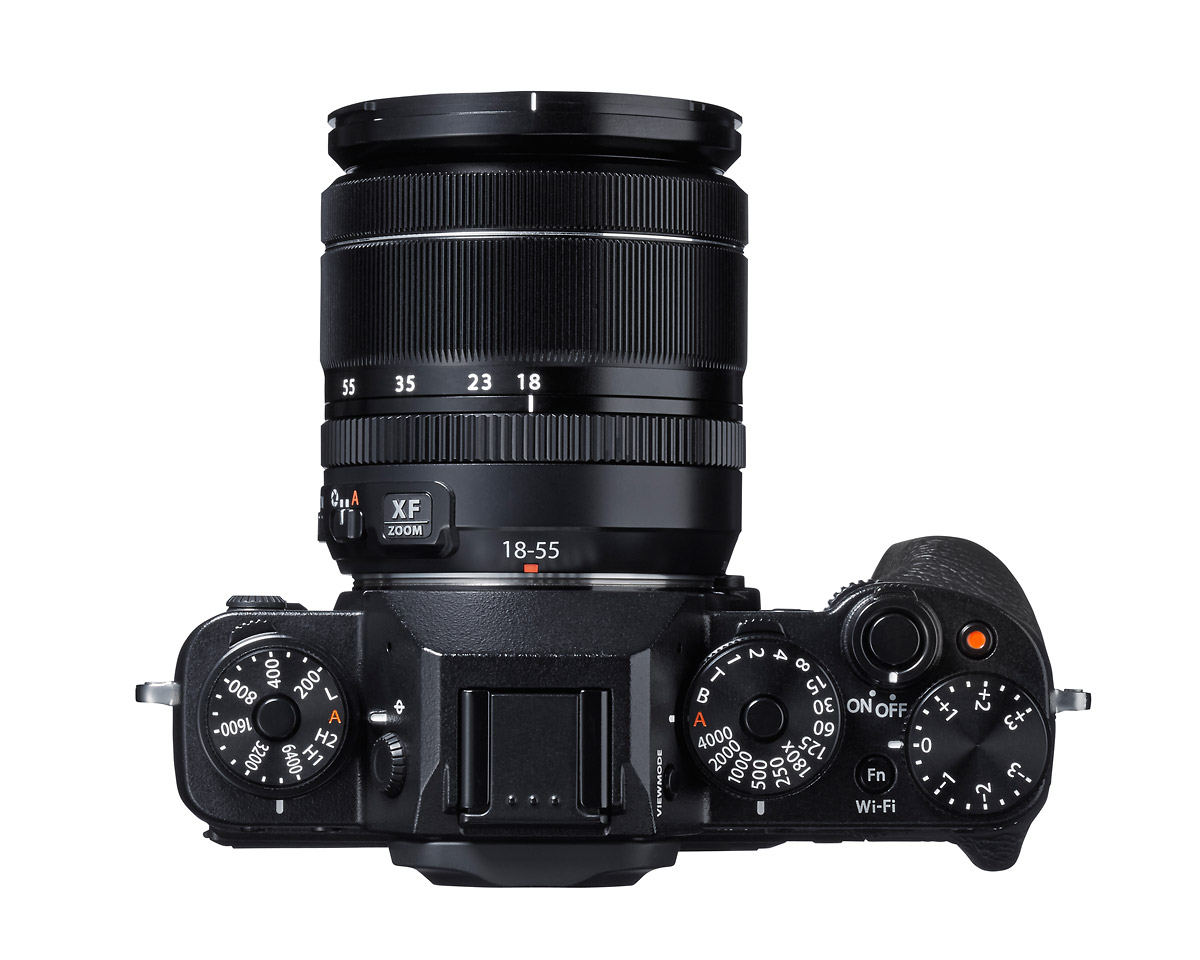 The new 2.36-million-dot OLED viewfinder will be the most dramatic new feature on the X-T1. The EVF on the older X-Series cameras was good. However, if you ever took a peak through the EVF on one of the newer Sony cameras or the Olympus OM-D E-M1, you'd be left wishing the Fujifilm viewfinders were better. That will change with the X-T1, which looks to have the largest and best electronic viewfinder yet. If you're an EVF skeptic, it's time to stop. I've been using them for a few years now and I've come to prefer a good EVF to a traditional optical viewfinder. You can see all the same data you normally have to check the LCD to see, you can play back photos and you can even record video with the camera up to your eye. To go with the new viewfinder, Fujifilm added new EVF display modes including "Full", which takes advantage of the EVF's high-resolution and 0.77x magnification for the best possible view; and "Dual," which provides a split-screen image to help with manual focusing.
Although it doesn't actually have a mirror and prism, for all intents and purposes the new Fujifilm X-T1 *is* a digital SLR. It's got the design, build quality and controls that most pros and serious photographers require, and it's got a truly excellent sensor. The only area where mirrorless cameras still lag behind DSLRs is continuous auto focus. Recently, I've been impressed with the improved continuous AF performance of Olympus and Sony mirrorless cameras. But they still aren't as good as a digital SLR for keeping up with really fast action. Fujifilm claims the X-T1's 0.08-second AF speed is the fastest of any APS-C sensor mirrorless camera. I really need to get a camera in my hands to evaluate auto focus, though. The truth is, most photographers don't need top-shelf continuous AF performance, anyway – that's really a specialty feature for professional sports photographers. Landscape, travel, studio and people photographers should be more than happy with the X-T1's auto focus.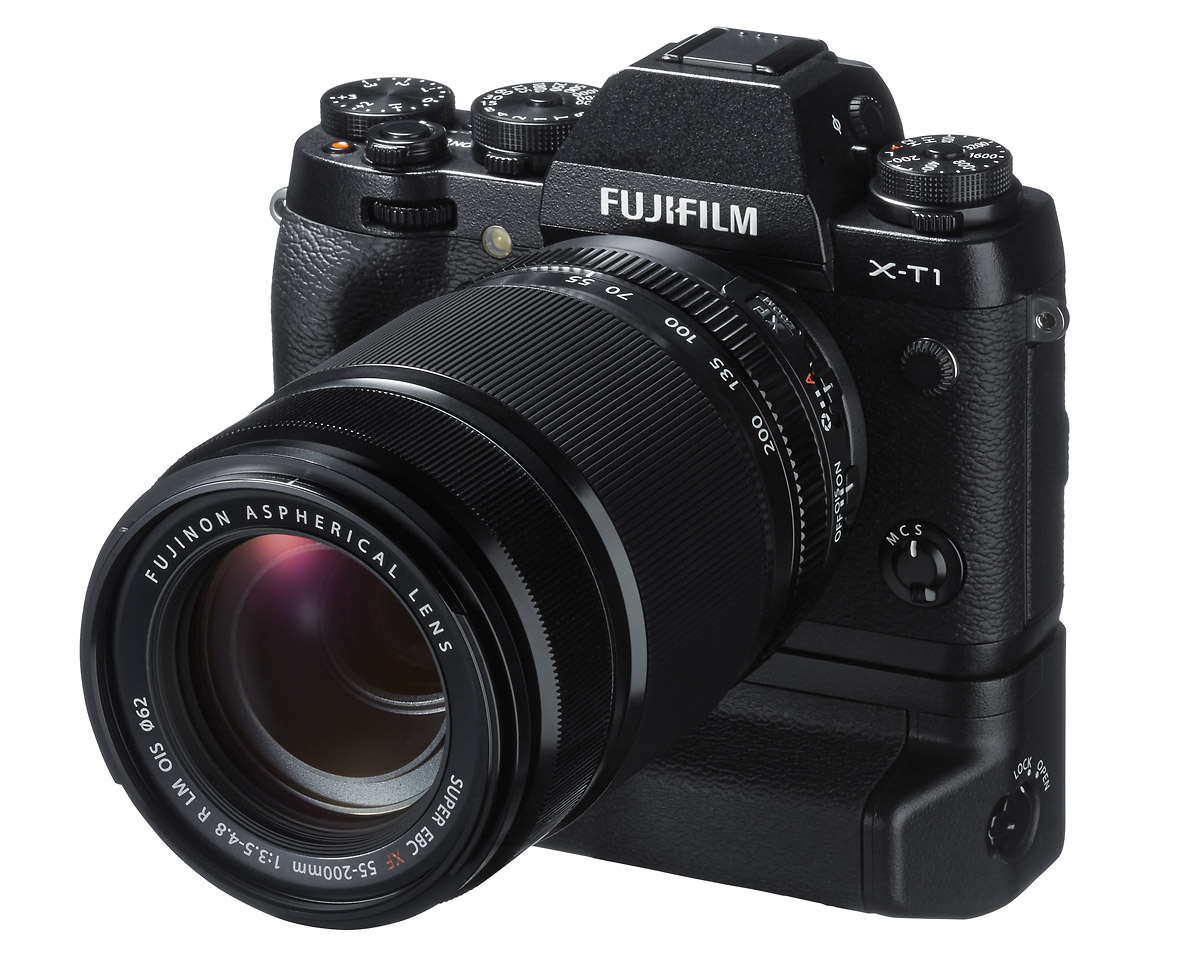 You won't have to wait long if you want a Fujifilm X-T1. It's scheduled to be available next month (February, 2014) for US $1299 for the body only. The X-T1 will also be sold in a kit with Fujifilm's standard XF 18-55mm f/2.8-4 zoom lens for $1699. To go with the new weather-sealed camera, Fujifilm is also introducing three new "WR" weather-sealed zoom lenses, the XF18-135mm F3.5-5.6 R OIS WR, the XF16-55mmF2.8 R OIS WR and the XF50-140mmF2.8 R OIS WR; and a vertical battery grip.
Related Content:
All Fujifilm User Reviews
All Digital Camera User Reviews
Digital Cameras Forum
More Fujifilm News & Articles
Fujifilm Web Site