This final installment of my tripod series examines Gitzo's tripod design for photographers who value the ability to easily fine-tune their camera positioning for new perspectives. As with the other Manfrotto tripods reviewed earlier, the Gitzo Explorer GT2530EX redefines how one considers tripod functionality. Gitzo and Manfrotto's engineers may work in the same building, but they take different approaches to tripod design that benefit all types of photographers.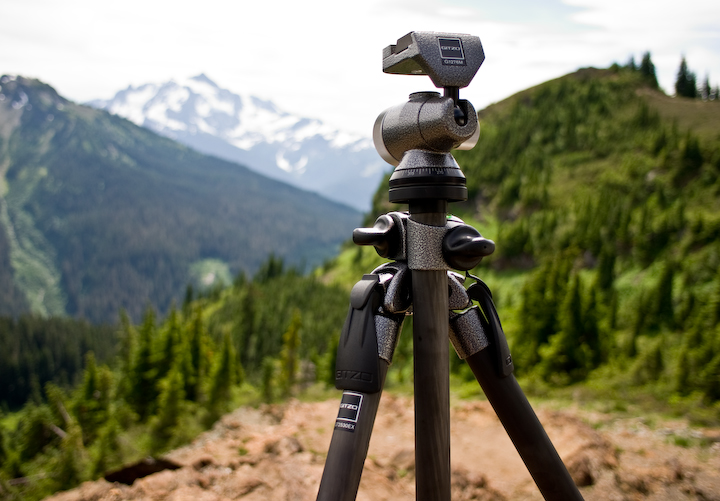 Gitzo Explorer GT2530EX Carbon Fiber Tripod, $600 list price.
Gitzo G1276M Universal Off-Center Ball Head, $250 list price.
The three section Gitzo Explorer GT2530EX tripod legs are constructed of six layers of carbon fiber which weigh in at 4.1 lbs. (Note that this model is not the same as the Gitzo Mountaineer GT2530 which weighs almost a full pound less.) The G1276M off-center ball head with quick release tips the scales at 1.4 lbs making the two together a 5.5 lbs. proposition. If you primarily shoot digital SLR gear and don't use big glass much, you could save a pound by using a compact ball head instead.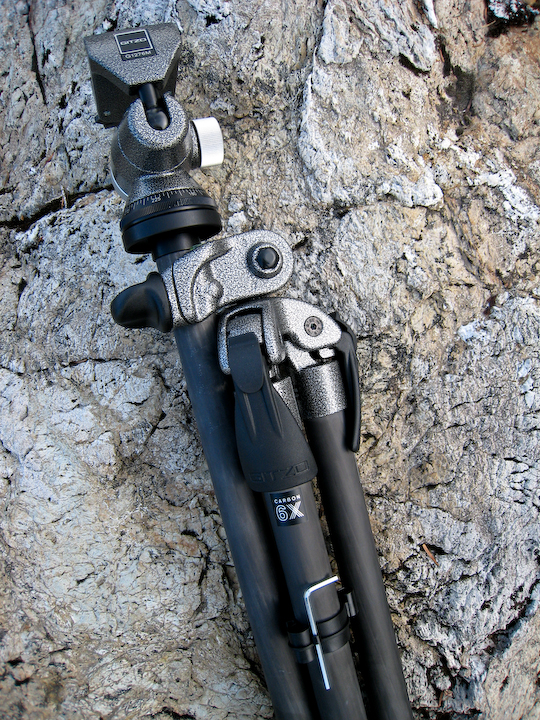 This combination seems to be the ultimate in versatility and is almost as fast to use as the Manfrotto 458B. If you thought a horizontal center column was cool, then the GT2530EX tripod takes you to the next level. Rather than using a traditional center column running in between the legs, the GT2530EX offsets the column and mounts it in a pivoting clamp at the top of the legs. This allows the column to be quickly set at any angle including straight down. I wish I had had this tripod during my last food photography assignment. The ability to quickly adjust your camera position without having to move the whole tripod or adjust the leg heights is of tremendous benefit to anyone doing careful compositions. I'm told Gitzo's customers in Asia are big fans of this capability.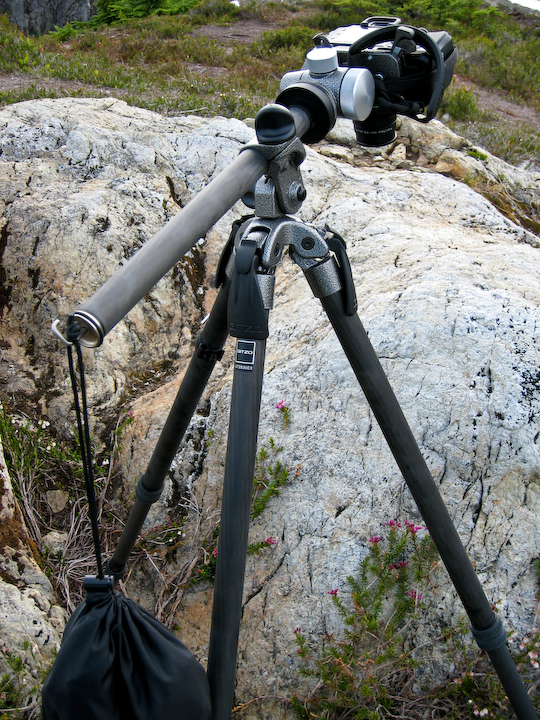 Gitzo uses the same clamp concept for the legs too. Did you ever wish that you could lock the angle of a tripod leg in between the detents? The Gitzo GT2530EX enables you to do just that with flip lock clamps instead of the usual ratchet mechanism (take care when opening or closing these levers as it's easy to pinch yourself). Because there are no detents for the leg angle, I found that it was easiest for me to set the legs where I wanted them before locking the leg angle clamps down. By working this way, you can easily set the legs up straight and level or at an angle. This feature is extremely useful when working outdoors on uneven terrain or in tight spaces. Indoors, imagine what you can do over and around tables or other objects!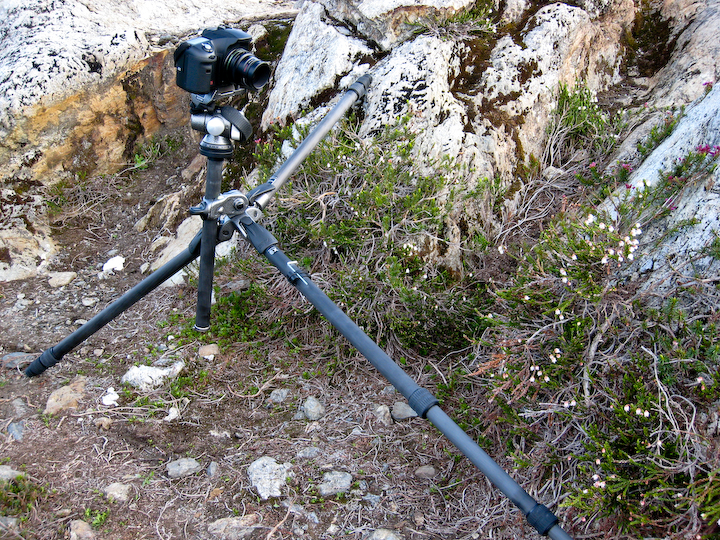 For the leg sections, Gitzo's twist G-Locks are designed with a very short throw so that tightening or loosening is only about a quarter turn. There is also a slight detent on the releasing turn so you know you've released the leg. Being a fan of flip-locks on tripod legs, I did not think I'd find the twist-style locks to my liking, but Gitzo's design works very well and has turned me into a believer.



Gitzo's G1276M off-center ball head design is a hybrid between the movements of a pan/tilt head and a regular ball head. The ball head itself is offset from the center of the head and is mounted sideways 90 degrees to vertical. The body of the entire head rotates 360 degrees and locks independently from the ball head. Functionally, this provides a little more flexibility in camera positioning when using the head with the GT2530EX tripod in an unusual configuration. Again, with food photography or any macro work, this head can help make quick refinements without the need to reposition the whole tripod. The G1276M ball head is constructed of magnesium and comes with its own quick release plate. It may look bulky, but it's relatively light weight and compact with the top plate stored down. Then again, it is not as light as some regular ball heads built for backpacking. My other concern with this head is that the smoothness of the ball head motion is a bit sticky when compared to regular ball heads; this may or may not be an issue for you however.
The Gitzo Explorer GT2530EX carbon fiber tripod and the G1276M head are a compelling combination if the price is not an object. Gitzo promotes the tripod as the perfect tool for "exploring new perspectives" and I have to agree that the total flexibility of positioning makes the combination extremely attractive for those shooters needing such versatility.




In conclusion, I hope this series has been useful for helping you set your own priorities around tripods and tripod features. There certainly are plenty of traditional tripod designs to choose from, but if you're in the market for a new model, be sure to give these new features a look. You may find using a tripod easier and more fun than you expect!