The first booth I visited at PhotoPlus this year was Fujifilm. I wanted to check out their new X10 premium compact camera and the X100 digital rangefinder. I also wanted to get caught up on their compact cameras. One of the cameras they had on display was the FinePix HS20 EXR superzoom. It's a very serious-looking DSLR-style compact camera with a 30x 24-720mm (equivalent) f/2.8-5.6 Fujinon zoom lens with a manual zoom ring, a tilting 3-inch LCD display and a nice, grippy rubber coating. What you can't see is the huge (for a compact camera) 16-megapixel 1/2-inch EXR backlit CMOS sensor. A bigger sensor means better image quality and a 1/2-inch sensor is pretty big for a compact camera.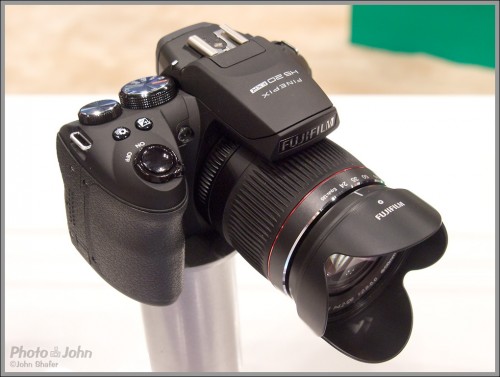 The Fujifilm FinePix HS20 EXR camera has a lot more going for it than just a nice lens and a big sensor. The unique EXR sensor design lets you choose between three EXR shooting modes for detail, low light sensitivity or wide dynamic range. The EXR modes are available for movies as well as stills and the HS20 captures full HD video. Action shooters will be psyched about the 8 frames per second full-res burst mode.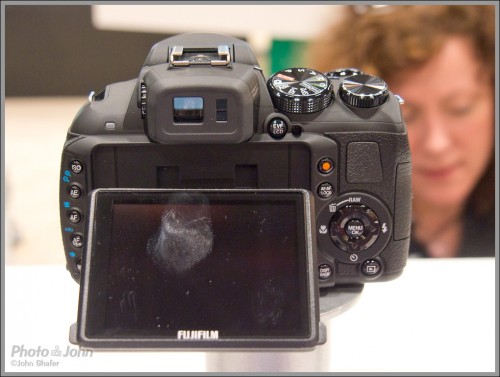 I found the Fujifilm FinePix HS20 EXR much more handsome and impressive in person. The rubber coating feels great in the hand and I love that it has a manual zoom ring and digital SLR-like controls. The HS20 (and other superzoom cameras) is a great option for people who want the benefits of a digital SLR without the expense or learning curve. You won't quite get DSLR image quality or performance from the HS20, but you won't get a 30x zoom lens with a digital SLR. For $499, the Fujifilm FinePix HS20 EXR is a great deal and more camera than most people will ever need. It's especially recommended for families and small businesses who have been looking at digital SLRs but aren't quite sure. The HS20 will probably give you everything you're looking for in a digital SLR, plus a huge zoom lens.
Related Content:
All Fujifilm User Reviews
All Digital Camera User Reviews
Digital Cameras Forum
More Fujifilm News & Articles
Fujifilm Web Site