HP Expands Professional Photo Printer Offerings for Advanced Amateur Photographers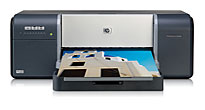 SAN FRANCISCO, Jan. 15 — HP today unveiled at Macworld Expo the HP Photosmart Pro B8850 Photo Printer, rounding out the company's growing portfolio of printing solutions for the advanced amateur market.
The HP Photosmart Pro B8850 Photo Printer enables photographers to create and publish professional-quality portraits, landscapes, marketing collateral and other image-rich materials and features several technological advancements to ensure outstanding performance and brilliant, predictable color.

Breakthroughs in Color Management
The HP Photosmart Pro B8850 Photo Printer contains several color management advancements that simplify the printing experience. The printer is seamlessly integrated with Adobe Photoshop CS3, enabling users to print directly from their preferred workflow. The choice is then automatically synchronized with the color management setting, eliminating issues associated with "double color management." This technology also is available in a free software download for the award-winning HP Photosmart Pro B9180 Photo Printer.
"HP played an instrumental role in our development of the improved printing experience of Adobe Photoshop CS3," said Kevin Connor, senior director of product management, Professional Digital Imaging, Adobe. "Thanks to design input from HP, creative professionals can generate their prints more quickly and easily, while taking advantage of color controls and a unified printing interface that help provide predictable and consistent prints."
Additional advancements that ensure consistent color and superior gallery-quality prints include Electrostatic Drop Detection and closed-loop calibration. The Electrostatic Drop Detection printhead management system efficiently self-monitors and self-cleans to keep the printer in top condition while minimizing waste by cleaning only the individual print nozzles that require attention. Closed-loop calibration automatically adjusts print settings to maintain color consistency.
Precise, Long-Lasting Color
An exclusive at this price, the HP Photosmart Pro B8850 Photo Printer offers truly neutral black-and-white printing with individual HP Vivera pigment inks — including photo black, matte black and light gray — eliminating the need to swap out cartridges to print in matte or gloss.
HP's high-capacity Vivera pigment inks are formulated with exclusive pigment dispersion Electrosteric Encapsulation Technology, offering an extensive palette of life-like colors, deep rich blacks and true neutral grays for fast-drying, color-stable, water-resistant photos with exceptional fade resistance for more than 200 years.(1) To learn more about HP photo permanence and durability and to experience a visual demonstration of HP's light fade simulator, visit http://www.hp.com/go/printpermanence.
Media Variety for Professional Prints
The HP Photosmart Pro B8850 Photo Printer allows photographers to print creative content the way they want on a wide assortment of media, including HP Advanced Photo Paper and digital fine art media up to 0.7-mm thick, including canvas and fiber-gloss, for professional, color-accurate prints with exceptional image quality and durability that maintain color integrity and resist fading for generations.
The media portfolio includes HP Hahnemuhle Smooth Fine Art Paper, HP Hahnemuhle Watercolor Paper, HP Aquarella Art Paper, HP Artist Matte Canvas and HP Professional Satin Photo Paper for brilliant prints up to 13×19 inches in as fast as 90 seconds.
Commitment to Compatibility
HP is dedicated to overall customer experience and offers full-featured Mac driver support for more than 1,000 HP models across all HP product lines. Furthering this commitment, the HP Photosmart Pro B8850 Photo Printer is Mac OS X v10.5 Leopard compatible out of the box. In addition, the HP Photosmart Pro B8850 Photo Printer is compatible with Mac OS X v10.3.9 or higher; G4, G5 and Intel Core.
Additional information about Mac support for the HP Photosmart Pro B8850 Photo Printer is available at http://www.hp.com/go/mac. The HP Photosmart Pro B8850 Photo Printer is expected to be available for purchase in North America in April for $549.