((Apologies for this late posting, the delay was compounded by several issues on my end.)
Last week at HP's Annual Imaging and Printing conference, this quote immediately grabbed my attention: "I find myself taking more pictures than ever before, but seeing fewer of them…"
If this quote describes you too, then apparently we're in good company. Sure, we can see every shot from someone's vacation online, but online isn't necessarily the best way to see or present photographs. Online is great for editing and quick viewing and it's where most shots will end up, but for more meaningful images it's just a step on the path to offline photo-enjoyment.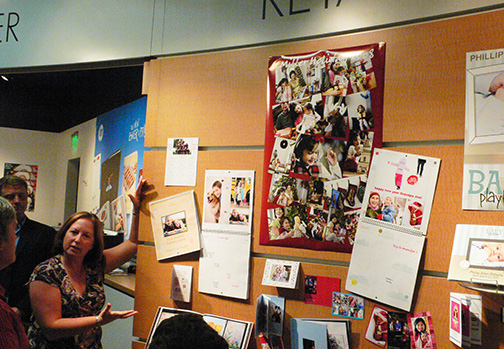 Iconic photos will call for formal treatment such as wall-mounting, while the grab shots will work great in a digital photo frame or personal calendar. And the one-of-a-kind candid shot of your dog stealing someone's ice cream begs to be immortalized on, what else, a mug. But actually getting pictures offline has not always been simple. And that is where HP looks to help expand our cult(ure) of content creation and consumption.
Now photo mugs and calendars are not new, but the ease by which people can create such photography-based products has improved greatly. In addition, the selection of stylish templates and accentuating designs has grown rapidly beyond the somewhat generic early offerings. Now, professional-looking books and magazines (and mugs) are turning up not just from big companies or colleges but also from your local cycling club or your parenting support group or even from Johnny's first birthday party.
HP looks to bring even more convenience plus branded content to the mix. They made a few announcements last week, and while I hoped for (and didn't get) a new product announcement for a 17-inch wide successor to the HP Photosmart Pro B9180 printer, there were other things to help me scratch the self-publishing itch.
HP owns a few web services (Snapfish, Logoworks, etc.) but until now there hasn't been a single easy-to-use gateway illustrating all the project possibilities that these services offer. Enter HP Creative Studio (http://www.hp.com/hho/hp_create/index.html). HP Creative Studio offers an easy and flexible web-based interface for home and small business printing projects. What makes this service attractive are the partnerships HP has set up with Disney, Gwen Stefani, Martha Stewart, Dreamworks, and Viacom (MTV) to use images featuring various celebrities like Hannah Montana.
If your image needs are more practical, HP Creative Studio for Business provides common business projects such as business cards, press releases, or marketing brochures with professional templates. In November 2008, this will be enhanced with additional business services called MarketSplash by HP. You may find MarketSplashis integrated services offered by a local print service provider in your area too.
Social networking continues to be all the rage, so if you've already uploaded photos to your MySpace page, HP has new printing services for you. You'll soon find an HP branded print button for printing of photos directly from your MySpace profile. Later, this logically will tie-in with the other photographic products available from HP Creative Studio so it will be easier than ever to make that photo mug you've always wanted.
Back in the home or home office, printers with built-in wireless printing go together with laptops like peanut butter and jelly. Okay, maybe not quite like that but certainly better than say, churros and cake…
Anyway, HP rolls out a few all-in-one (printer, scanner, copier) wireless models:
HP Photosmart C4500 All-in-One Series, $129
Limited Edition HP Photosmart C4599 All-in-One Series, $149
HP Photosmart C6300 All-in-One Series, $199
Plus, cellphone camera shooters can now print directly to the printer via Bluetooth using the HP Photosmart C5500 All-in-One Series printer for $149. More info at HP online: <http://www.shopping.hp.com/webapp/shopping/store_access.do?template_type=landing&landing=printers>
With many of these new printers, you don't even need a laptop. HP's mini-screen and built-in card readers help to make printing less of a chore.
Finally, HP's presence in retail locations continues to grow. I created a photo book using an HP photo kiosk, and you can immediately tell how much attention to detail was put into the kiosk software's usability. It was simple and fast, it told you what you were doing and what it was doing. This was the first photo kiosk I felt completely at ease with, and my book took only about five minutes to create. (You return within an hour to pick up the printed and assembled book.) The two-sided pages were printed with HP's color laser printer and for casual purposes the book makes a great gift or memento.
Overall HP's effort to make personal and business imaging projects fast and easy is showing promise. (Plus HP is busy working to minimize the environmental impact of printing as well.) Given that we're creating more and more content than the world has ever seen, products and services that get our images into and onto things other than monitors are hugely welcome.
Related Content:
Photo Printer user reviews
Photo Printer forum
HP printer and digital camera reviews
HP Web site