Kata Launches New Line of Protective Backpacks, Cases and Pouches
Stylish Digital Photo Series Features the Ideal Blend of Protection and Weight.
Ramsey, NJ (October 18, 2007) – With the launch of the new Digital Photo Series (DPS), Kata is bringing its world renowned level of protection to every-day photography. This complete line of backpacks, cases and pouches offers a variety of stylish options to protect, store and transport photographic gear.
The DPS combines a number of technologies found in other Kata product lines to create a lightweight, ergonomic and protective line of carrying solutions. Whether new to photography or a professional shooter, the DPS offers protective, light-weight options that make sure you'll never miss the shot of a lifetime.  Protective technologies integrated into the DPS collection include Thermo Shield Technology (TST) and Yelloop. TST, discreetly integrated into DPS models, is an advanced technology designed to provide superior impact protection for your camera and accessories.  Besides allowing shooters to easily see accessories in their DPS bag, Yelloop provides scratch and static protection that is required with today's sensitive digital cameras. Kata has also focused a significant amount of attention on various construction elements such as Steel Buckles, Reinforced Nycore grid fabric, Elasto Guard, Hypalon® zipper-head quiet pockets, DURAFLEX ® and KATA ® Nylon buckles, all which add to the sleek and elegant designs of the DPS.
Digital SLR Carrying Solutions
Kata's new DPS Digital Rucksacks, the DR-467 and DR-465, feature TST structural protection and an ergonomic harness for maximum comfort while transporting your gear. The Rucksacks' bottom camera compartments give users the ability to store a Digital SLR with mounted lens, additional lenses, flash and other essential accessories. The bottom camera compartment is also removable, should the carrier wish to use the Rucksack as a day pack when not shooting. The Digital Rucksacks also feature a large top compartment, which is designed to hold a variety of personal gear or equipment as well as an elements cover to protect your gear from rain or dust. Additional zippered pockets allow quick and easy access to additional supplies and a water bottle. Slightly larger than the DR-465, the DR-467 incorporates a dedicated padded laptop slot which can accommodate up to 17" laptops. If wheel-along transportation is desired, the DR-467 and DR-465 are also compatible with Kata's Insertrolley system (not included).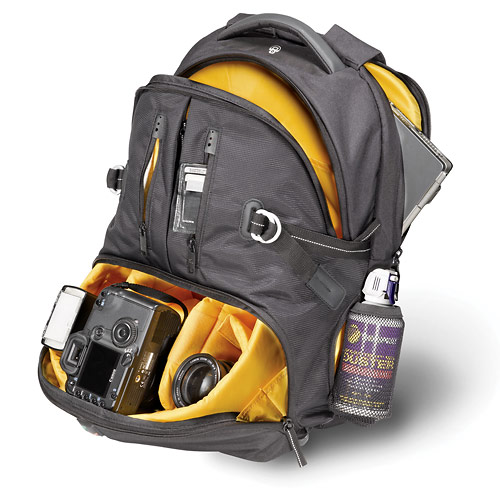 Digital SLR users can also use one of seven new DPS Digital Cases. The new models including the DC-433, DC-435, DC-437, DC-439, DC-441, DC-443 and DC-445, extend the range of the DPS and provide shooters with a carrying solution for just about any sized D/SLR, standard zoom lenses and accessories. Each case features TST Rib structural protection, yelloop internal fabric, Modi-Vers dividers to arrange the internal compartment to fit specific needs and a variety of zippered pockets to store a number of items, including chargers, cables, power supplies and more. The DPS shoulder cases also feature Elasto Guard side-pockets and built in pouches designed to hold extra memory cards and batteries. Like the Digital Rucksacks, the Digital Cases feature an included elements cover to protect the enclosed gear from rain and dust.
The Digital Cases also feature a variety of carrying options, including a padded top-grip handle, an Elasto-Guard padded shoulder strap or rear loops for connecting the cases to a waist belt. For added versatility, the larger DC-443 and DC-445 are compatible with Kata's Instertrolley system (not included).
Point-and-Shoot Pouches
Snapshooters can also count on the DPS to provide carrying protection for small point and shoot digital cameras. Seven different sized Digital Pouches, the DP-403, DP-405, DP-407, DP-409, DP-411, DP-413 and DP-415, offer users protection for a compact digital camera and other accessories like memory cards or batteries. Each pouch features TST Rib structural protection and can be carried via the included shoulder strap or belt loop with easy connect Velco flaps. The DP-403 and DP-405 are secured by a front flap with hook-and-loop fasteners while the larger DP-407, DP-409, DP-411, DP-413 and DP-415 feature a zippered enclosure. The larger pouches, DP-407, DP-409, DP-411, DP-413 and DP-415, also include an elements cover, a padded divider, and a removable media card.
To identify which carrying solution is suitable for a specific digital camera and gear, visit the Online Kata Bag Chooser at  http://www.kata-bags.com/katabagchoosers/
For additional product information or to locate a Kata dealer, please visit www.bogenimaging.us
Related Content:
Read and write camera case and backpack reviews >>
All Kata camera case reviews >>
About Bogen Imaging:
Bogen Imaging Inc is a leading distributor of key accessories brands for the photographic, video, cine and lighting production markets. Bogen is an international company within the Imaging Division of the Vitec Group, which owns the following leading, international brands: Manfrotto, Gitzo, Kata, National Geographic bags and Tripods, Avenger, and I.F.F. As the exclusive US distributor of Metz, Gossen, Elinchrom, Lastolite, Reflecmedia and Formatt Filters, Bogen offers the most complete range of exceptional camera and lighting accessories in the business. The Bogen Imaging international network covers the USA, Germany, France, Italy, UK and Japan.