Kodak Announces New 10-Megapixel High Zoom Digital Camera that Places Advanced Features and High Performance into the Palm of Your Hand
Feature-Packed Compact Camera Makes It Easy to Take Pictures in Almost Any Environment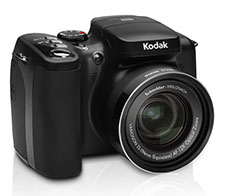 LAS VEGAS, NV, January 31, 2008 – At the Photo Marketing Association Show (PMA), Eastman Kodak Company (NYSE:EK) today announced the latest addition to its award-winning line of KODAK EASYSHARE Consumer Digital Cameras. The KODAK EASYSHARE Z1012 IS Digital Camera – with 10-megapixel resolution and 12X optical zoom with optical image stabilization – brings an advanced, high performance feature set to a compact size that is ready to go anywhere your life takes you.
"With the newest addition to the EasyShare family, Kodak is making it even easier for consumers to capture life's high performance memories," said John Blake, general manager, Digital Capture & Imaging Devices and Vice President, Eastman Kodak Company. "The smart technology found on the KODAK EASYSHARE Z1012 IS enables consumers to capture life's most important moments and seamlessly bring their pictures to life on vivid prints, HD displays and wireless picture frames."
The KODAK EASYSHARE Z1012 IS features a robust suite of exclusive features that capture detailed pictures in the most challenging settings, yet its compact body can fit in the palm of your hand. The Z1012 IS is packed with smart features that make great picture taking incredibly simple:
• Enhance your action shots with best in class* click-to-capture speed and auto-focus accuracy.
• Kodak's innovative smart capture technology automatically identifies the scene and adjusts the settings to deliver a great picture in almost any environment.
• Capture the details in low light conditions and fast action situations with high ISO (up to 3,200**).
• Get creative with advanced settings including program, aperture and shutter priority, as well as full manual mode (PASM).
• Face detection locates faces and automatically adjusts the camera settings.
• Express yourself with the multimedia slideshow feature: combine your pictures with music and transition effects right on camera.
Kodak also recently announced the KODAK EASYSHARE V1273 and M1033 Digital Camera, the KODAK EASYSHARE Z1085 IS Digital Camera, the KODAK EASYSHARE Z1285 Zoom and the KODAK EASYSHARE Z8612 IS Zoom Digital Cameras at the Consumer Electronics show (CES) on January 7, 2007.
Your Pictures and Videos in High Definition
The Z1012 IS and all KODAK EASYSHARE Digital Cameras announced at CES offer HD-still capture, capturing still pictures in high definition. Viewing the HD pictures is simple, thanks to the KODAK EASYSHARE HDTV Dock. Available as an optional accessory to the KODAK EASYSHARE System, the HDTV Dock connects to your HDTV to process and display pictures from HD-enabled KODAK Digital Cameras, SD Memory Cards or USB drives to deliver an outstanding visual experience.
Pricing and Availability
The KODAK EASYSHARE Z1012 IS will retail for US $299.95 (MSRP). All KODAK Products listed in this release will be available at retail and online at Kodak.com in the first half of 2008.
*Among high-zoom, image stabilized digital cameras as of November 2007.
**ISO 3200 available at 3 MP and less in PASM modes.
About Eastman Kodak Company
Kodak is the world's foremost imaging innovator. With sales of $10.7 billion in 2006, the company is committed to a digitally oriented growth strategy focused on helping people better use meaningful images and information in their life and work. Consumers use Kodak's system of digital and traditional products and services to take, print and share their pictures anytime, anywhere; Businesses effectively communicate with customers worldwide using Kodak solutions for prepress, conventional and digital printing and document imaging; and Creative Professionals rely on Kodak technology to uniquely tell their story through moving or still images.
More information about Kodak (NYSE: EK) is available at www.kodak.com.