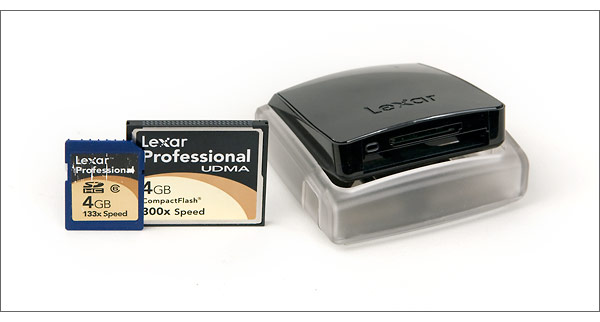 Lexar's Professional UDMA card reader is a compact, collapsible memory card reader with slots for SecureDigital and CompactFlash memory cards. It has a USB 2.0 interface and can read the new UDMA CompactFlash cards as well as high-capacity SDHC SecureDigital memory cards. I've been using the Lexar Professional UDMA reader in the office and on the road for a few months now and recently tested it against a couple of other card readers.
 

Lexar UDMA Card Reader Design
I really like the compact size of the Lexar Professional UDMA card reader and the way it closes up to protect the card slot connections. I've had connector pins bend in readers while I'm on the road and that's very, very bad if you're working and need to download photos in a hurry. The Lexar reader has buttons on either side. Press both buttons and the spring-loaded reader pops up, revealing the SD and CompactFlash card slots. Although the reader feels sturdy, I had one of the buttons break while it was traveling in my laptop bag. And I even had it in a padded envelope to protect it. It still opens and closes fine but it's not as pretty as it was when I first got it. Between the button breaking and the glossy finish, I think Lexar should include a small, protective case to ensure the card reader doesn't get damaged or scratched. Since it is collapsible, it appears designed for travel and a case would make perfect sense. It just seems like an obvious accessory to include with a card reader that's designed for traveling pros.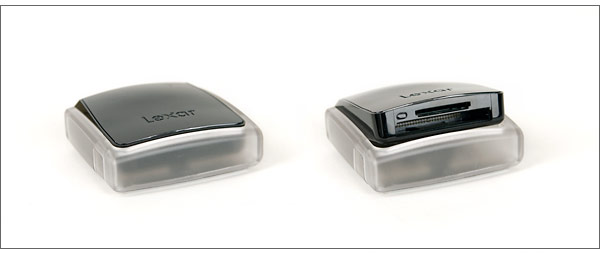 Lexar UDMA Card Reader Testing & Performance
I tested the Lexar Professional UDMA reader with three memory cards, a SanDisk Extreme III CompactFlash card, a Lexar Professional UDMA 300x CompactFlash card, and a Lexar Professional 133x SDHC card. I also tested it against two other card readers, a Lexar Professional FireWire reader and a SanDisk USB 2.0 multi-slot reader. For testing, I put 186 Canon XTi / 400D RAW files – 198 GB worth – on each card and timed how long it took to transfer them to my desktop PC (3 GHz Pentium 4 desktop with 1 GB of RAM). The first thing I noticed was how much slower my FireWire reader is. For a standard pro-level CompactFlash card (the SanDisk Extreme III), it took about 3 and a half minutes to transfer all the files. Both USB 2.0 readers make the FireWire reader look positively pokey, transferring the files in about 2 and a quarter minutes. The FireWire interface is the bottleneck of course, not the actual reader. But if you're still using first generation FireWire, you'll save a lot of time if you step up to a USB 2.0 card reader.
With standard CompactFlash and SDHC cards, the Lexar and SanDisk readers performed about the same, with the Lexar negligibly faster. The UDMA card was a different story. It was wayyyy faster in the dedicated Lexar Professional UDMA reader. The SanDisk reader transferred the 198 GB of files in 2 minutes and 19.5 seconds. Compare that to 1 minute and 41.7 seconds in the Lexar Professional UDMA reader. That makes the Lexar UDMA reader about 37% faster. At close to 4 minutes to transfer all the files, the FireWire reader isn't even in contention. If you're downloading a lot of photos, that time makes a difference. When I'm shooting a mountain bike event and have to download cards on my lunch break, every second counts. I can't afford to be waiting for cards to dump to my laptop when a race is starting.
Conclusion
Obviously, it pays to have a UDMA card reader if you own a UDMA CompactFlash card. The time saved is significant and photographers who shoot a lot will appreciate the notably faster transfer rate. Although I didn't get a chance to test the Lexar Professional UDMA reader against another UDMA reader, I think it's a fine buy – as long as you keep it protected. It feels sturdy enough but the buttons on the side proved to be a little delicate. But it's the transfer performance that counts. And in that regard, the Lexar Professional UDMA USB 2.0 card reader is worth the investment.
Related Content:
Lexar Professional UDMA USB 2.0 Card Reader User Reviews
All Card Reader Reviews
All Lexar Reviews
Digital Camera Memory Card Guide
All Lexar News
Lexar Web Site