The EVIL / compact system / Micro Four Thirds camera accessory market has started to heat up and Lowepro is jumping in with a new line of camera cases designed specifically for the new camera category. Lowepro says the Compact Courier Series is, "ideal for the increasingly popular interchangeable lens compact cameras (ILC) such as Sony NEX and similar models."

There are two models in the Lowepro Compact Courier Series, the Compact Courier 70 and the Compact Courier 80. They're both shoulder bags with soft, padded interiors, a built-in memory card pocket and a built-in microfiber cloth for cleaning your lens and LCD screen. The Compact Courier 70 is designed to carry just a compact system camera (Sony NEX, Panasonic Lumix GF, Olympus Pen or Samsung NX cameras) and kit lens. The Compact Courier 80 can carry a camera with kit lens and a small / pancake lens. It includes belt loops so it can be worn as a belt pack as well as a shoulder bag.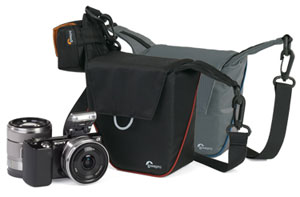 The new Lowepro Compact Courier 70 and Compact Courier 80 camera bags are available now. They both sell for $39.99.
Lowepro Compact Courier 70 & Press Release >>
Related Content:
Lowepro Camera Bag User Reviews
All Camera Bag User Reviews
EVIL & Micro Four Thirds Cameras Forum
Lowepro Web Site