Lowepro Vertex 200 AW Camera Backpack
A Serious Backpack For Outdoor Photographers
I've been using the Lowepro Vertex 200 AW backpack for a few months now. Generally it carries a Canon EOS-1D Mark III, Canon EF 16-35mm f/2.8L, Tamron 28-75mm f/2.8 XR Di, Canon EF 28-300MM f/3.5-5.6 L IS, a Canon 550 EX flash, Pocket Wizard radio slaves, memory cards, extra AA batteries, and miscellaneous other pieces of photographic paraphernalia. The backpack has a sophisticated harness system, holds a laptop computer, and features Lowepro's adjustable Glide-Lock system for attaching a tripod or Lowepro Slip-Lock accessories to the outside of the backpack. It also has weather-resistant zippers and Lowepro's Patented "All Weather Cover."  The Glide-Lock system carried my compact travel tripod securely and was easier to use than other tripod attachments I've used in the past. The Vertex 200 AW also comes with another removable tripod holder that will carry a larger tripod on the rear of the backpack.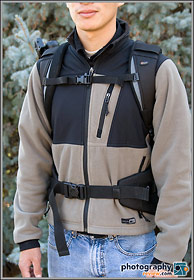 In the press release, Lowepro described the Vertex series backpacks as, "Ideal For Professional Photographers Shooting in Rugged Outdoor Environments." Hence the weather-proof zippers, All Weather Cover, and advanced harness system. There are three sizes, the Vertex 100 AW, 200 AW, and 300 AW. I specifically requested that Lowepro send me the medium Vertex 200 AW backpack because I wanted a real hiking pack and not the kind you put every single piece of equipment you own in. I think the Vertex 200 AW backpack is a perfect size for serious amateur photographers or pros who want to take it on the trail or need to travel light.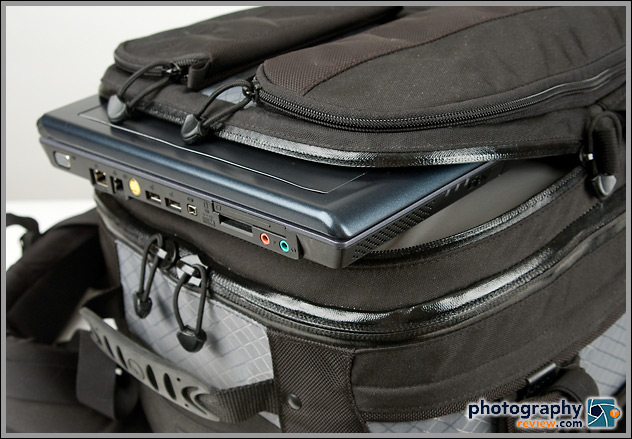 One of the main features of Lowepro's Vertex backpacks is a laptop pocket on the outside. My 15-inch laptop fits in it just fine and I like that it's on the outside of the backpack. I've seen laptop displays get ruined because they were in a backpack that stressed them too much. The outside of the backpack puts less pressure on the computer than if it was riding right next to your back.  I don't actually carry my computer in a backpack because I have a dedicated laptop bag. Instead, I use the front compartment to carry a jacket or other clothing when I'm traveling or hiking. So even if you don't carry a notebook computer, the outside pocket is useful.
The two things I like the most about the Vertex 200 AW are the harness system and the size. I've owned and used a lot of backpacks – camera-specific and otherwise. This is one of the most comfortable and best-riding backpacks I've ever used. The harness has 8 adjustment points which make it easy to fit. One thing that sets a great backpack apart is how weight is distributed. With a good fit and well-placed waist belt, the Vertex 200 AW feels like it's carrying a lot less weight than it actually is. I'm a pretty medium-sized guy (5'8" and 165 pounds) and a lot of backpack harnesses are too big for me – especially the chest straps. Most backpacks feel like the designers used a 6-foot body builder for a model. That is not the case with the Vertex 200 AW. From my medium guy point-of-view, it has plenty of adjustment for both bigger and smaller body sizes.
There was a hidden bonus in not choosing the larger Vertex 300 AW backpack. The first time I traveled with the Vertex 200 AW, I ended up on a small commercial jet from Salt Lake City to Jackson Hole, Wyoming. More than once I've had to leave carry-everything backpacks sitting on the runway to be stowed in the baggage compartment on these little planes. So I was pleased when I carried it on and it fit in the little overhead compartment. I hate leaving my camera gear in the hands of baggage handlers. Especially when the camera belongs to Canon and not me!
The bottom line is that Lowepro's Vertex series backpacks offer the serious outdoor photographer an excellent camera carrying solution. I can't find anything about the Vertex 200 AW that really bothers me. I've used it extensively to hike, travel, carry to events, and just throw in the car. Nothing has torn, jammed, come apart, or given me any trouble. Like I said earlier, the harness system on the Vertex is excellent, making it very comfortable to carry a lot of gear. If I had to complain about something, the zipper for the main compartment offers a little more resistance than I like. But that's not really a big deal. At $250 retail, the Lowepro Vertex 200 AW is no small investment. But neither is your camera. Consider it insurance for your camera – and your back.
Related Content:
Lowepro Vertex 200 AW review page >>
All camera backpack reviews >>
All Lowepro reviews >>
Lowepro Vertex camera backpacks press release >>
Lowepro Web site >>