by Laurence Chen
www.lchenphoto.com
Photo-John called me last March with a proposition: "What are you doing in May? Wanna go on a factory tour?" The cheery tone in his voice raised my suspicions just a bit.
My first reaction was, "Uh well, maybe, but I've got a zillion things I'm behind on. And who really wants to go away to inhale lithium grease vapor and eat mystery meat for lunch?" Of course, I didn't say that; what I said was, "Hmm, interesting. Tell me more."
"It's Manfrotto/Gitzo. It's in Italy."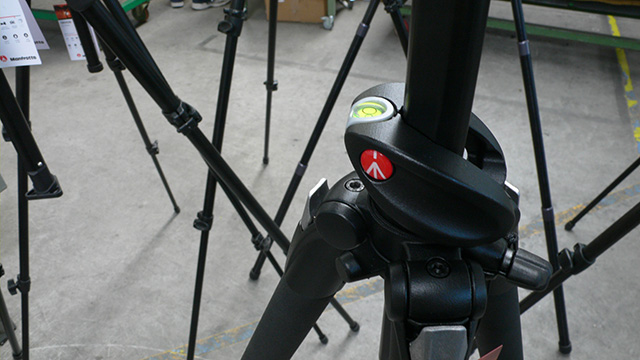 "Oh! Well, interesting…" And immediately trying not to sound too excited: "I'm pretty sure I'm free. Um, what are the dates again?"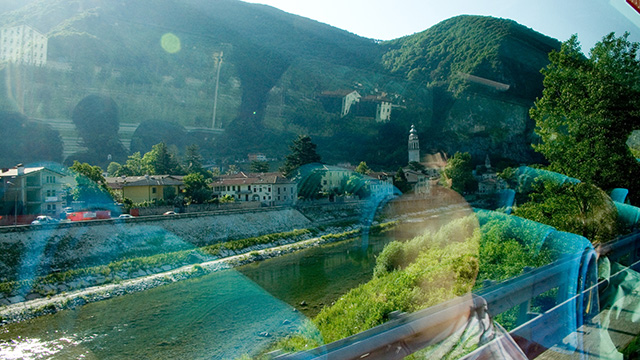 So it was that I found myself with a dozen or so photo industry editors and writers winding our way up through a narrow valley, passing through quintessential Italian mountain towns, following the course of a river whose name I missed completely thanks to numerous other conversation topics. Manfrotto's factory is located in Feltre, a town in the lower Dolomites of North-Eastern Italy. It's a light-industrial complex not unlike one you'd find just about anywhere in America. And as such the unassuming exterior reveals nothing of the complex logistical and manufacturing activity within.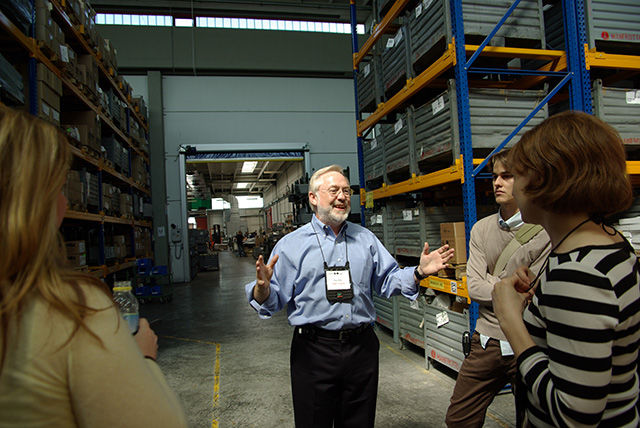 One of our many guides on the tour was none other than Paul Wild, the president of Bogen Imaging. Mr. Wild's history with Manfrotto (also known as Bogen in the U.S.) dates back "to the very early days" when he was with ARRI Lighting and he partnered with Lino Manfrotto to design and build reliable and functional stands. He later joined Manfrotto and this intimate involvement with the company made for highly informative presentations. In fact I got a kick out of Mr. Wild's frequent color commentary supplementing someone else's presentation. (Note that he was always respectful and polite about jumping in!) Indeed, Mr. Wild's genuine and contagious enthusiasm was clearly shared across the company.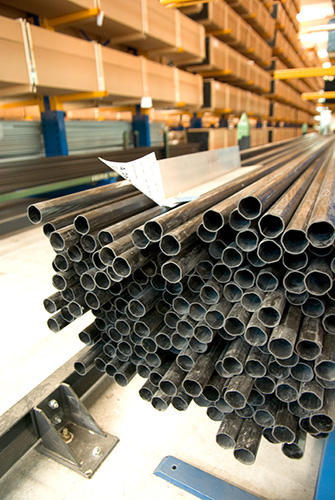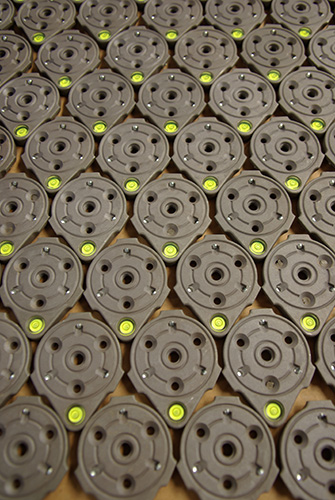 Manfrotto designs and manufactures both their line of camera and lighting supports as well as the Gitzo brand which they acquired in 2003. Though the two brands are now designed and manufactured in the same location, they represent two different approaches to satisfy the many individual styles and techniques found in the field. Plus the company serves not only still photographers, but the video and film industry as well. Thus they stock up to 45,000 parts at any given time. Each day about 10,000 tubes of various materials are cut and cleaned for tripod legs alone. And as demand for their products continues to grow, Manfrotto finds itself needing to deliver greater quantities of product faster than ever before. Expect to find more automation in their future warehouses and factories.
For example, cut tubes have residual shavings and lubricants that need to be removed. This process has been done by hand for over 20 years because a machine could not be built to do this reliably over Manfrotto's large production runs. Only recently has such a device been created to meet the necessary quality and consistency standards. (If you're worried about all the white-gloved human tube cleaners who just lost their jobs, rest easy. Our guide assured us that "[they] have lots of other things for them to do!")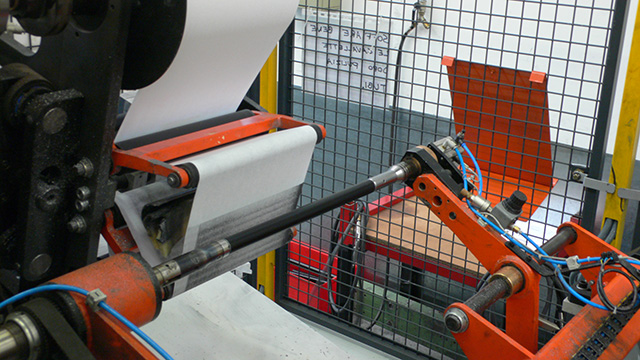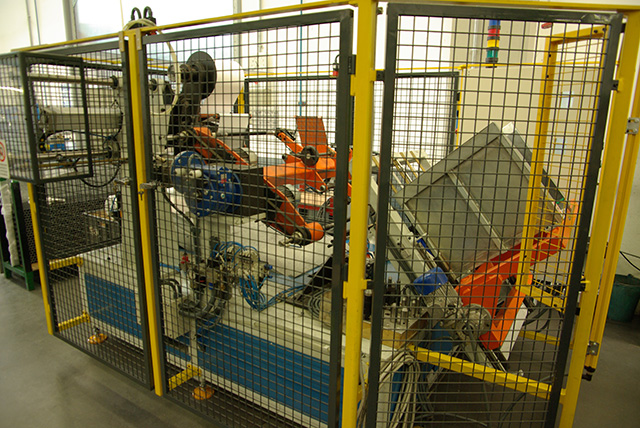 Perhaps the thing that makes Manfrotto unique is their in-house machine tool stamping division—a product of the ARRI Lighting partnership led by Mr. Wild. Years ago they saw the benefit of controlling their own tool design and manufacturing. This is like McDonald's (restaurant) owning their own potato farms to ensure the consistency of their French fries. By having their own tool and machine engineers work tightly with the tripod design engineers, Manfrotto greatly reduces the cost and complexity of bringing a product to market, not to mention saving many months of effort when a design or material specification changes. Manfrotto's reputation for quality undoubtedly stems from this competitive advantage.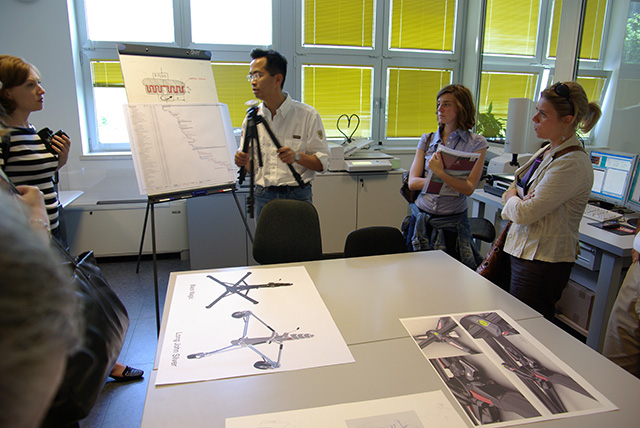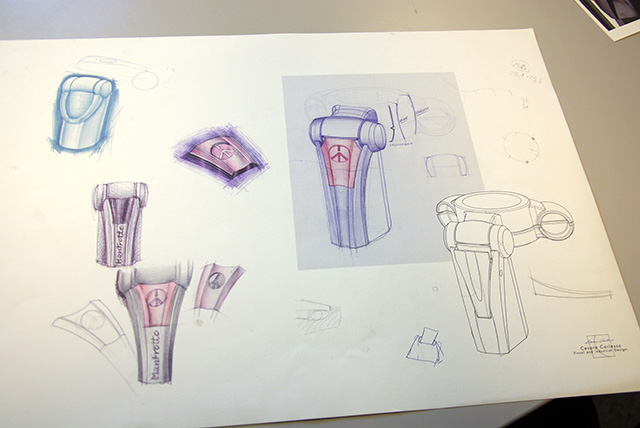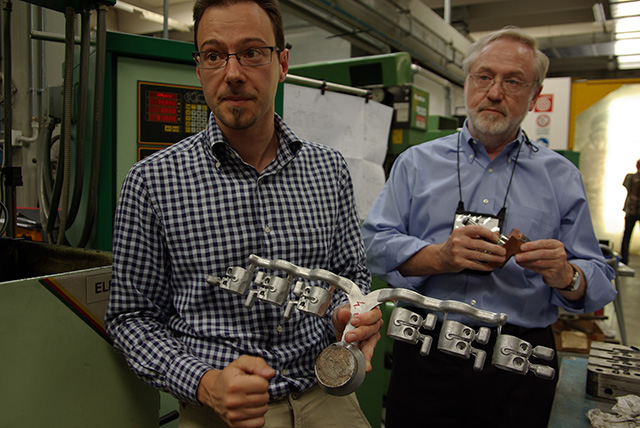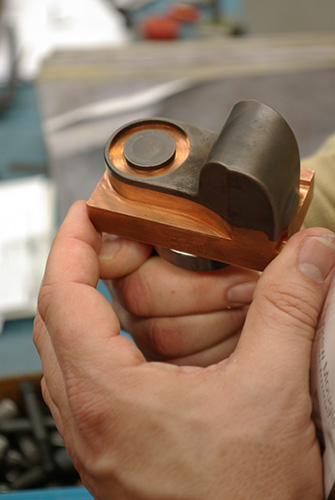 Finally, product testing is a critical piece of the process. Knowing that their supports literally must stand up to just about anything, Manfrotto stress- and cycle-tests their designs for up to 2 months straight. Various enemies such as salt, heat, and cold can mar inferior finishes or materials. One test (shown below) simulates six months' exposure to salt water in 24 hours. Regarding other brands, one guide said, "they may look like our [products] but they don't react like ours."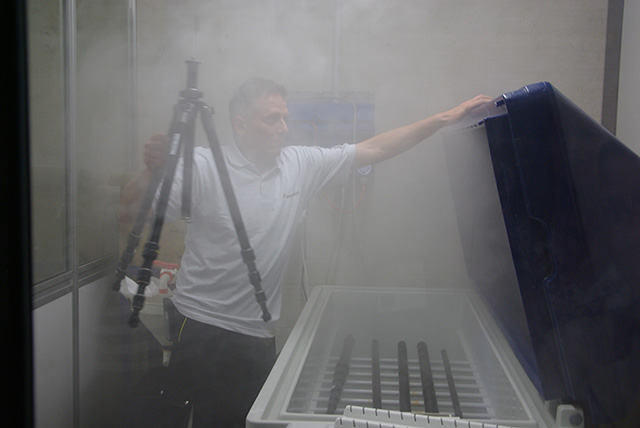 One might ask, "who needs all this quality, anyway, isn't it overkill?" As it turns out, a lot of people want this level of quality and durability—the film and video industries in particular, along with many demanding photo consumers in Asia and around the world. Japan is a huge market for tripods, and they are some of the most informed customers who inspect every aspect of a product's design and build quality. (Some consumers are willing to return a product even if the product box arrives damaged!) Here in the States, market research reveals that there are now more women turning pro, and that they too desire a higher level of quality.
As photographers, our heads and hands are full of image ideas. We want our supports to "just work." Fortunately, the folks at Manfrotto have their heads and hands full of ways to support cameras, lights, light modifiers, and just about anything else we might need to lock in place on location or in the studio. New design approaches such as the 458B Neotec with its surprisingly rapid open/close leg mechanism or the 190XPROB and its horizontal center column change the way we think about what a tripod can do. Gitzo's Explorer GT2530EX and off-center ball head G1276M make recomposing for slight changes quick and easy. I look forward to working with these tools and I'll report my impressions here in the near future.