There's a sexy new color-coordinated Olympus E-P2 in town! I think the two new Micro Four Thirds lenses are a bigger deal, but the new all black Olympus E-P2 Pen camera kit is getting a lot of buzz. The E-P2 is a compact, 12-megapixel Micro Four Thirds camera with interchangeable lenses, 720p HD video and stereo sound. It's a member of the Olympus Pen Digital camera family, which also includes the E-P1 and E-PL1. The new E-P2 " black-on-black kit" compliments the E-P2′s black body with a black 17mm lens and black FL-14 flash.

The E-P2 and other Olympus Micro Four Thirds cameras offer performance close to a digital SLR in a camera the size of a high-end point-and-shoot. The Olympus E-P2 makes a great digital SLR alternative and an awesome travel camera. Besides the new, black E-P2 kit, Olympus also announced two new Micro Four Thirds zoom lenses, a 70-300mm and 40-150mm (Micro Four Thirds lens announcement article). Those two lenses are Micro Four Thirds versions of existing Four Thirds (the Olympus digital SLR format) lenses and really expand the versatility of the E-P2 and other Olympus Pen cameras. I'm especially excited about the new 70-300mm lens. The Four Thirds 70-300 is one of my favorite things about the Olympus digital SLRs and an even smaller, lighter version made for the Pen Digital cameras is a big deal.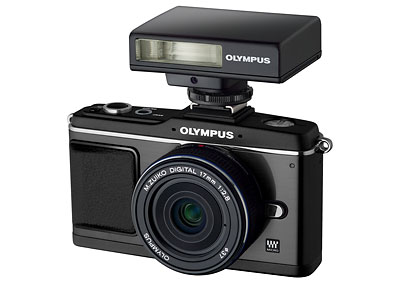 Here are some useful links if you want to know more about the Olympus Pen Cameras, the E-P2 and the Micro Four Thirds System:
Micro Four Thirds Standard Announcement >>
Olympus E-P2 Video Intro >>
Olympus E-PL1 Pro Review >>
EVIL & Micro Four Thirds Cameras Forum >>
The press release says the new E-P2 package is an, "exclusive, limited availability kit." One important detail to note is the new kit *does not* include the EVF electronic viewfinder that comes with the standard E-P2 kit. I almost always use the EVF when I'm shooting with the Olympus Pen cameras and I think I could survive the shame of a silver lens and flash on my black camera in return for the benefits of the EVF. I've never seen cameras as fashion accessories, though. I have no doubt there will be plenty of people who are very interested in the new extra-retro all black E-P2 kit.
For the fashion-conscious photographers who need to keep their camera gear all matched and color coordinated, the new Olympus E-P2 black kit will sell for $999.99, "at select photo specialty stores beginning in October, 2010."
Related Content:
All Olympus User Reviews
All Digital SLR Reviews
Olympus Cameras & Four Thirds Forum
Digital SLRs Forum
Olympus Digital Cameras Web Site