Canon made their annual holiday camera announcements at midnight last night. There's a new G-Series camera – the PowerShot G9, two new Digital ELPH cameras, two new A-Series PowerShots, two new SLR lenses, a bunch of new printers, a couple of flatbed scanners, and the two main announcements; the Canon EOS 40D and EOS-1Ds Mark III digital SLRs.
This flurry of products clearly demonstrates Canon's push into several major segments of the photo industry. Canon's new product offerings, particularly the cameras, set ever higher standards for others to meet or beat. Here are my quick impressions and the benefits that most interest me.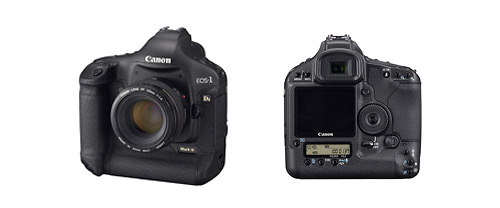 After the announcement of the EOS 1D Mark III at PMA this year, people knew the EOS 1Ds Mark III couldn't be too far behind. And indeed, Canon trots out their flagship in time for the holidays. Normally, the second half of the year's camera announcements are consumer products intended for holiday sales. So the EOS 40D was right on schedule. The 100% professional-level EOS-1Ds Mark III would have been a more traditional fit for the spring 2008 PMA tradeshow or even the semi-annual Photokina show, which takes place in late 2008.
The full frame, 21-megapixel EOS-1Ds Mark III suggests that Canon is going after a piece of the medium format market. And at $7,999 instead of the approximately $20,000 investment for a Hasselblad or Mamiya digital system, it's quite likely they'll carve out a significant slice for themselves. The EOS 1Ds Mark III sends a pretty strong message to photographers and other manufacturers about who's leading the market right now. At present there is no competition for Canon's 21-megapixel full-five frames per second digital SLR from other digital SLR manufacturers. And when there is an alternative, it will be at least a full generation behind Canon's technology. The competition will have to price quite aggressively to build a user base.

Moving on down the line, many people have been expecting the EOS 40D for quite some time as the EOS 30D was hard pressed to stand out against its rebellious little brother, the Digital Rebel XTi. Canon obviously paid attention here as well and assuming everything works as advertised, the EOS 40D brings some EOS 1D Mark III features down to the $1,200 price point. Some key features (among many) for me are:
* Highlight tone priority
* ISO displayed in viewfinder
* New quiet shutter
* New AF
* Weather sealing
* New menus and LCD
* 6.5 frames per second
* 10 MP
As with the EOS 1D Mark III, there are many little improvements in addition to these items that add up to a very compelling package. I have really been waiting for these features to adorn a 5D Mark II, but the EOS 40D just might be the better deal if you don't have a strict need for a full-frame sensor.

Canon doesn't let up in the compact camera department either. Most noteworthy for me is the Powershot G9 which brings RAW files back. Finally. I think I can hear a collective "hooray!" coming from the blogosphere. And I haven't used this camera yet but if it renders highlights anything like the Powershot SD850 or SD800, this could be a serious contender in the "point-and-shoot-that-almost-replaces-a-DSLR" department. As for the 12 MP sensor and 3 inch screen–I'd guess the latter is nice but we'll have to see about 12 MP in a compact. If anyone can make a compact 12 MP look reasonably clean, it's Canon.
At the low end, you have to admit Canon offers a lot of camera for the price with its A-series of compacts. The Powershot A650 IS and SX100 IS are affordable compacts sporting features like manual exposure control that will please serious photographers on a budget. I always recommend that my students consider one of these models if they're just getting started in photography. As for the cameras' image quality, let's hope the highlights and dynamic range are as good as or better than last year's models.
Of course, you don't really know how good the cameras are until you get your hands on one and see the files for yourself. But as always, the announcements are intriguing!
Finally, there are a couple new lenses. I'm only going to discuss the EF-S lenses: the EF-S 18-55mm f/3.5-5.6 IS and EF-S 55-250mm f/4-5.6 IS. These new lenses are inexpensive and while they may work well, the main drawback is their slow maximum aperture at the telephoto ends of their respective zooms. Ideally you want f/4 or better if at all possible. The usefulness of a zoom at f/5.6 is limited in practical photographic terms. You lose the ability to create selective focus/blurred background shots and you can only use the telephoto ends of the zooms in bright light or at high ISO. Sure the image stabilization helps but it's not really the same as having f/4 or f/2.8 all throughout the entire zoom range. Plus the image backgrounds will still have that f/5.6 "look."
If you're on a budget, then you're on a budget and if you had to choose one, I'd only buy the wide zoom (EF-S 18-55mm IS). Save your money and buy a faster telephoto lens such as the EF 70-200mm f/4 L IS (that's f/4 throughout the entire zoom range) or an f/2.8 zoom. I've also heard good things about some third party lenses that are less expensive than Canon's but beware that the build quality can be hit or miss. Another possible solution is to buy a prime (fixed focal length) lens such as the EF 85mm f/1.8 for selective focus images.
Stepping back a bit, right now all the manufacturers are making impressive digital SLRs. I think there is still plenty of room for improvement, but Canon has been able to keep just ahead of the competition in most areas. They surprised us this spring with the EOS-1D Mark III, a camera which was the arguable "winner" at the PMA (Photo Marketing Association) tradeshow. And following up so quickly with a new EOS-1Ds Mark III and EOS 40D models make a statement to the photography world about Canon's intention to hold their position as the leading force in digital camera design and sales. That said, let's watch for the competition's response; it's sure to be interesting.
Related Content:
Canon EOS 40D Press Release >>
Canon EOS-1Ds Mark III Press Release >>
Canon PowerShot G9 Press Release >>
Canon PowerShot SX100 IS Press Release >>
Canon PowerShot SD950 IS and SD870 IS Digital ELPH Press Release >>
Canon PowerShot A650 IS and A720 IS Press Release >>
All Canon News >>
Read and Write Canon Camera Reviews >>
Canon Cameras Forum >>