The quest for the Ghrrrail continues!
Ricoh GX200 Press Release
This week, Ricoh announced their newest high-end compact digital camera, the 12-megapixel GX200.
We in the States probably don't give Ricoh the attention they deserve, but they are to be commended for doing their best to create the grail that so many of us seek. Apparently, they've got a lot of things going for them in the camera usability department. The GR and GX-series cameras get solid reviews on the web, and they seem to have a strong following of satisfied customers.




Since I am currently testing a Sigma DP-1 (I know, I'm the last one on the planet), Photo-John asked me to blog about the GX200′s potential versus the DP-1. I was about to point everyone back to my Canon G9 preview, when I discovered that Mark Goldstein of PhotographyBlog got his mitts on a GX200 early. Mark hits all the major points in our grail-seeking minds: high ISO image quality, camera usability, and "what about the DP-1?" For me, the money quote is this:
"The level of noise at ISO 400 and faster in the GX200′s images hasn't been improved since the GX100, with the noise-reducing effects of the new image processing engine being cancelled out by the noise-enhancing effects of squeezing even more megapixels onto the 1/1.7-inch CCD sensor. I'm not sure if Ricoh have actively chosen to participate in the megapixel wars, or whether they simply had little choice but to use what was available to them…"
Yes, we all make too big a deal about noise, but we must if we wish to see camera improvements beyond just the number of megapixels. Check out the sample photos for noise and decide for yourself; it's a matter of personal taste after all.
Sigma's DP-1 on the other hand seems to be winning hearts and minds for IQ, but at what cost on the usability side? Slow AF, slow write time, awkward controls, etc. I don't necessarily think it's terrible, but it requires an adjustment if one is accustomed to working with modern digital camera interfaces and shooting in a way that digital requires or has made possible. We just need someone to mash-up the GX200 with the DP-1, that's all…
Nonetheless Ricoh's GX200 will probably please a lot of people who can get by without high ISO speed. If I didn't already have an "ISO 100 Only Camera," I'd seriously consider the GX200. Mark makes a lot of good points about it in his review and gives it a very high recommendation:
"At first glance the GX200 seems very similar to it predecessor, but after a week's shooting it quickly becomes evident that this camera is much more refined, both in terms of speed and features – the only thing lacking is any improvement in image quality. If you can live with the noise at ISO 400 and faster, the Ricoh GX200 is a great backup to your DSLR, and a fantastic pocket camera is its own right."
As much as you can learn from a review, there is nothing like getting your hands on the machine to see if it works for how you like to work. (At least that has always been my experience.) The upcoming GX200 is already available for pre-order from Adorama, to my knowledge the only US distributor.
If I were a Google zillionaire, I would launch the X-Prize for the ultimate photographer's camera. So for now, the quest is to be continued… (Hmm, isn't that Castle Anthrax up ahead? Hey Zoot, over here!)
Ricoh GX200 Press Release
Ricoh GX200 Sample Photos
Official Ricoh GX200 Web Page
Related Content:
Sigma DP1 Preview
Canon PowerShot G9 Pro Review
All Ricoh Reviews
All Digital Camera Reviews
Digital Camera Forums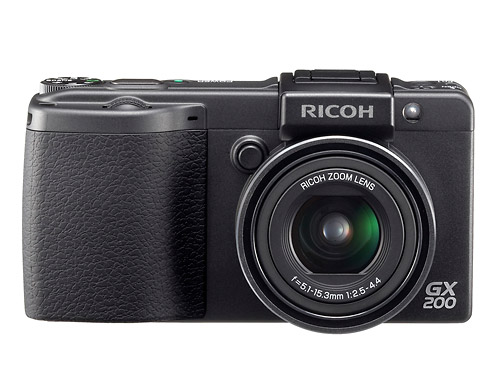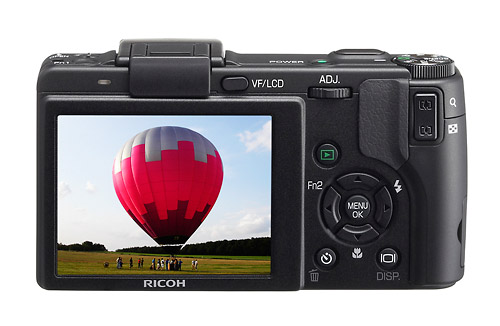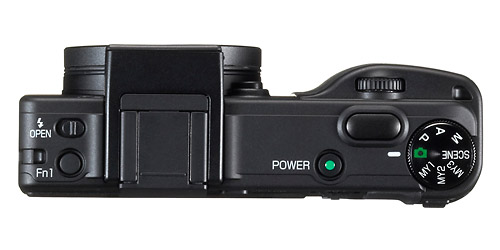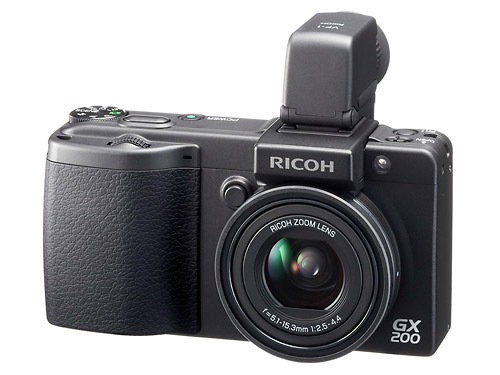 Official Ricoh GX200 Press Release
A high-end, 24mm super-wide-angle, optical zoom, digital compact featuring high resolution 12 megapixel CCD coupled with the latest imaging engine SIE III
Tokyo, Japan June, 24, 2008 Ricoh Co., Ltd. (president and CEO: Shiro Kondo) has announced today the development and release of the GX200. The GX200 is able to reproduce high quality images from edge-to-edge with low noise and natural gradation. This camera succeeds the award winning Caplio GX100 compact digital camera introduced in April 2007.
The GX200 inherits the popular features of the GX100 such as a 24 to 72 mm (35 mm film equivalent focal length) high-performance wide-angle optical zoom lens on a 25 mm thin pocketable compact body, a wide variety of manual shooting functions, and a removable tilting electronic viewfinder. The new GX200 achieves increased resolution via its 12 megapixel CCD and dramatic noise reduction with the addition of the new image processing engine Smooth Imaging Engine III.
Already a popular part of the Caplio GX100, the high-resolution wide-angle lens unit has been further configured to enable picture taking at an even higher resolution.
With a large wide-viewing angle 2.7-inch 460,000 dots HVGA LCD and an electronic level function, for horizontal and vertical shooting, the GX200 contains extensive shooting functions to enable camera lovers to enjoy and create stunning photographs.
This model comes in two package types with different accessories. The GX200 package contains: rechargeable lithium ion battery, battery charger, AV cable, USB cable, CD-ROM, strap, and lens cap. The GX200 VF KIT package contains all the above accessories plus the electronic viewfinder.
*The lens focal lengths used in this document are the equivalent focal length for a 35 mm camera.
Main features of the new Ricoh GX200
1. Greater image quality through use of a 12 megapixel CCD, a new image processing engine and continuous RAW mode capture.
An effective 12 megapixel high-performance 1/1.7-inch CCD has been newly installed, with each pixel comes increased resolution.
The adoption of a new image processing engine Smooth Imaging Engine III allows for greater control over the noise reduction process by the photographer without sacrificing resolution or saturation.
High image quality combined with a lens with greater backlight capability*.
*This is the 24 to 72 mm equivalent wide-angle zoom lens mounted on the previous model (Caplio GX100). It features a generous configuration of 11 elements in 7 groups, including superior aspheric surface lenses and high-refractive-index, low-dispersion lenses. This optimal configuration restricts distortion, chromatic aberration, and light falloff at edges for wide-angle operation while delivering aperture light settings from F2.5 (wide) to F4.4 (tele-photo). In addition, ghosting has been further reduced through the improvements made to the lens unit.
2. Large, high-resolution 2.7-inch, 460,000-dots HVGA LCD.
The new 2.7-inch, 460,000-dots high-resolution LCD has a wide viewing angle and high contrast for distinct, easy viewing even outdoors. When thumbnail images are displayed, even the small 1/20 size images are clearly reproduced.
3. Electronic level utilizing an acceleration sensor to help keep the camera body horizontally or vertically level.
If the level setting is set on, when the camera is level, the level indicator becomes green in the picture display. Being able to check whether the image is level while looking at the display can be useful for keeping the camera level when composing pictures of landscapes, buildings, and other scenes where the horizon is visible.
It is possible to check whether the camera is level using the level sound setting.
The electronic level can also be utilized while using the viewfinder.
4. Extensive shooting functions and high operability.
Expanding buffer memory has made continuous shooting of up to five images possible in RAW mode, and it is also now possible to use the bracketing function to automatically change exposure settings when shooting in RAW mode. Other expanded RAW shooting capabilities include the ability to shoot 1:1 aspect ratio (vertical/horizontal ratio) format photography in RAW mode.
The number of mode dial "My Settings" options for defining your own shooting settings has increased to three. (There were two on the Caplio GX100.)
There are now one-push mode change function buttons both on the top surface and as one of the rear-surface cross keys. These buttons can be used for customized settings to, for example, to switch from JPEG to RAW or from colour to B&W. You can switch quickly to your preferred shooting mode when confronted with a sudden photo opportunity.
The AF target shift function, which before could only be used in macro shooting, is now also available in normal shooting. Without moving the camera, it is possible to shift the target for AF or AE or both.
The flash is manually raised by sliding the open switch. Flash functions on the GX200 have been further expanded with a light intensity adjustment function (-2.0 EV to +2.0 EV), a manual flash function in which intensity can be set, and a flash synchro setting where flash timing can be set as "1st Curtain" or "2nd Curtain."
An auto rotate function makes it easier to view images on the picture display.
Even when shooting in high-contrast situations, the camera can use an auto level correction function to achieve an appropriate level of brightness while reducing areas that are overly bright or dark.
There is a distortion correction function (on/off selection possible) to automatically correct image distortion during shooting also usable with 19 mm conversion lens.
When in aperture priority mode, an auto aperture shift function will automatically adjust the aperture setting to prevent overexposure.
5. Enhanced image editing functions enable images to be manipulated in the camera.
Image colour tone correction (white balance compensation).

By adjusting green, magenta, blue, and amber tones, still image colour tone can be corrected, with the corrected image being recorded in the camera.

Image brightness and contrast correction (level compensation).

Still image brightness and contrast can be corrected with either auto or manual modes, with the corrected image being recorded in the camera. With manual correction, the image is corrected by adjusting the histogram.

Wide range of creative monochrome possibilities.

Colour, colour density, contrast, and sharpness can each be defined on a five-level scale.
Sepia, red, green, blue, and purple colour selections are possible.
6. Additional options further expand possibilities for camera use.
Lens cap (LC-1) opens and closes automatically in sync with lens movement.
135mm equivalent tele-conversion lens (TC-1) with built-in hood. Filter attachment possible.
*When the tele conversion lens is attached, vignetting will occur when the zoom is not set to full telephoto.
*The above two options can also be used on the Caplio GX100.
7. Removable electronic viewfinder can be attached.
A removable and tiltable electronic viewfinder can be attached (included in GX200 VF KIT).
The field of view provides 100% coverage without parallax and can display the same information as on the LCD picture display.
It is convenient for shooting in bright outdoor environments and enables shooting to be done in a conventional film camera style.
List of GX200 Options:
Rechargeable batteries DB-60
Battery charger BJ-6
AC adapter AC-4c
LCD viewfinder*1 VF-1
Wide conversion lens*2 DW-6
Hood and adapter HA-2
Soft case SC-45
Neck strap*3 ST-2
Cable switch CA-1
Self retaining lens cap LC-1
*1 The VF-1 LCD viewfinder is included in "GX200 VF KIT".
*2 The HA-2 hood and adapter is required when using the wide conversion lens or the tele conversion lens. When the wide conversion lens or the tele conversion lens is attached, the internal flash cannot be used because vignetting may occur.
*3 The ST-1 neck strap for the GX/GX8 cannot be used.
GX200 with electronic viewfinder included,
will be available in the beginning of July 2008 at £399.99 inc vat. GX200 Standard is available at £ 349.99.