Today is the day that Nikon shooters around the world have waited years for. Ever since the Nikon D2 series debuted with the announcement of the D2H in July 2003, Nikon shooters have wanted more. The D2X, which hit the streets in early 2005, brought Nikon back into the high resolution fray, but disappointed many with its performance above ISO 400 and its "High Speed Crop" mode which was required to get beyond 5 frames per second speed. Nikon users still wanted more: They wanted a faster camera, more AF points, Bigger viewfinders, Bigger LCDs, More Dynamic Range, Better High ISO, and especially Full Frame.
Today, Nikon checked everything off the wish list with their new speed demon, the Nikon D3.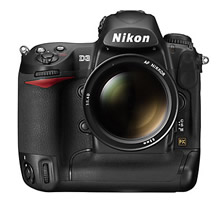 The D3 is just one part of a long line of groundbreaking Nikon F-Mount SLRs going back almost 5 decades. In recent years, Nikon suffered the loss of many professional customers with Canon always seeming one step ahead. Nikon chose to challenge Canon in the consumer and advanced amateur market first, with sales climbing at a record pace, even besting Canon in Japan recently with the D40, D40x, D80, and D200 filling out the sub-$2000 market. Nikon still hadn't challenged Canon's 1D mark II/Mark II N for speed, or matched the 16.7MP 1Ds Mark II for overall resolution (although due to the smaller format, the overall resolving power between the two was quite similar). With the release of the Canon EOS-1D mark III earlier this year, it seemed Nikon might never catch up. Never say never, though. With last night's Nikon announcements, Canon should be shaking in their boots and thinking hard about new and exciting ways to compete. And that's great photographers, who will benefit from the innovation that results from the competition.
The new Nikon D3 isn't designed to challenge Canon's new high resolution studio body, the EOS-1Ds Mark III. The D3 is aimed squarely at the 1D Mark III, Canon's 10.1-megapixel, 10 frames-per-second beast. The EOS-1D Mark III, despite some AF system issues affecting a number of bodies, has rapidly become the camera to beat in terms of auto focus, overall image quality, dynamic range, speed, and high ISO performance. Nikon realized this, and the D3 is a across Canon's bow. Featuring a 12.1-megapixel full frame "FX Format" sensor, it outdoes the EOS-1D Mark III in resolution by 2 million pixels. The sensor has a very large photosite size (individual pixel size) for incredible light gathering ability. The D3′s CMOS sensor also has gapless microlenses and on-chip noise reduction. The sensor features 12-channel data readout, versus the 4 channel readout that was used in the D200 to achieve 5 frames-per-second at 10-megapixels for long bursts.
Beyond Nikon's long-standard nearly instant startup time, imperceptible shutter lag, and a mere 74ms mirror blackout time, the D3 is now the fastest full frame DSLR on the planet with a continuous shooting rate of 9 frames-per-second at its maximum resolution of 12.1 megapixels. It even outpaces Canon's EOS-1D Mark III, shooting at 11 frames-per-second in the lower resolution, DX crop mode. However, the top speed of 11 fps comes without the benefit of auto focus tracking.
That isn't to say the Nikon D3′s AF system is any slouch. In fact, the D3 features a groundbreaking Multi-CAM 3500 FX auto focus system, with 51 auto focus points- the most ever in an SLR. With luck there won't be any issues with it as there have been with the Canon EOS-1D Mark III (something I personally learned the hard way). Nikon retains easy control over the point selection process with its 8-way multi controller, plus a number of configuration options. Like Canon's 1D Mark III and the just-announced 1Ds Mark III, a feature is included to tweak auto focus performance for individual lenses. Nikon has also included color AF tracking to improve accuracy, using a modified version of the 1,005 pixel RGB metering sensor that has given Nikons incredible metering  and white balance accuracy.
Naturally, image quality is paramount. Those familiar with the D2X will recall that ISOs above 800 were ISO boosts- H1.0 was 1600 and H2.0 was 3200. Nikon does not offer a speed within the normal range lightly. That is why it is mind-boggling that the base ISO range of this camera is 200-6400: not 100-800 like the D2X, or 200-1600 like the D2Hs, or 100-1600 like the slew of 10mp Nikons in production today. Even Canon's 1D Mark III, which actually has usable ISO 6400, doesn't offer it as a normal sensitivity setting. Nikon has even enabled shooting in 1/3, 1/2, or 1 stop increments all the way up to ISO 12,800. And above that, they offer HI 2.0: ISO 25,600- a first for digital SLRs. A noisy, poor image quality ISO 25,600 gimic setting would be easy to believe – Nikon hasn't had the greatest high ISO performance of late – but initial reports from Japan indicate that pros testing the preproduction bodies at the release were astounded. Unfortunately, they aren't allowed to share images from preproduction bodies. But the results are said to be above and beyond anything available today. Besides ridiculously high sensitivity settings, the D3 also offers an ISO 100 equivalent Lo ISO setting.
Nikon has taken a new approach to in-camera image processing. The new image processing system has been dubbed "EXPEED". It features a 14-bit Analog to Digital Converter and 16-bit data processing. JPEG shooting can also use Active D-Lighting in camera to improve shadow and highlight detail, which only adds to the attractiveness of the 14-bit ADC. 14-bit is the new standard set by Canon's 1D MkIII. The D3′s 16-bit processing and Active D-Lighting is another reason its more attractive than the Cnon EOS-1D Mark III with just 14-bit data conversion. Branding the processing system with the EXPEED name is clearly targeted at the Sony Bionz and Canon Digic II and Digic III image processing engines. Nikon has lagged on effective marketing for years. Canon and other manufacturer's marketing has given the impression that Nikon is further behind than they actually have been. And Nikon has stepped up to the plate with their most recent digital SLRs - they started with the D70. But the D80, D40, and D40x have been very well-designed and competitive cameras – and they're selling quite well.
The D3 is truly designed to be an image quality beast. But what good would that be without a way to see it? Nikon obviously gave this a lot of thought, as the D3 offers an HDMI 1.3 port to output directly to high definition displays (HDTV).
The really incredible feature on the D3 as far as output goes though is undoubtedly the 3-inch LCD display. It isn't the first 3-inch LCD on a DSLR. The Canon EOS-1D Mark III and the recently announced EOS-40D and 1Ds Mark III have a 3-inch 230,000 pixel LCD. But the D3′s LCD is a leap ahead. Featuring an astounding 920,000 pixel screen, the D3 has the highest resolution display on a DSLR today, by a huge margin. This makes a big difference in the next big thing in digital SLR features: Live View. While the 1D Mark III offers Live View, it's manual focus only and is a separate function. The recent Canon announcements added a system similar to Olympus and Panasonic's mirror-drop AF, but Nikon also offers contrast-detection auto focus in live view. Live View is a standard shooting mode on the dial, with single shot, Continuous low, Continuous High, Mirror up and self timer in addition to Lv. Having used Live View on the 1D Mark III, I kinda miss AF (though manual focus is very easy, even remotely). But it will be a treat to use Live View with such a high resolution display - especially for macro photography.
Nikon has paid attention to the rest of the camera as well. Minor refinements are everywhere, demonstrating that Nikon knows how to keep track of the little things that make a camera easy to use. Angled command dials, viewfinder masking for 5:4 crop mode and DX crop, and the new Picture Control system all improve overall user experience and continue the long tradition of easy to use Nikon controls and ergonomics. The addition of dual CF card slots and support for UDMA high speed cards offers improved flexibility, with options to backup to both cards, auto switch when full, and write JPEG to one card and RAW to the other. As expected, the camera is weather-sealed and has a durable shutter rated to 300,000 shots.
If pressed, I couldn't pick one favorite new feature. I can tell you a few I think are important, though. Undoubtedly the new auto focus system is one of them. I loved my Nikons' 11-point AF system (Multi-CAM 1000 and 2000). It was pretty accurate but the AF points were more sparse and weren't always perfectly centered in the brackets. With the D3, I think the accuracy will be better, plus there are now 15 cross-type sensors, which are the most accurate. Not that Nikon's line-only sensors are bad. The D200 only has one cross sensor and did great at AF tracking. The D3′s new 3-inch, 920,000 pixel LCD really gets me going, because I'm a big fan of a really great image review that lets me judge overall sharpness at full magnification. And although I'm definitely an optical viewfinder guy, Live View is a nice feature – especially for macro and tripod-mounted photography.
However, the killer feature that made me decide to buy a D3 as soon as I can, (I'm a fast decision maker with photography) is ergonomics. Nikon seems to have taken everything that was right with the D2 series (most everything), put in everything that was awesome about the F6 35mm SLR, added a pinch of magnesium alloy, and made a camera out of it. The tilted command dials are something I've wanted since the moment I first held the F6, almost 2 years ago. Turning them is that much more easy and natural. In fact, a friend and I made a composite drawing about 6 months ago that was very close to the finished product. Nikon knows how to make a camera that feels like pure heaven in your hands.
The D3 is a flagship camera if there ever was one. However, compared to Canon's full frame DSLR, it seems to be missing a few million pixels. The reason? The D3 is built for speed. Word on the street is the next body is still being tested and will be released early in 2008. It should also be an FX format (full frame) body like the D3, but with much higher resolution. Despite being full frame and high speed, the D3 will be competitively priced: right around the $5,000 mark – not far from the EOS-1D Mark III that it competes with.
Nikon D3 Key Features:
12.1 Megapixel FX format Full Frame CMOS Sensor
ISO 200-6400, L( 100) H up to ISO 25,600
9FPS Full Frame, up to 11FPS DX
Multi-CAM 3500FX 51-point autofocus system
3.0″ 922,000 pixel LCD, HDMI video output
EXPEED Image Processing System
Scene Recognition System
Live View with AF in all modes
Picture Control System
14-bit A/D, 16 bit processing
300,000 cycle shutter
AF Fine Tuning
Complete Nikon D3 Specs >>
The D3 maintains compatibility with many accessories from the D2 series, including the DK-17M magnifier, 10-pin remote accessories, and GPS. The D3 now has an F6-style built in remote terminal cover, which many nikon D2 series users will tell you is a smart move. The old terminal caps were way too easy to lose. The D3 uses the same powerful battery pack as the D2, but with a new dual slot charger included. It also mantains compatibility with the full range of AF Nikkor lenses, AI-P and non-CPU AI Nikkor lenses. The only major accessory that isn't compatible is the wireless transmitter. But Nikon announced the new WT-4 transmitter along with the other announcements, today.
The D3 wasn't the only show at Nikon's press conference in Japan by any means. The big surprise was almost a year ahead of their usual replacement cycle, the D200 is already obsolete. Nikon announced the 12-megapixel D300 at the same time as the D3. The D300 is to the D3 what the D200 was to the D2X and then some. Truly the digital equivalent of the F100, perhaps even the F6, the D300 is a true baby D3. It features a 12.3 megapixel DX format (1.5x crop) CMOS sensor, the same 51-point AF system found in the D3, self-cleaning sensor, live view, instant startup and almost imperceptible shutter lag. It can shoot continuously at 6fps: clearly aimed squarely at canon's new 10-megapixel, 6.5fps EOS-40D, which also features a self cleaning sensor. The D300 one ups it, however, with the same 3.0″ 920,000 pixel LCD as the D3, a much more complex AF system, 12MP, and with the optional MB-D10 power booster can shoot at up to EIGHT frames per second- just as the F6 can with its MB-40 booster attached. The MB-D10 offers additional flexibility- not only can the D300 be powered by the same EN-EL3E batteries as its predecessor and the body only, but it can also be powered by the D2 and D3 series' EN-EL4A battery and AA batteries.
The D300 also offers the EXPEED image processing system with 14-bit A/D conversion and 16 bit processing, autofocus during live view, ISO 200-3200 in normal settings, Lo 1.0 (ISO 100), and Hi up to ISO 6400. It is compatible with the new WT-4 wireless transmitter, and has HDMI output. It also offers the same durable build quality of the Nikon D200 that thousands of photographers trust implicitly, and has full lens compatibility with AF Nikkors, AI-P, and non-CPU AI nikkors. As usual, it offers a built in manual release pop up flash, ergonomic styling and controls, promising to be as easy and comfortable to use as the D200 and more than likely surpass its predecessor in that way too. It manages to do this without breaking the bank. It is more expensive than the Canon 40D, and the D200 today, but release price will be under $2,000, not far from where the D200 debuted at. Considering that the D200 has been immensely successful placed at a higher price point than the Canon 30D but with a larger feature set, and the D300 is still more compelling than perhaps any Nikon to date (save the D3) , it will undoubtedly be a hit. I can see quite a number of journalists and action photographers using the D300 as a backup or as a main body with the MB-D10 grip and an EN-EL4A battery inside, and if it is as good at high ISOs as we're hearing, it really will be a compelling offering at an incredible price. This is what Nikon does best- break price barriers.They did it with the N90, bringing the performance of an F4 in a small package for a great price….they did it again with the F100 /F5 combination, and again with the D100, D70, D200, D40/40x, and now the D300.
D300 Key Features:
12.3MP DX format CMOS sensor
EXPEED image processing
ISO 200-3200, L(100), H(6400)
New 51 point Multi-CAM3500DX AF system
Live View with Autofocus in all modes
Weather Sealing
Sensor Cleaning
3.0″ 922,000 pixel LCD
HDMI output
UDMA Card Support
6FPS continuous shooting, 8FPS with MB-D10 battery pack
AF Fine Tuning
14-bit A/D, 16 bit processing
Complete Nikon D300 Specs >>
These new cameras bring with them a new software setup: Nikon Capture NX remains, while Camera Control Pro reaches version 2.0. The Cancelled Nikon View Pro has been renamed Nikon ViewNX and is now free of charge.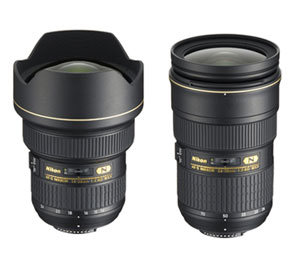 Nikon has also included a slew of lens upgrades. For many these are welcome additions. The AF-S 14-24mm f/2.8G ED lens is a full-frame zoom with a field of view reaching an astounding 114 degrees on full frame cameras like the D3′s FX format sensor. The new 24-70mm f/2.8G ED AF-S is the new standard zoom in the range developed to be smaller and lighter, improving sharpness across the frame. This thankfully eliminates a great deal of overlap: previously it would have meant a 17-35mm and 28-70mm lens, and the 14mm prime to cover 14mm to 70mm. Now, the 14-24mm and 24-70mm cover from 14-70 without overlap or gaps.
Both lenses feature Nikon's Nano Crystal Coat, which was introduced on the 300mm f/2.8G AFS VR and greatly reduces flare and ghosting.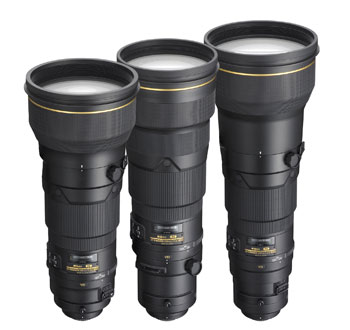 Also upgraded were Nikon's super telephoto lenses: the 400mm f/2.8G AF-S ED VR, 500mm f/4G AF-S ED VR, and 600mm f/4G AF-S ED VR. All three feature Nikon's VR II system with up to 4 stops of shake correction, with the Nano Crystal Coat like their smaller 300mm brother. Together with the existing 300mm f/2.8G AFS ED VR, 200mm f/2.0G AFS VR Super-ED, and 200-400mm f/4.0G AFS ED VR zoom, Nikon's super telephoto range is the ultimate in flexibility and quality available. Of interest to birders, the VR II system now offers tripod mode, so no more overcompensation for tripod stability. They also have focus preset systems, and a new manual focus override designed to keep AF engaged in the event of accidental override. Weight is more or less in line with their predecessors, the AFS mark II versions, and weather sealing is included. Each lens improves on the minimum focus distance of their predecessors as well.
Curiously absent were updates to Nikon's aging prime lenses. One area that Canon has an undisputed edge is in fast glass under 200mm. Canon offers the excellent L-series 24mm f/1.4L USM, 35mm f/1.4L USM, 50mm f/1.2L USM, 85mm f/1.2L II USM, 135mm f/2.0L USM, and non-L series lenses such as the 28mm f/1.8 USM, 50mm f/1.4 USM, 85mm f/1.8 USM, and 100mm f/2.0 USM. Nikon, however, has the discontinued and almost impossible to find 28mm f/1.4D AF (an aged design, with slow screwdrive AF and a going rate of over $2,000 used), the still tough to find 85mm f/1.4D AF, which also uses screwdrive AF and has in my opinion a bit too much chromatic aberration, and the 105mm f/2.0 DC and 135mm f/2.0 DC, which not only use screwdrive AF but have Defocus Image Control, an expensive and complicated feature that many photographers would never use. Additionally, the Nikon 50mm f/1.4 is poorly build compared to their other fast lenses, and uses screwdrive AF. Nikon's fast 24mm and 35mm pro lenses and their professional 50mm f1.2 are all manual focus lenses dating from the 1970s, and while they will work on the D3 and D300, they simply don't cut it in today's world. If Nikon wants to really make the most of its newfound high ISO capabilities, they would be served well with a new line of fast AF-S ED Nano-Crystal primes at or around 24mm, 35mm, 50mm, 85mm, and 100-135mm, with professional grade build and the Nikon optical quality that built the company and has kept it a leader in photography.
Nikon however really has created a compelling offering and the competition will only heat up from here. Canon has already tipped all of their hand but the entry level and the rumored 5D replacement, and competition is good- both brands will go back to the drawing board with bright ideas and plans for the future. Complacency by any brand is deadly to the company and a blow to their customers. Nikon has clearly challenged Canon on their home turf now, and their offering in the spring is likely to be exciting as well. Nikon is ready to regain dominance in the whole DSLR market, and as far as Nikon is concerned: This is the beginning of the rest of Digital Photography.
Related Nikon Content:
Nikon D3 Press Release >>
Nikon D3 Specs >>
Nikon D300 Press Release >>
Nikon D300 Specs >>
Nikon AF-S 400mm, 500mm, & 600mm VR II Nikkor Lenses Press Release >>
Nikon AF-S 24-70mm f/2.8G ED Zoom Nikkor Lens Press Release >>
Nikon AF-S 14-24mm f/2.8G ED Zoom Nikkor Lens Press Release >>
All Nikon Camera News >>
Read and Write Nikon Camera & Lens Reviews >>
Nikon Cameras Forum >>
Nikon Cameras Resource Page >>
Nikon Web Page >>