Even with a price tag of over $1000, I have no doubt the Nikon Coolpix A will be one of the hottest cameras of 2013. Not a lot us will be able to justify the cost, but every photographer is going to want one. So why would someone be willing to cough up over one thousand perfectly good US dollars for a point-and-shoot camera? Well, although it will easily fit in a pocket, the Nikon Coolpix A isn't really a P&S – not with a 16-megapixel DX-format (APS-C) DSLR sensor, a fast 18.5mm f/2.8 Nikkor lens (equivalent to 28mm on a full-frame/35mm camera), RAW shooting and PASM manual shooting modes. This is a serious pocket camera designed for pros, and it's priced accordingly.

Nikon Coolpix A Key Features & Specs:
16.2-megapixel DX-format (APS-C) CMOS sensor
18.5mm f/2.8 Nikkor prime lens (28mm equivalent)
1920 x 1080 full HD video
Sensitivity: ISO 100-6400, expandable to ISO 25,600
Mode dial with PASM manual shooting modes
12 or 14-bit uncompressed NEF RAW
Manual focus ring
4 FPS high-speed burst
3-inch LCD display
Compatible with WU-1a Wireless Mobile Adapter
Pop-up flash (guide number 23 ft. at ISO (100)
Flash hot shoe
It wouldn't be right talking about the Nikon Coolpix A without mentioning Sony's RX1 high-end compact camera. The RX1 was introduced last September (2012) with a 24-megapixel full-frame sensor and a 35mm f/2.0 prime lens (Sony RX1 review). And in spite of its premium $2800 price tag, by all reports it's selling very well. The RX1 proved there was a market for high-end, large sensor compacts and opened the door for competition. The RX1 also makes the Nikon Coolpix A's price look quite reasonable. Whereas the RX1 is just plain out of reach for normal people, the Coolpix A's $1100 price is doable for serious photographers. We might have to make some sacrifices for it. But it's not out of the question.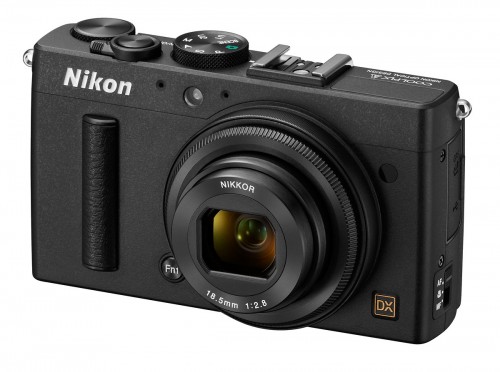 Performance-wise, I think Nikon is right on target with the Coolpix A. While it doesn't match the specs of the Sony RX1, it would be hard to argue that the 16-megapixel APS-C sensor and f/2.8 prime lens are really compromises – especially not when compared to other high-end compact camera options. The Coolpix A's sensitivity goes all the way up to ISO 6400 and can be expanded to ISO 25,600. The f/2.8 lens will make it even better in low light, as well as giving photographers more creative control for portraits and other subjects where shallow depth-of-field is desirable. The Coolpix A can shoot uncompressed NEF RAW at 12 or 14 bits and it can shoot bursts as fast as 4 frames per second. It has a 3-inch LCD display and a powerful pop-up flash (for a compact camera) with a guide number of 23 feet at ISO 100, as well as a flash hot shoe if you want even more light. The Coolpix A can also record full HD video at 30, 24 or 25 frames per second.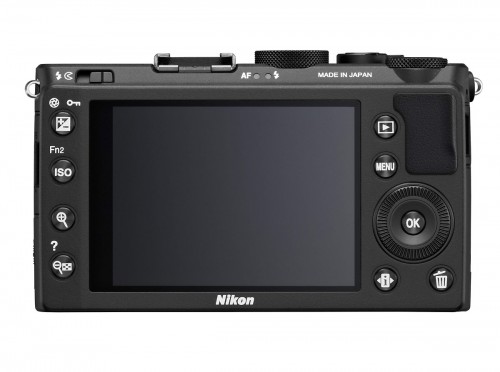 For professionals and other serious photographers, controls are just as important as a camera's performance. To that end, the Nikon Coolpix A has a mode dial, a thumb dial on top of the camera, a manual focus ring on the lens, two customizable Fn buttons, and dedicated ISO and exposure compensation buttons on the back of the camera. It also uses the same menu structure as Nikon digital SLRs, so experienced Nikon shooters should be able to get around the menu with a minimal learning curve.
The Nikon Coolpix A is the digital pocket camera I've been waiting for. I remember talking to other photographers about a camera like this, ten years ago – wondering why none of the camera companies would step up and make it. Sony can take the credit for getting the ball rolling last with the RX1. But to be honest, the RX1 is way out of reach for me and most other photographers. The Coolpix A is doable, though – and I would be more than happy with an APS-C sensor camera that fits in my pocket. Size-wise, at about 4.5 x 2.5 x 1.7 inches (111 x 64.3 x 43mm), the Coolpix A isn't tiny – but it will fit comfortably in a pants pocket, and that's key for me. I think Nikon is right on target with the Coolpix A – although I do wish it had a zoom lens. A lot of people love the simplicity and optical perfection of prime lenses. But personally, I will trade that for the flexibility of a zoom. Maybe we'll get a zoom in the Coolpix A1.
The Nikon Coolpix A will be available in black or silver and it should be in stores this month (March, 2013) with a suggested retail price of US $1099.99. There's also an optional optical viewfinder (DF-CP1) which will sell for $449.96, and a filter adapter (UR-E24) that will come with a lens hood (HN-CP18) for $129.96.
Nikon Coolpix A Press Release >>
Related Content:
All Nikon User Reviews
Digital Camera User Reviews
Nikon Cameras Forum
Digital Cameras Forum
Nikon News, Reviews & Articles
Nikon Web Site