The Nikon Coolpix S9500 is currently Nikon's top-of-the-line pocket superzoom camera. It has an 18-megapixel 1/2.3-inch backlit CMOS sensor, a 22x (25-550mm equivalent) Nikkor ED VR zoom lens, built-in Wi-Fi and it sells for about US $350. We're in the process of wrapping up a complete hands-on review for the S9500. But in the meantime, here are our studio sample photos to peruse and compare – a photographer's appetizer platter, if you will.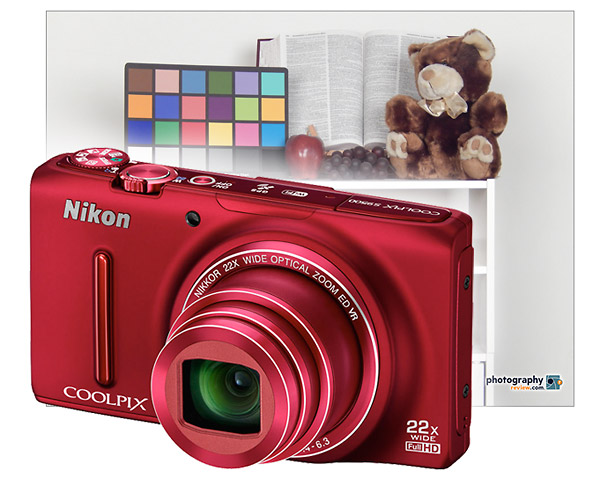 The Coolpix S9500 is a pure point-and-shoot, JPEG-only camera; so manual photographers and folks who want RAW files will need to look elsewhere. As far as image quality goes, the studio tests below look a bit lacking in contrast to me, and they also seem a tad soft and watercolory – a sign of too much compression. Still, the S9500 is useable up to ISO 1600, as long as you aren't trying to capture every twig and leaf in a big, landscape. In good light at ISO 400 and under, the image quality is excellent. Although I do think the images benefit from some increased contrast in post processing.
Our Nikon Coolpix S9500 studio sample photos were shot on a tripod in the PhotographyREVIEW.com test studio at the camera's maximum resolution and highest JPEG quality. White balance was set on the tungsten preset and the exposure was adjusted with exposure compensation to get the white patch as close to pure white as possible without losing detail. The graybar, logo and text were added in Photoshop and the images were then resaved as maximum quality JPEGs. No adjustments of any kind were made – that includes sharpening and noise reduction. What you see is what you get.
Warning: these files are big – be patient while they download.
Nikon Coolpix S9500 Studio Sample Photos
We welcome your comments and user reviews. If you own the Nikon Coolpix S9500, please click on the link below to go to the user review page and write your own review. If you're interested in looking at other pocket superzoom cameras, check out our Pocket Superzoom Camera Guide.
Nikon Coolpix S9500 Intro >>
All Digital Camera Sample Photos >>
Related Content:
All Nikon User Reviews
Digital Camera User Reviews
Nikon Cameras Forum
Digital Cameras Forum
Nikon News, Reviews & Articles
Nikon Web Site