Nikon D3 focusing mystery solved — diopter adjustment matters!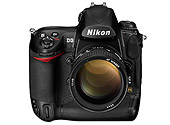 Manual focus accuracy can be tricky, which gave me fits with the Nikon D3. The following article will help Nikon D3 and other digital SLR photographers tighten up their focusing technique.

Here's a synopsis of what you need to know:
The diopter adjustment really does matter. Even being 1 "tick" off results in errors. The reason for this might be the eye "straining " to accommodate.
The grid lines of the target visibly change by being off just by 1 tick of the adjustment knob; thick black lines change into thin black ones or ones that can't be resolved by eye.
Quick eye-based manual focusing results in some random errors, but not consistent backfocus (only), provided that the diopter adjustment is correct.
Variation between testers in my testing was much less than variation caused by incorrect diopter adjustment.
Figure 2: good vs bad focus. f/8 is required to overcome the error

Read in more detail how I finally resolved the problem with my Nikon D3 in Focus Accuracy — Diopter Adjustment Matters
Related Content:
Nikon Review Page