Digital SLR Wars At Photokina 2008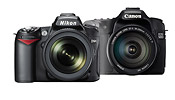 With the bi-annual Photokina tradeshow just a month off, the camera announcements are starting to come fast and furious. We've had a whole slough of compact camera announcements from Sony, Olympus, Panasonic, Nikon, and Canon. And yesterday it started with the digital SLRs.
Canon's 15-megapixel EOS 50D (read more about the Canon EOS 50D) with a maximum ISO of 12800, caught me by surprise – especially since Canon users have all expecting a full-frame EOS 5D replacement. And rumors have been flying for a week or so about a Nikon DSLR announcement. Some leaked images and details on the new camera added some serious fuel to the Nikon fire. And today Nikon unveiled the 12.3-megapixel D90 – the first digital SLR to include full HD video capability. As the leaked info and name indicated, it's a DX format (APS-C sensor size) step up from the 10-megapixel Nikon D80. The sensitivity range is ISO 200 to 3200 and can be expanded to ISO 100 on the low end and 6400 on the high end. The frame rate is a respectable 4.5 frames-per-second. It also includes Nikon's Active D-Lighting in-camera processing, a sensor cleaning system, 11-point auto focus, a 3-inch 920k-resolution LCD display with Live View, and GPS compatibility.
| | |
| --- | --- |
| | |
What really sets the Nikon D90 apart from other digital SLRs is the addition of the D-Movie mode. The D90 is the first digital SLR that can capture video as well as still images. It will record high-def video at 1280 x 720 pixels and 24 frames-per-second. With speed, high ISO performance, and the full range of changeable Nikkor lenses, the D90 could become the next big thing for homegrown action sports photographers. For more details and in-depth analysis of the Nikon D90 announcement, read the press release and check out deckcadet's post on the Nikon Cameras Forum.
But Nikon and Canon aren't the only players to watch before Photokina. No DSLR announcements have been made yet by Pentax, Olympus, or Sony – not to mention Panasonic, Leica, and Sigma. We already know Sony should be announcing a 24-megapixel full-frame professional digital SLR – they had the sensor on display at PMA this spring. Olympus and Panasonic recently announced the new Four Thirds Micro camera standard and I'm hoping we'll see something in that new format at Photokina. But still no mention of what's probably the most anticipated camera – the replacement for Canon's revered full frame, small-bodied EOS 5D – the regular guy's workhorse camera. Among Canon wedding, portrait, product, and landscape photographers who don't want to pay for or haul around the massive and expensive EOS-1Ds Mark III, the EOS 5D replacement is becoming something like the second coming. Keep the faith, brothers and sisters – we've still got a month left before the show…
Nikon D90 Reviews And Shopping
Canon EOS 50D Reviews And Shopping
Related Content:
Canon Cameras Forum
Nikon Cameras Forum
Digital SLR Forum
More Canon News And Articles
More Nikon News And Articles
Canon Web Site
Nikon Web Site