Olympus has announced a new 4.2x zoom lens for their Micro Four Thirds Pen cameras. The Olympus M.Zuiko Digital ED 12-50mm F3.5-6.3 EZ zoom lens is the first Olympus motorized zoom lens and the first weather-sealed Olympus Micro Four Thirds lens. With the 2x Micro Four Thirds conversion, the 12-50mm focal length is equivalent to a 24-100mm lens on a full-frame or 35mm film camera – a very versatile all-purpose zoom range. The Olympus 12-50mm's motorized zoom control makes smooth zooming action for video easier. The power zoom is controlled by turning the lens barrel – more for faster zoom and less for slower zoom. And it's an MSC, "Movie & Still Compatible" lens with quick, quiet auto focus performance.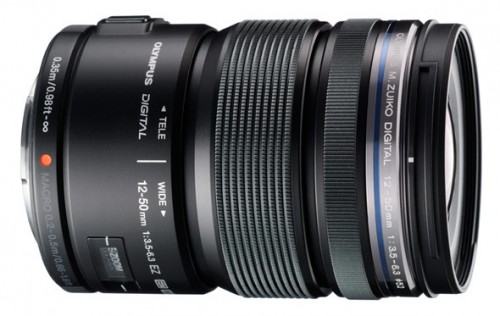 I was excited when I was told about the new lens. My first thought was that this was the Micro Four Thirds version of Olympus' excellent 12-60mm f/2.8-4 E-System DSLR zoom lens. I've been asking for a Micro Four Thirds version of that lens since Olympus launched their first Pen camera. Obviously, this is not that lens (please make it for me, Olympus!). But the new M.Zuiko Digital ED 12-50mm F3.5-6.3 EZ power zoom makes a lot of sense. The motorized zoom is designed primarily for people using the Pen cameras for video. Nikon and Panasonic have both recently announced power zoom lenses for their compact system cameras. And the variable-speed lens barrel zoom control on the new Olympus lens puts a new *twist* (pun fully intended) on the power zoom lens concept.
I've used the Olympus Pen cameras a lot over the past few years. I think their great performance and compact bodies and lenses make them especially good travel cameras. One of the cameras I've enjoyed using the most this year is the Olympus E-P3 (read my Olympus E-P3 review) – mostly with the super-versatile 14-150mm zoom lens (28-300mm equiv.). I don't shoot a lot of video with the Pen cameras but the new power zoom could change that. I got to play with one of the competition's power zoom lenses recently and I was very impressed. Being able to zoom smoothly without a bunch of extra and expensive gear is very cool.
Although it's not the pro-level 12-60mm zoom lens I was hoping for, the new Olympus M.Zuiko Digital ED 12-50mm F3.5-6.3 EZ zoom lens will no doubt be welcomed by a lot of people – especially families, videographers and anyone else using the Pen cameras for movies. And the fact that it's weather-sealed begs the question – is there a weather-sealed Olympus Pen camera in the works? That would be very exciting.
The Olympus M.Zuiko Digital ED 12-50mm F3.5-6.3 EZ zoom lens should be available in about a month – that's the middle of January, 2012. Olympus says the "estimated street price" for the new lens is US $499.99.
Olympus M.Zuiko Digital ED 12-50mm F3.5-6.3 EZ Press Release >>
Related Content:
All Olympus Camera & Lens User Reviews
EVIL & Micro Four Thirds Cameras Forum
Olympus Cameras & Four Thirds Forum
More Olympus Camera News And Articles
More Micro Four Thirds Camera News And Articles
Olympus Digital Cameras Web Site