There's a brand new Micro Four Thirds camera in town – the Olympus E-M5. It's got a built-in electronic viewfinder (EVF) and it's dust and weather-sealed. Instead of making the E-M5 part of their Pen camera line, Olympus decided to differentiate it and pay tribute to their camera-making heritage by creating a whole new line of cameras named after their venerable OM 35mm film SLRs. The new Olympus OM-D line is spec'd more for the professional photographer and the E-M5 looks like a big leap forward for Olympus Micro Four Thirds cameras. The main difference between the Pen cameras and the OM-D line is the built-in EVF and weather-proofing. Besides those two features, the Olympus E-M5 also has a new 16-megapixel sensor with a new 5-axis image stabilization system, a 3-inch tilting OLED display, improved auto focus and 9 frames per second high-speed burst rate. Not to knock the Olympus E-P3, my favorite new camera of 2011 (read my Olympus E-P3 review), but the E-M5 really takes things to a new level. Olympus was nice enough to send me a pre-production camera to play with for a few days so keep reading to see exclusive hands-on video and photos of the E-M5!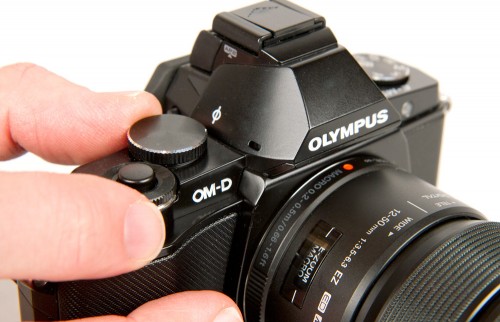 I'll let my video (below) do most of the talking for my Olympus E-M5 introduction. I covered most of the features and specs in the video, plus you get to see the camera in my hands for scale. Unfortunately, the E-M5 I had didn't have a battery so I wasn't able to turn it on to check out the menus or other features. Olympus told me that as far as the body design goes, it's very close to final with maybe only a couple of button position changes. One of the most impressive things about the E-M5 is how small it is. Since the OM-D line is new and the E-M5 has a built-in EVF and weather-sealing, I figured it would be noticeably larger. But it's actually very close to the same size as the E-P3 Pen camera. For those of you who remember the Olympus OM cameras – arguably some of the prettiest 35mm SLRs ever made – you'll see that the E-M5 looks very similar. Of course, the E-M5 has a big OLED display on the back and the viewfinder is electronic instead of optical. But the resemblance is undeniable.
Olympus E-M5 Hands-On Video Introduction:
Olympus OM-D E-M5 Key Features and Specs:
New 16.1-megapixel Live MOS Sensor
TruePic VI dual core image processing
1.4-megapixel built-in electronic viewfinder (EVF)
3-inch, tilting touch screen OLED display
5-axis sensor-shift image stabilization compensates for pitch, yaw and roll as well as X and Y axis movement
1920 x 1080 full HD video in .MOV format
Sensitivity: ISO 200 to 25,600
Dust and weather-sealed magnesium alloy body
9 frames per second high-speed burst with focus locked (4.2 FPS in continuous AF mode)
Comes with removable, weather-sealed FM-LM2 flash (can be used to control external flash)
2-axis electronic level
Besides the obvious – the 3-inch tilting OLED display, EVF and weather-sealing – the most exciting new features in the E-M5 are the new 16-megapixel sensor, the improved auto focus and the much faster burst rate. Like the E-P3 Pen camera, Olympus is claiming that the E-M5 should have the world's fastest auto focus at introduction. Even more important, they've doubled the refresh rate of the sensor so that the contrast detect auto focus system now has better continuous auto focus. With the exception of Nikon's new J1 and V1 compact system cameras, which have a "hybrid auto focus system," the weakest part of mirrorless camera performance has been continuous auto focus. Basically, it was pretty unusable. As an action sports photographer, good continuous auto focus and fast burst rates make a huge difference for me so I am looking forward to seeing how well the new AF system performs. As for burst rates, I already mentioned that the E-M5 has a max high-speed burst of 9 frames per second. That's just a hair slower than Nikon and Canon's pro sports DSLRs, which can shoot 10 FPS or faster; and it's a whole hell of a lot faster than the E-P3, which maxed out at only 3 frames per second –much too slow for serious sports photography. The E-M5's 9 FPS max burst rate is possible only with the focus locked. But with continuous auto focus, the camera can shoot as fast as 4.2 frames per second – still over 30% faster than the E-P3. We'll have to wait and see if the E-M5's auto focus can really keep up with serious action subjects like cyclists and skiers. I really don't know what to expect and I don't want to get my hopes up too much. But I'll definitely push them hard and let you know how well they work, once I get a working camera in my hands.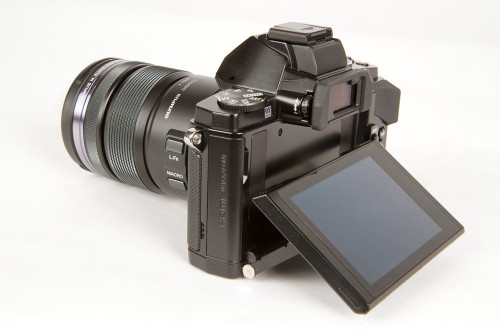 Image quality with the E-M5's new 16-megapixel sensor is an unknown. Of course, Olympus assures us it's going to be better. They say the new sensor offers, "improved performance and exceptional clarity," and the TruePic VI processing, "dramatically improves image quality in low-light environments." I don't think they'd want to compromise their new camera line by introducing it with sub-par image quality. Plus, they keep managing to squeeze more out of the Four Thirds sensor, in spite of the small size. So I'm going to have faith and give them the benefit of the doubt. But ultimately, we'll have to wait and see how it does. I was very pleased with the E-P3's 12-megapixel sensor. If they can improve on that, I will be impressed.

One of the less talked about benefits of using a camera with an electronic viewfinder is the EVF acts as a third point of contact while recording video. Anyone who's ever tried to make smooth handheld video using just the LCD on a digital SLR knows it's impossible. That's not the case with a camera that has an EVF, though. So the E-M5 should be a great out-of-the box video camera. Olympus also says they've improved the rolling shutter effect, which really was a problem with the Pen cameras. Video for the E-M5 is 1920 x 1080 full HD and Olympus has switched from AVCHD to the .MOV video format to make sharing and editing easier.
Of course, the E-M5 has a full range of exposure controls, including full manual, program, aperture priority, shutter priority and also iAuto for less experienced photographers. The E-M5 also has new exposure control dials. Although I love the feel of the E-P3, I have always had a bit of trouble with the Pen camera exposure control dials. The E-M5 has two dials on top of the camera – one around the shutter release for your index finger, and one behind that for your thumb. I didn't actually use them so I'm not sure how well they work. But I like the look and feel of them better than the dials on the back of the E-P3. They feel sturdier and I think they're a lot less likely to accidentally get moved.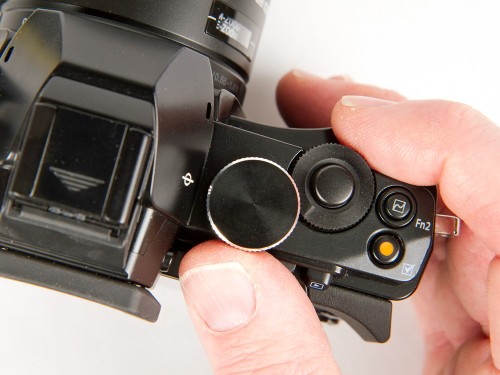 Some other new features on the E-M5 include new Key Line, Cross Process II and Black and White Dramatic Film Art Filters. There are a couple of new movie effects called One Shot Echo and Multi Echo and Olympus has added something that I don't think has ever been done before – Live Bulb. It basically builds an image on the LCD for you as you keep the shutter open. This would be useful for long exposures of fireworks, star trails on street scenes with lines of headlights.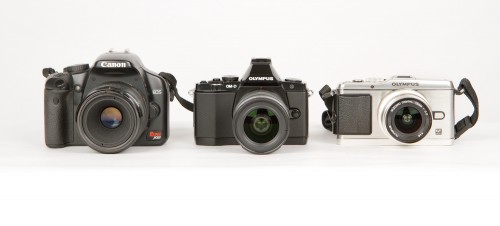 I really enjoyed my time with the E-P3 Pen camera and I'm really pleased to see Olympus deepening their commitment to the Micro Four Thirds format with the new O-MD line – especially when you consider the financial drama the company has suffered through in recent months. Hopefully, the new E-M5 is proof that the in spite of all the shocking news, the camera division is in good shape.
The new Olympus E-M5 should be available for purchase in April. The cost for just the camera body will be US $999.99 and it will come in black and silver finishes. It will also be available in a kit with the recently announced, weather-sealed M.ZUIKO Digital ED 12-50mm f/3.5-6.3 power zoom lens – perfect for people who are really interested in video. That kit will sell for $1299.99. There will also be a kit with the standard Olympus Micro Four Thirds kit lens – the M.ZUIKO Digital 14-42mm f/3.5-5.6 II R zoom. That kit will sell for $1099.99. Can't wait to get a working camera in my hands!
Olympus OM-D E-M5 Press Release >>
Related Content:
All Olympus Digital Camera User Reviews
All Compact System Camera User Reviews
Olympus Digital Cameras Forum
Compact System Cameras Forum
All Compact System Camera News & Articles
All Olympus News
Olympus Web Site