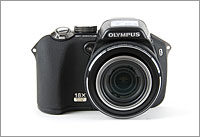 The Olympus SP-560 UZ is an 8-megapixel, 18x super-zoom compact digital camera geared toward the intermediate to advanced photographer looking for quality and versatility. The combination of sensor and digital image stabilization, plus one of the most powerful optical zoom lenses around, makes the SP-560 ideal for capturing sharp images up close and at a distance.
Want to buy an Olympus SP-560 UZ?
Compare prices and shop For Olympus SP-560 UZ >>

Pros
Powerful 18x optical zoom lens
Dual image stabilization
Very good image quality
Full range of exposure options — from manual to auto and everything in between
Lightweight and compact – bigger than a point-and-shoot, smaller than a digital SLR
Pop-up flash
Long AA-battery life

Cons
Power button is difficult to engage quickly
Noticeable shutter lag, especially with flash
Multitude of mode and menu options may overwhelm beginners

Introduction
The Olympus SP-560 UZ arrived in my mailbox on a chilly Montana winter day. After a cursory skim of the manual, I took the camera out of its box and was pleased to find it was about the same size as my regular camera – a popular, but less-expensive brand and model that's a few years old. At a retail list price of $499.99, the SP-560 is a high-end consumer camera geared toward intermediate and advanced photographers — those of us who fall somewhere between the point-and-shoot crowd and hardcore professionals.
I've been serious about photography for over 20 years, seven of which I spent working in one-hour and professional photo labs. I'm more knowledgeable than most women – and a lot of men, too – about things like apertures, ISOs and histograms. Frankly, though, I find them boring. I'm a creative person, not a techie. Basically, I want to take great pictures without working too hard at it.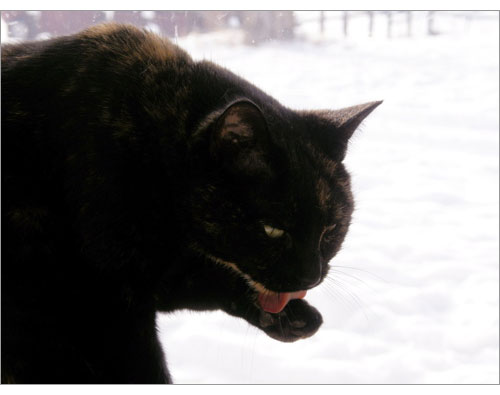 That first afternoon with the SP-560, I took a few snapshots of my cat sitting on a windowsill, and was surprised at how well the camera handled the difficult scene – a dark, moving object against snowy white backlighting. My regular camera would have rendered Luna as a silhouette, and I'd have been hard-pressed to get any detail in Photoshop. But even without flash, the SP-560 rendered sharp, impressive detail in her eyes, tongue and fur.
Excited to try out the SP-560 – especially its long lens and image stabilization — I took my regular camera out of my purse and replaced it with the Olympus. Over the next few weeks, I used it to capture wintry landscapes, wildlife and a trip to Las Vegas.
The big highlights of the Olympus SP-560 UZ are, of course, its phenomenally long, 18x zoom lens – which translates to a 35mm equivalent of 27-486mm – and the Dual Image Stabilization, which combines sensor and digital image stabilization to reduce blurriness from camera shake and low lighting. Another highly touted feature is Face Detection, a new technology that finds, focuses on and exposes for people's faces.
With 33 exposure modes, there's one for just about everyone and everything: Auto, Program, Shutter Priority, Aperture Priority, Manual, "My Mode," "Guide" and Scene Mode. New to me were My Mode – which allows you to program up to four of your own custom shooting modes – and Guide (see below), a shooting mode that lets you choose from a directory of 16 plain-English scenarios – everything from "Blurring background" to "Don't miss the shot" – and selects the appropriate camera settings for you.
| | | |
| --- | --- | --- |
| Olympus SP-560 UZ Shooting Guide mode example | | Olympus SP-560 UZ Shooting Guide mode "Blurring background" screen |

The 25 scene modes have settings optimized for Portrait, Landscape, Landscape+Portrait, Sport, Night Scene, Night+Portrait, Indoor, Candle, Self Portrait, Available Light, Sunset, Fireworks, Cuisine, Behind Glass, Documents, Auction, Shoot & Select 1, Shoot & Select 2, Smile Shot, Beach, Snow, Under Water Wide 1, Under Water Wide 2, Under Water Macro and Quick Shutter. Whew. That's a lot.
Hesitating on any of the scene modes brings up a one-sentence description (below, right). I'm especially intrigued by the Cuisine mode (or what some of us like to call Food Porn), which promises to produce vivid still lifes; the Auction mode, which says it captures three exposures sized for "e-auction" (in other words, eBay); and the Smile Shot, which "automatically takes a picture when your subject smiles." Smile Shot is an exciting proposition, but unfortunately, I couldn't get it to work reliably.
| | | |
| --- | --- | --- |
| Olympus SP-560 UZ Sport scene mode | | Olympus SP-560 UZ Sport scene mode description |

The auto focus system has three focus ranges — Normal, Macro and Super Macro – and eight focus modes: iESP Auto, Spot AF, Face Detection AF, Full-Time AF, Selective AF Target, AF Lock, Predictive AF and Manual.
The SP-560 takes four AA batteries – a fact that made me groan, as I've come to prefer my own camera's smaller, rechargeable proprietary lithium battery pack. I was surprised how long my first set of AAs lasted in the SP-560 – a couple of weeks and several hundred photos, many of them flash. In fact, the red battery-low icon only started to flash when I tried out the burst mode, and even then, the batteries went quite a while before finally dying.
Camera Menus

Olympus SP-560 UZ during capture with info & histogram on

Olympus SP-560 UZ playback mode with info on

Olympus SP-560 UZ playback mode with histogram on

Olympus SP-560 UZ main menu


Olympus SP-560 UZ Camera menu with Drive selected

Design
Overall, I'm impressed with the design of the Olympus SP-560 UZ. The body is matte black plastic and rubber with chrome accents; it feels substantial and looks nice without calling attention to itself. At about 13 ounces (minus batteries), it's a little bigger than a coffee mug and about as heavy. It's too big for a pocket or small purse, but just right for a bigger purse or wearing around your neck.
Olympus SP-560 UZ Pop-up flash and Top Controls

Because the camera grip is on the right side – and I'm right-handed – I found it awkward to hold with my left hand. I wonder if left-handed folks would find this troubling. The top of the camera includes a modest pop-up flash that lies smooth when closed; the flash button is easy to find and engage. The top-right side of the camera has a cluster of controls – power button, image stabilization button, exposure mode dial, shutter button and zoom lever.
My only complaint here is that the power button is so unobtrusive as to be hard to find and engage. It's small and slightly recessed below the camera's surface, which makes it hard to find by feel or in dim light, especially in a hurry. I often had to visually hunt for the button, and a few times it even failed to respond when I pressed it. The power button seems to require a certain amount of pressure and accuracy – not unreasonably so, but it takes a while to get used to. It also strikes me as odd that it's so close to, and smaller than, the far less-important image stabilization on/off button. If I were keeping this camera, I'd probably put a bright red drop of nail polish on the power button to make it stand out visibly and tactually.
The back of the camera contains an electronic viewfinder (EVF), 2.5-inch LCD screen and navigation dial and buttons. The LCD is crisp and vivid, while the EVF seems small but adequate. (It also has diopter correction for vision adjustment.) The navigation is composed of a round arrow pad, a center OK/Function Button, and four outside buttons – Menu, Display, Backlight/Delete and Review. This simple collection of buttons controls a slightly overwhelming array of options – particularly in the camera and setup menus. Honestly, it would take me more than a few weeks to master all of these settings. However, I very quickly found and activated the silent mode – I don't need a camera that beeps at me every time I touch anything, thank you.
Camera Experience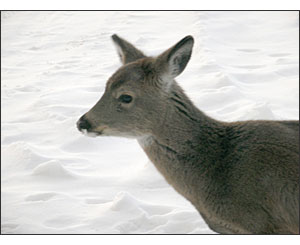 Pulling out of a parking lot on the University of Montana campus where I work, I was suddenly confronted with a gorgeous scene – a full moon rising over snow-covered mountains and trees (see top of page "Moon Over Hellgate"). It was dusk and the lighting was soft, purple-y and changing rapidly. Grabbing the SP-560 out of my purse, I leapt out of the car and hurriedly shot a variety of exposures using Auto and Landscape mode. I ended up pleased with most of them. The moon might be a tiny bit softer than I'd like, but I was impressed with the crispness of the trees and the color rendition.
Another time, a young whitetail deer showed up outside my living-room window. I think I saw this same fawn in September still covered with spots – definitely a late bloomer. Now covered with a thick, gray winter coat, it was foraging in my snow-covered flowerbeds. I grabbed the SP-560 and shot through the window with the auto setting. The resulting images are soft, but considering I was shooting a moving animal through glass and on a background of snow, not bad.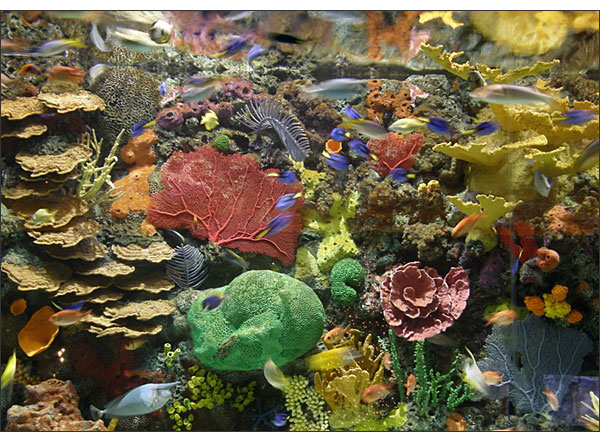 The real test was a conference in Las Vegas. I stayed at The Mirage, which has a huge, stunning aquarium behind its check-in counter. On a previous visit, I'd attempted to photograph the aquarium and been disappointed with the results – the fish were blurry and the images were underexposed and muddy. This time, the fish were still blurry, but their colors were bright and the background corals and vegetation were sharp and vivid. Maybe on my next trip I'll figure out how to get the fish to stop swimming.
I had a great time shooting the lights and action of Vegas. Colorful neon signs were no-brainers with the SP-560, as were the spectacular Bellagio fountains at night. I got many good shots of the Vegas Strip at dusk by holding the camera out my hotel room window. I also had one happy accident when I nearly dropped the camera (fortunately, I'd wrapped the strap around my wrist) and ended up with a great blur on the Planet Hollywood sign.
The image stabilization isn't foolproof, but it is noticeably good. I was able to get many shots I know would have been impossible on my regular camera. Some situations, though, were simply too challenging for the SP-560 – such as the creepy talking statues in the Forum Shops at Caesar's Palace. The combination of the mall's subdued artificial lighting and the slowly rotating Roman statues led to all but one of the dozen pictures I took being blurry.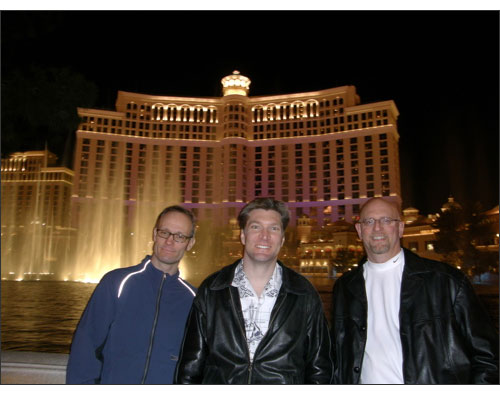 I got great shots of my coworkers both indoors and out. I was especially pleased with the photo I took of the three guys in front of the Bellagio fountains using the Night+Portrait scene mode. Both foreground and background were perfectly exposed. The Face Detection feature was impressive. The focus brackets seemed to home in on faces like a heat-seeking missile.
The SP-560′s exposure metering handles low light and backlighting remarkably well, although not flawlessly. Combinations of poor lighting and motion in particular often result, not surprisingly, in blurry images. Still, the SP-560 copes with tough lighting better than any other compact digital camera I've used. The previously mentioned deer photographs, for example, were a bit soft, but still pretty good considering they were grab-and-shoot, Auto-mode images of a moving animal through a window and on a snowy white background.
One thing that drove me nuts was that I couldn't figure out how to change scene modes without moving the mode dial off of scene mode and then back to it. There must be an easier way to re-display the scene mode menu, but I couldn't find it – not even in the manual.
Two Shoot & Select burst modes more than make up for apparent shutter lag. I used Shoot & Select 1 to photograph carousel riders reaching for the brass ring as they went round and round. The camera just keeps on shooting until you take your finger off the button; then it makes it easy to delete the shots you don't want. All this does take up a bit of time, though — first as the camera processes all those images, and then as you edit and delete in-camera. However, it's a nice feature for ensuring you get the shot you want.
Image Quality
The Olympus SP-560′s sensitivity range goes from ISO 50 to 6400. I tested it by focusing on the arm of an antique chair upholstered in purple velvet, shooting in shutter-priority mode at 1/125 of a second and an aperture of f/4.4. Noise became unacceptable at ISO 3200, but flattened out again at 6400; however, the higher speed was also somewhat blurred. For real world use, the SP-560 is probably useable to ISO 800. At 1600 the noise starts to get excessive. It's really pretty good at ISO 800 and at ISO 400 and below it's very good for a compact digital camera. Make sure to check the high-res studio sample photos to best compare and analyze the SP-560 UZ's image quality.
I noticed slight vignetting around the edges of some of the zoomed sky shots I took – such as the moonrise at dusk — but nothing that couldn't be fixed with a few hits of the dodge tool in Photoshop. That photo was shot at a focal length of 56.52mm at the maximum aperture of f/4.5. And it's a rare lens that doesn't have some vignetting when it's wide open.
I take pride in getting the best out of images by editing them in Photoshop. Rarely does a photograph escape without at least some tweaking. But most of the photos I shot with the Olympus SP-560 got away with little more than cropping and slight RGB levels adjustments. Straight out of the camera, images were generally well-exposed, nicely saturated and true to color. I especially appreciated the Available Light scene mode, which rendered colors just as I saw them. Snowy landscapes generally turned out well whether I shot them in Auto, Landscape or Snow mode. Incandescent and fluorescent lighting came out with a consistently warm, attractive cast.
Overall, the SP-560′s image quality is very good, perhaps even excellent, and will certainly meet the needs of most intermediate to advanced photographers. If you're a commercial photographer who wants the ultimate in exceptional image quality, you'll need to look elsewhere – and spend a lot more money. Personally, photographs I've shot with this camera have garnered more than my usual number of compliments, so I'm satisfied.
Click on thumbnails to view sample photos.
Conclusion
I thoroughly enjoyed playing with the Olympus SP-560 UZ – enough that it's going to be hard to go back to my own compact digital camera. I've been spoiled by the fantastically long zoom lens, which makes it super-easy to grab great shots with hardly any effort. I'll miss the image stabilization, too – it definitely makes a difference, especially with the dusk and nighttime images I love to shoot. Brightness, contrast and colors were reliably good in a variety of lighting situations. I also quickly came to trust the camera's ability to take good people shots, even indoors and at night.
The only things I won't miss are the tricky power button and the apparent inability to quickly switch from one scene mode to another. I'll also be glad to get away from the AA batteries and back to my lightweight, rechargeable battery packs. These are minor complaints, though.
If I were in the market for a new camera right now, I'd buy this camera in a heartbeat.
Who Should Buy It
The Olympus SP-560 UZ has depth. I don't mean depth of field – although it has that, too; rather, I mean depth of features. There's a lot to explore – exposure modes and menu settings in particular. The SP-560 is an excellent choice for intermediate to advanced photographers. It's also perfect for people who want a camera that can grow with them – those who are willing to take the time to learn about all the different possibilities, and still take great pictures while they learn.
Beginners may be overwhelmed by the SP-560′s array of available options. However, all but the most demanding of photographers should find satisfaction with the Olympus SP-560 UZ.
- end -
Contents of the Olympus SP-560 UZ Box

Olympus SP-560 UZ Digital Camera
(4) AA batteries
USB cable
AV cable
Manual
Lens cap and string
Strap and strap rings
Warranty card
Other Resources:
Shop For Olympus SP-560 UZ >>
Olympus SP-560 UZ User Reviews >>
Write an Olympus SP-560 UZ Review >>
Olympus SP-560 UZ Camera Specs >>
Olympus SP-560 UZ Sample Gallery >>
Olympus Web site >>
Olympus SP-560 UZ Camera Manual >>
All Digital Camera Pro Reviews >>
Digital Camera Buyer's Guide >>
All Digital Camera Studio Sample Photos >>
patia Profile >>
All photos copyright Patia Stephens and/or PhotographyREVIEW.com.
Read Patia's blog and see more of her photos at www.PatiaStephens.com