The Olympus SP-810UZ camera, announced yesterday, is the smallest digital camera with a 36x zoom lens. The 14-megapixel Olympus SP-810UZ has a 24-864mm (equivalent) zoom range, 720p HD video, 3D shooting, a 3-inch LCD display and in-camera "Magic Art Filters" for both still photos and videos.

Superzoom cameras like the SP-810UZ are a great choice for photographers who want one, compact, inexpensive camera that can really do it all. They're an especially good choice for families on a budget and travelers who want a small camera that can be used for any subject. At 4.2 x 2.9 x 2.9 inches (107.4 x 72.6 x 73.2mm), the camera is about the size of a small digital SLR body – bigger than pocket-sized but still travel-friendly and very small for a camera with such a huge zoom range. The SP-810UZ's 24-864mm lens is "flexible enough to get up close for beautiful macro images of flowers while exploring exotic islands or to capture the magnificence of the Old Faithful geyser from hundreds of feet away without changing lenses."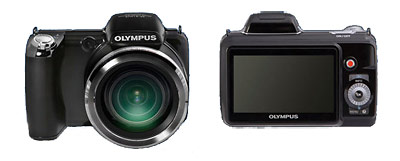 The Olympus SP-810UZ superzoom digital camera will be available in September at a suggested price of $329.99.
Olympus SP810-UZ Digital Camera Press Release >>
Related Content:
All Olympus Camera User Reviews
Olympus Cameras Forum
Digital Cameras Forum
More Olympus Camera News And Articles
Olympus Web site