Hands-On In Miami With The Panasonic Lumix ZS3 & TS1
Panasonic 2009 Lumix Digital Camera Intro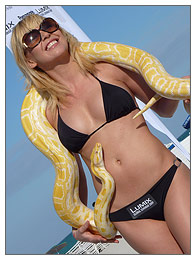 I'm wearing shorts and sandals and I've got a greasy film of sunscreen on my pale, winter skin. Forty-eight hours ago I was skiing knee deep Utah powder at 10,000 feet. Now I'm on a beach taking pictures of a girl in a bikini with a huge albino snake. Is this a dream? Nope – it's Panasonic's 2009 Global Lumix Seminar. I'm on Miami's famous South Beach and I've got two pre-production Panasonic digital cameras to play with and pretty girls to point them at. It's a crazy paradigm shift to be sure. But I'm a pro and I can handle it.
The word "Lumix" comes from combining "lumi," meaning light and "mix," for the combination of technologies Panasonic uses in their digital cameras. Panasonic introduced the Lumix designation in 2001. They manufacture nearly all of the critical camera elements in their own factories, which means they have the ability to really control the quality of their digital cameras. They got outside help for one part of the camera, and for that they went to one of the most respected names in optical design and manufacturing – Leica. The Leica DC Vario-Elmar lenses on Panasonic's Lumix cameras are all made in Leica certified factories.


New Panasonic Lumix Cameras and Features
Panasonic announced 9 new digital cameras for the US market, including a seriously upgrade to the Lumix TZ-Series, and their first shockproof and waterproof offering. The key theme for this introduction is "hybrid," for cameras that are just as capable at capturing video as still images. Key to the do-it-all hybrid concept is a new video HD recording format – AVCHD Lite, a new processing engine, and a dedicated video button. Panasonic's Face Detection has been enhanced with "Face Recognition," which can remember up to 6 registered faces. The iA Intelligent Auto shooting mode, which chooses the optimal scene mode, ISO, and autofocus settings can now be used for video as well as stills. Of course, all of Panasonic's compact digital cameras feature their respected MEGA O.I.S. optical image stabilization.

Miami Dolphins dancers help demonstrate Panasonic's new Face Recognition feature.
next page – Panasonic Lumix TS1 Waterproof Digital Camera >>