To launch three new digital still cameras, Panasonic had a novel idea – put on a show in New York, invite the press, and let them take photos with the new LUMIX cameras.  The show, titled Women of Broadway, spotlighted  musical and dance performances by  prominent Broadway performers with numbers from shows as diverse as Cabaret, Les Miserables, Smokey Joe's Cafe, and Movin' Out. Each new Lumix camera features Panasonic's new Intelligent Auto Mode, designed to take some of the guess work out of taking good pictures. For the tech-savvy person, a digital point-and-shoot is no problem. But for many people, digital photography is a completely new mindset and still difficult to grasp. There are too many features and options, it seems, to figure out at all at once. And what used to be common knowledge now requires inch-thick manuals. Panasonic is making it easier to take good digital photos with the new Lumix DMC-FZ18, DMC-FX55 and DMC-FX33.
PANASONIC LUMIX DMC-FZ18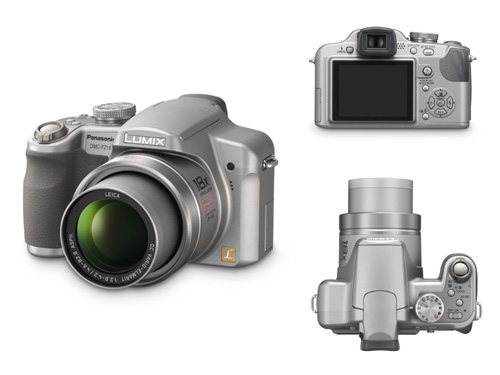 Panasonic Lumix DMC-FZ18 Press Release >>
Panasonic Lumix DMC-FZ18 Specs >>

Before the floor show began, we took out our 1GB Panasonic SD cards and picked out the camera we wanted to start with. I went right for the gray LUMIX DMC-FZ18 compact camera with the 28mm wide-angle LEICA DC lens. Larger than the pocket-sized  cameras, I figured the FZ18 would be the best camera to ease me from my DSLR to a point-and-shoot mindset. The FZ18 is surprisingly light and easy to handle. This model comes with a traditional TTL viewfinder as well as LCD view screen and employs a button to toggle between the two. I played with the 18x optical zoom quite a bit. The toggle switch for the zoom felt a little inexact to hands that are used to a manual zoom ring. Panasonic's new Intelligent Auto Mode includes Intelligent Scene Selector, Face Detection System, and Continuous Auto Focus. The latter feature keeps you from having to keep your finger on the shutter button to lock focus, though out of habit, I kept doing it.  Continuous Auto Focus is also supposed to decrease shutter delay; perhaps because I wasn't using it correctly, I didn't notice a decrease. I couldn't get the shot I wanted of the drummer drumming - it just didn't take the shot when I wanted it. I tested the Face Detection System when shooting Kate Shindle (the woman in orange.) Again, I'm used to manually focusing on the eyes, and it was a bit strange to see the Face Detection box bouncing around the LCD. I was able to get a decent, in-focus shot with a little effort and squinting.
At 8.1 megapixels, the Lumix FZ18 images are close to what I get with my digital SLR, but with a little more noise due to the smaller, compact digital image sensor.  Shooting people on stage, and especially the musical equipment, I expected to get blown highlights from the spotlight and contrast, but the Intelligent Contrast feature handled this better than I expected. There's a little-to-no hot spots in the shots that I did take. I'm impressed enough with the 18x Leica zoom lens and final picture quality that I could actually fall in love with the FZ18 for a vacation camera.  It's powerful and compact and would be much easier than lugging around my DSLRs. The 8.1-megapixel Panasonic Lumix DMC-FZ18 comes in silver and black and will be available in September 2007, for $399.99.
 PANASONIC LUMIX DMC-FX55 and LUMIX DMC-FX33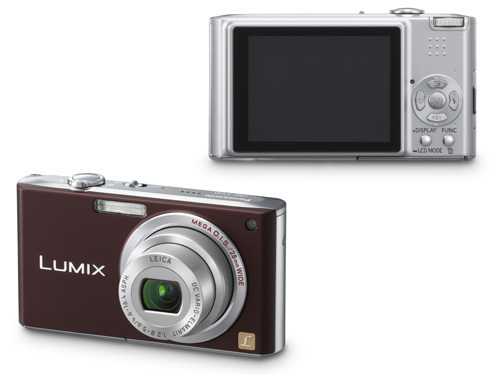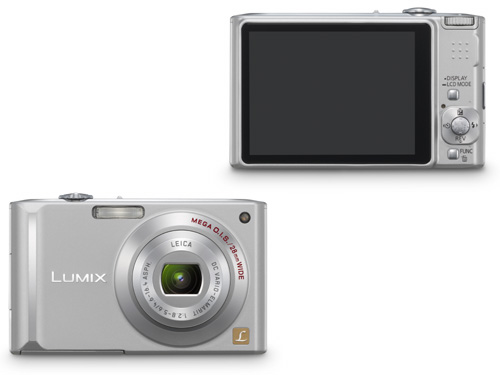 Panasonic Lumix DMC-FX55 and DMC-FX33 Press Release >>
Panasonic Lumix DMC-FX55 Specs >>
Panasonic Lumix DMC-FX33 Specs >>
I've only used pocket cameras when tourists asked me to take their picture. So I felt a little awkward when I first handled Panasonic's new Lumix DMC-FX55 and DMC-FX33 digital cameras. Both cameras have 8.1-megapixel sesnors and come in a range of colors; the DMC-FX55 in silver, black and pink, and the FX33 in silver, black, blue and brown. In addition, a marine case for underwater shooting is available for the the DMC-FX33. The new pocket digital cameras also feature Panasonic's new Intelligent Auto Mode, as well as a 3.6x LEICA DC optical zoom lens with real wide-angle. There is no traditional optical viewfinder; all viewing is done via the LCD screen. The Lumix DMC-FX55 has a 3-inch LCD, while the FX33 has a 2.5-inch display.  I preferred the FX55′s big, 3-inch LCD. The optical perfection of the Leica lens is easy to see in the photo of the cigarette girl I took with the FX33. (What photo geek can resist a cigarette girl bearing cameras?) I tested Panasonic's MEGA O.I.S. image stabilization on both cameras. I was most successful with the DMC-FX55,  zooming in on the dancer, Elizabeth Parkinson, from a balcony. My hands were nice and shaky from two cups of coffee I gulped down before the event so I was able to give the Intelligent Image Stabilization feature a good workout – and with positive results. Panasonic's MEGA O.I.S. image stabilization compensates for shaky hands while Intelligent Image Stabilization adjusts the sensitivity to help keep moving subjects sharp. It would have been nice to have an optical viewfinder when shooting in the zoom mode. But with the larger LCD displays, something has to go. The photo of Rona Figueroa in the balcony is a good example of what the FX33′s Intelligent Contrast feature can do. Some of the features I didn't get a chance to test include a High Sensitivity mode which goes up to ISO 6400, a clipboard function, Category Playback (which sorts images into categories in camera), and Title Edit. I finished off the show with the Lumix DMC-FX55, and some nice, clear medium-range shots of the cast. The Panasonic Lumix DMC-FX55 and Lumix DMC-FX33 will be available in September of 2007 for $349.95 and $299.95, respectively.
Panasonic Lumix DMC-FZ18 Press Release >>
Panasonic Lumix DMC-FZ18 Specs >>
Panasonic Lumix DMC-FX55 and DMC-FX33 Press Release >>
Panasonic Lumix DMC-FX55 Specs >>
Panasonic Lumix DMC-FX33 Specs >>
Panasonic Digital Camera Reviews >>
All Panasonic Digital Camera News >>
Digital Cameras Forum >>