Panasonic has upped-the ante in the Compact System Camera arena with the smallest EVF-equipped (electronic viewfinder) Micro Four Thirds camera yet. The new Panasonic Lumix DMC-G3 has a built-in electronic viewfinder but is only about half an inch taller and wider than their LCD-only GF3 Micro Four Thirds camera. However, it's not really that much smaller than the original G1 (announced in 2008) – they've chopped about half an inch from the width but height and depth are basically the same. On the other hand, for the EVIL / Compact System Camera class, smaller is always going to be better. So props to Panasonic for cramming the EVF into an even smaller camera body.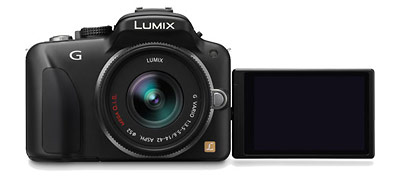 Panasonic can use the superlative, "smallest," when describing the new G3. But really, that's mostly marketing. There's actually a lot more to the Panasonic G3 and I think the other stuff is a bigger deal. The official press release was dense with specs and features. I took a lot of notes and boiled it all down to what I think really sets the G3 apart from the competition. Let's get started with the basics:
Panasonic Lumix G3 Key Features and Specs:
New 16-megapixel Live MOS sensor
1920 x 1080 AVCHD full HD video with stereo sound
3-inch 460k-dot touch-control tilt-swivel LCD
Faster, more precise, touch-control auto focus
Improved noise control: 66% less noise in general and 200% at high ISO compared to the previous, 12-megapixel sensor
New iA Plus shooting mode offers beginner-friendly touch-screen-slider-enabled manual controls
Built-in EVF (electronic viewfinder)
4 frames-per-second burst at full resolution and 20 frames-per-second at 4-megapixels
Creative Control mode with Retro, High Key, Sepia and High Dynamic effects
Now, lets take a look at what really makes the Panasonic Lumix G3 special:
Of the features and specs I listed above, I'm most interested in the improved noise control from the new sensor / processor combo, the improved auto focus and the touch-control LCD display. I've only used the 12-megapixel sensor Micro Four Thirds cameras. They have great image quality, although it's not as good as most current digital SLRs. Last fall Panasonic announced the GH2 with a new 16-megapixel sensor. I'm not sure how the new G3′s a6-megapixel sensor is different but Panasonic clearly calls it a "new" sensor in the official press release. Regardless of whether it's really different from the GH2 sensor, I'm anxious to see how they've improved on the image quality of the 12-megapixel Micro Four Thirds cameras. The press release says the new sensor, in conjunction with the Venus Engine FHD image processor, uses "selective noise reduction to create a more naturally-balanced curve without deterioration of the image." They also say the G3 has 66% lower noise and 200% lower noise at high ISO. That sounds great, although I need to actually take my own pictures and evaluate with my own eyes to find out what that really means. Too often, lower noise is at the expense of sharpness and detail. One of the main criticisms aimed at the Olympus and Panasonic Micro Four Thirds format cameras is that the smaller sensor (compared to APS-C digital SLRs and compact system cameras) is a serious image quality limitation. Personally, I have no complaints about the image quality from the 12-megapixel Micro Four Thirds cameras. Even if it's not as good as current digital SLRs, it's way better than even the best compact digital camera and in a package much smaller than any DSLR. If Panasonic has, in fact, managed to increase resolution, noticeably reduce noise and retain critical detail, I will be very pleased!
In my opinion, the biggest limitation to using Micro Four Thirds cameras like the new Panasonic Lumix G3 has been the auto focus performance. I'm primarily an outdoor sports shooter and I'd love a really compact camera system with serious auto focus performance. So far, the Olympus and Panasonic Micro Four Thirds cameras perform like high-end compact cameras as far as auto focus goes. That makes them great for landscape and subjects where you can pre-focus. But for more unpredictable, moving subjects like sports, little kids and pets, they just don't cut the mustard. So it's exciting to see Panasonic addressing this with their new "Precision Contrast LightSpeed AF" system. They've increased the "Live MOS Sensor drives speed from 60 fps to 120 fps" to achieve an auto focus detection time of, "approximately 0.1 second." I'll have to actually use the camera in the field to find out if there's a real, practical performance improvement. It sure sounds good, though. And I'm happy that Panasonic is giving some attention to what is arguably the Achilles Heel of the Micro Four Thirds and other Compact System Cameras.
Panasonic introduced the touch screen LCD display to their Micro Four Thirds cameras with the Lumix GH2, I believe. I haven't had the chance to try one of their touch screen cameras yet but I'm very curious. One of the ways they've made the touch screen more than just a gimmick is, "Touch auto focus", where you focus simply by touching your subject on the LCD screen. The camera then focuses on and tracks the subject as it moves. That's pretty sweet! Panasonic is introducing a new a new touch screen-related feature on the G3. "Pinpoint AF" allows, "near-pixel-level focus point setting at the touch of a finger." Even with the best digital SLRs, accurate selective focus can be difficult. More times than I care to remember, I've come home and discovered a carefully composed mountain bike photo wasn't focused quite as I intended. Pinpoint AF sounds like a great new feature that could offer real photo quality improvement.
Compact System Cameras have come a long way since Panasonic introduced the first Micro Four Thirds camera, the G1, back in 2008. The G1 was a pretty straightforward still camera compared to the full HD video, touch screen cameras Panasonic is making now. Although the new G3 isn't really that much smaller than the original G1, it's a hell of a camera when you consider how much more it does and how much better it does it. The Panasonic Lumix G3 should be available in stores next month (June, 2011) for about $699 with the 14-42mm f/3.5-5.6 image-stabilized kit lens. The G3 will be available in black, red, white and brown.
Panasonic Lumix G3 Press Release >>
Related Content:
All Panasonic Digital Camera User Reviews
All Digital Camera User Reviews
EVIL & Micro Four Thirds Cameras Forum
More Panasonic Camera News
Panasonic Digital Cameras Web Site