Panasonic has announced their third Micro Four Thirds camera, the Lumix DMC-GF1. Obviously an answer to the well-received Olympus E-P1 Micro Four Thirds camera, the Panasonic Lumix GF1 is about the same size as its Olympus cousin, but adds a built-in pop-up flash and optional electronic viewfinder (EVF). Like previous Micro Four Thirds cameras, the new GF1 uses a 12-megapixel CMOS sensor. And like the Olympus E-P1, it captures HD video at 1280 x 720 (720p) resolution. Along with the GF1, Panasonic is introducing two new Micro Four Thirds lenses, a compact 20mm f/1.7 pancake lens (40mm equivalent) and Leica's first Micro Four Thirds lens, the DG Macro-Elmarit 45mm f/2.8 ASPH/MEGA O.I.S. (90mm equivalent).

It wouldn't be right to discuss the Panasonic GF1 without comparing it to the Olympus E-P1. To some extent, they're like variations of the same Micro Four Thirds dish. The Panasonic GF1 is approximately the same size and weight as the Olympus E-P1 and Panasonic says it has an "elegant, compact design reminiscent of classic film cameras." The E-P1 camera design was based on the Olympus Pen half-frame 35mm cameras from the sixties. It's retro styling really struck a chord with photographers and camera lovers. From the wording in their press release, it's clear that Panasonic would like to hit that same chord. I don't think they've done it, though. The GF1 doesn't have the same art deco, retro look and feel that the E-P1 has. In fact, the GF1 looks pretty much like a Panasonic Lumix to me.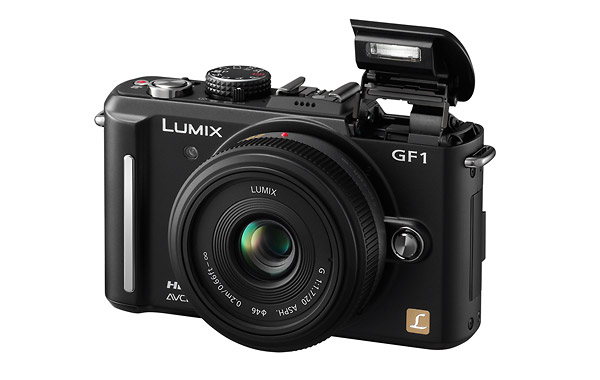 Panasonic Lumix DMC-GF1 Key Features:
Compact, light body – 2.80 x 4.69 x 1.43 inches and 0.63 lbs (7.1 x 11.9 x 3.6 cm and 285.8 g)
Micro Four Thirds lens mount
12.1-megapixel Live MOS imaging sensor (same as other Micro Four Thirds cameras)
ISO 100 to ISO 3200 sensitivity
1280 x 720 (720p) HD video capture at 30 FPS in AVCHD Lite or MPEG formats
Continuous auto focus in video mode
Contrast auto focus with Tracking AF and 0.3-second reaction time
Three frames-per-second maximum burst rate (still shooting)
3-inch, 460k-dot LCD display
Panasonic's iA (Intelligent Auto) mode for video and still photography
Peripheral Defocus Mode for selecting out-of-focus areas
Optional Live View Finder (EVF)
Venus Engine HD for video and still image processing
Sensor Dust Reduction system
The Olympus E-P1 may be sexier than the GF1, but looks aren't everything – especially when it comes to cameras. Unless you're a collector (and I expect more from you), a camera is a tool first and an object of beauty somewhere after that. Looking at features and specs, the Panasonic GF1 gets more interesting. Lack of a flash is one thing that makes potential Olympus E-P1 buyers pause and reconsider, so the built-in flash is huge. It's also been widely reported that the Panasonic GH1′s auto focus is much quicker than the E-P1′s. I haven't used the GH1, but my experience with the E-P1 auto focus has been mixed. It works great when conditions are good. But when they're not, it can be a real problem. So if fast, accurate auto focus is a top priority for you, then the GF1 is likely a better choice than the E-P1. The optional Live View Finder EVF is also interesting. It's pretty much impossible to pan accurately with just an LCD display so the Live View Finder could make the GF1 a better camera for photographers who shoot some sports or other action.
Another reason to consider the GF1 is Panasonic's excellent iA Intelligent Auto mode. It combines scene modes, in-camera processing and image stabilization to make high quality video and still images point-and-shoot simple. As a manual exposure shooter, I was very skeptical of the iA mode. But after a solid day of using it with the Panasonic Lumix ZS3 point-and-shoot, I'm convinced. If you're a manual shooter, the GF1 has all the manual exposure controls you could ask for. But if you aren't quite ready for manual photography or you just want to let the camera make the decisions for you, the iA mode can be relied on to deliver great results 98% of the time. Panasonic has also added a new shooting mode called Peripheral Defocus Mode. It allows the photographer to indicate which areas of a scene should be sharp and which should be out of focus. This makes getting traditional style portraits or other selective focus photos more intuitive for less experienced photographers.
The Micro Four Thirds format is arguably one of the most creative applications of digital camera technology. It merges some of the best traits of digital SLRs and compact cameras into one tasty little package. The Micro Four Thirds format isn't actually competing with DSLR cameras – yet. But I'd like to see the new format continue and evolve so it's good to see new a new camera, lenses and some positive attention. That said, I'm not sure the new Panasonic GF1 is a serious alternative to the Olympus E-P1. Like I said earlier, it's more like a different flavor of the same dish. With a built-in flash, better auto focus and the optional EVF it should be a better performer. But the Olympus is sexier. There's something indefinably satisfying about looking at and having the E-P1 in my hands that makes it special. Do the features and performance of the GF1 add up to a better camera? The only way to find out is to use it in the field. I will say this – as much as I enjoy using the E-P1, it's pretty poor for any kind of action, which makes it more of a point-and-shoot with great image quality than a digital SLR replacement. If the GF1 is an actual performer when it comes to shooting skiing, cycling, etc., then it could quickly replace the E-P1 in my backpack.
The Panasonic Lumix DMC-GF1 will be available in the beginning of October. It will be packaged in two kits, both of which will sell for $899.95. You can have it with the new LUMIX G 20mm/F1.7 ASPH pancake lens. Or you can have it with the LUMIX G VARIO 14-45mm/F3.5-5.6 ASPH/MEGA O.I.S zoom lens. The optional Live View Finder (DMW-LVF1) will be available at the same time for $199.95.
Panasonic Lumix GF1 Press Release >>
Related Content:
Panasonic Digital Camera User Reviews
Four Thirds Camera Forum
Digital Camera Forums
Olympus E-P1 Preview Article And Video
Micro Four Thirds Announcement
Panasonic Digital Cameras Web Site