There were far fewer camera announcements at this year's CES tradeshow than in previous years – especially point-and-shoot cameras, which are under serious assault by Smart Phones. However, one of the more exciting camera announcements, for me anyway, is Panasonic's new 18-megapixel Lumix ZS40 pocket superzoom. The ZS40 has a 30x 24-720mm optical zoom lens, full manual controls, 60p full HD video and built-in Wi-Fi. It's also the world's first pocket superzoom with an electronic viewfinder (EVF) and the second pocket superzoom to offer RAW shooting.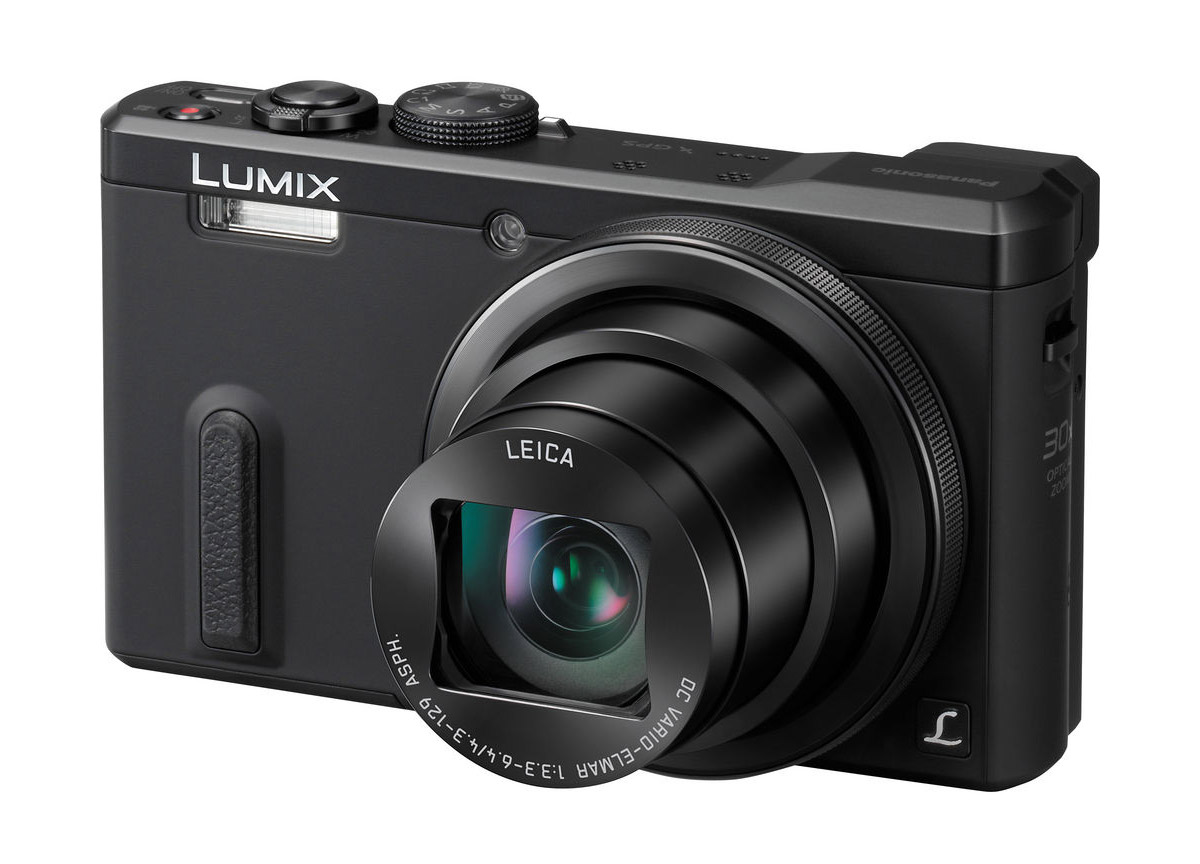 Panasonic Lumix ZS40 Key Features & Specs:
New 18.1-megapixel High Sensitivity MOS Sensor
Built-in 200K-dot EVF
30x 24-720mm f/3.3-6.4 Leica optical zoom lens
Built-in Wi-Fi with NFC (Near Field Communication)
RAW shooting
1920 x 1080 60p full HD video
3-inch 920k-dot LCD display
PASM manual shooting modes
10 FPS high-speed burst
Built-in electronic level
Built-in GPS
them, pocket superzooms. I love the convenience and versatility of a pocket-sized camera with a long lens. A few years ago, "long," meant a 10x optical zoom. Now, the top pocket superzoom cameras have 20x and even longer zoom lenses. A couple of my favorite pocket superzooms in 2013 were the Sony Cybershot HX50V, because of its class-leading 30x optical zoom lens; and the Fujifilm FinePix F900EXR, the only pocket superzoom with RAW shooting. Panasonic has raised the bar considerably in 2014 by giving their new ZS40 a 30x optical zoom, RAW capability, and adding an electronic viewfinder (EVF) – effectively creating a pocket superzoom supercamera (try saying that fast ten times in a row).
Proper viewfinders disappeared from all but the biggest and most expensive compact cameras five or more years ago when camera makers realized most point-and-shoot photographers only use the LCD display. However, some of us do care about eye-level viewfinders and they offer some very real benefits. They add another point-of-contact with your body, helping to steady the camera; they make for smoother and more accurate action panning, and they make it easier to see what you're shooting in difficult light. Last year, Panasonic tried putting an EVF in a high-end pocket camera, the Lumix LF1. The response must have been good because now they're trying it out in the ZS40. I'm excited because the eye-level viewfinder takes pocket superzooms to the next level and really sets the ZS40 apart from the competition. The ZS40 is going to be a great pocket camera for mountain bikers, snowboarders and anyone else who wants an easy to carry camera for action photos. And the EVF will help keep the camera steady for sharper photos when you're all the way out at the 720mm end of the zoom.
In the past I haven't been entirely happy with the image quality from Panasonic's pocket superzoom cameras. It's been a couple of years since I've reviewed one though. Since then they've updated their 1/2.3-inch point-and-shoot sensors and, as I've already mentioned, the ZS40 now offers RAW shooting. For those who don't know, RAW images come straight off the sensor with no in-camera processing. They may have more noise and less contrast than JPEGs that were processed in the camera, but they offer a whole lot more potential and control for photographers that are willing to take the time and effort to process them. I'm not a big fan of the mushy, watercolory, over-processed look of most point-and-shoot JPEG images. Shooting in RAW mode lets me fine-tune my photos so they look the way I want them to. One other benefit of RAW is white balance isn't locked in. So if you accidentally shoot outdoors with the tungsten preset, it's super easy to fix in Lightroom, Photoshop or any other software program that can handle RAW files. The bottom line with the ZS40's RAW option is it offers better and more controllable image quality for serious photographers. Honestly, this is a feature I've been waiting for Panasonic to add for quite a while and it absolutely pushes me over the edge with the ZS40. I must have one!
There isn't another pocket-sized camera that offers more features and performance than the Panasonic Lumix ZS40. Panasonic has been in the pocket superzoom game longer than anyone else and their cameras have always had the best feature-set. Nothing was left out with the ZS40. It's got PASM manual exposure modes as well as Panasonic's excellent and easy to use Intelligent Auto mode. For action shooters, it can record full HD video at 60 frames per second and capture full-resolution still photos as fast as 10 frames per second. To help keep photos sharp and videos smooth, it has Panasonic's "HYBRID O.I.S.+ (Hybrid Optical Image Stabilizer Plus)", which helps minimize camera shake for photos and videos. The ZS40 has built-in Wi-Fi with NFC (Near Field Communication) so it's easy to transfer photos and videos to mobile devices so you can share to Facebook and Instagram from almost anywhere (wif-fi demo video link). It even has built-in GPS so your ZS40 photos and videos will be searchable by the location where they were taken.
The Panasonic Lumix ZS40 is anything but an average camera and the price will be shocking to some. Panasonic's Web site has it listed at US $449 and it's available for pre-order at B&H for $499. A ship date has not been announced.
Related Content:
All Panasonic Digital Camera User Reviews
All Digital Camera User Reviews
Digital Cameras Forum
More Panasonic Camera News
Panasonic Digital Cameras Web Site