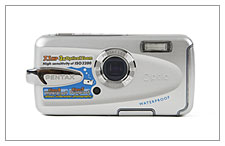 The Pentax Optio W30 is a weatherproof, 7-megapixel compact consumer digital camera. The metal body is sealed from dust and is designed to be waterproof to a depth of 3 meters (9.8 ft.) for underwater photography. The Optio W30 also features face detection technology, digital shake reduction (not image stabilization), and a 3x 38mm-114mm optical zoom lens (35mm equivalent).
Want to buy an Pentax Optio W30?
Compare prices and shop For Pentax Optio W30 >>

Pros
Weatherproof, sealed body and lens
Waterproof for underwater use to 9 ft.
Bright LCD screen
Internal zoom lens does not protrude from body
Excellent battery life
Realistic color rendition

Cons
Auto focus speed is slow
LCD display resolution is low
Noise above ISO 400
Introduction
The Pentax Optio W30 offers a well-balanced set of compact camera features, the most appealing being the weatherproof body. No more calling it quits the moment a few drops of rain hit your head. No more worrying about splashing water on the camera when shooting in the tub with your kids or the dogs. In fact, 'it's rather fun to intentionally get the camera wet and this sense of freedom encourages you to experiment in environments normally unfriendly to electronics.
Features
Like many consumer point-and-shoot digital cameras today, the Pentax Optio W30 is fully automatic. You pick a shooting mode and the camera does all the heavy photographic lifting. Control buttons are kept to a minimum and the W30 provides handy on-screen instructions/descriptions for almost all controls. The primary shooting modes (scene modes) are situation-specific. Some of the shooting modes are: night scene, landscape, flower, portrait, etc. Note that there is no optical viewfinder and there is no RAW file format.
Manual exposure control is limited to exposure compensation, white balance, and ISO sensitivity. But Pentax engineers have thoughtfully provided a customizable control button – the Green Button – which makes accessing key functions quick and easy. The Green Button is a carry over from the Pentax K10D digital SLR. In its default mode, the Green Button puts the camera into fully automatic mode. But the Green Button is much more than just an auto mode selector. It can be customized to give instant acess to and toggle through key photographic controls like exposure compensation, white balance, ISO sensitivity, etc. The Optio W30 has manual focus but it is mainly only useful for close-up photography.
Interestingly, the Optio W30 has more custom settings than you might expect from a point-and-shoot. However, these customization options mainly relate to how the camera operates and not to image quality parameters. For image quality, you have the three standard controls for color, saturation, and sharpness. Within these three parameters, you only have three options: high, medium (default) and low. On the camera operations side, you can set the time for auto-power off, screen brightness, Green Button functions, etc. You can even re-sequence the order of the items in the control menus themselves. This feels like overkill to me and I wish Pentax had given us as much control over the image quality. But at least it shows that they are trying to make their digital cameras adaptable to how their users think and shoot.
One modern camera technology notably missing from the Optio W30 is image stabilization. The W30 does have digital shake reduction, but this is simply an automatic bumping up of ISO sensitivity and shutter speed when the camera detects low light. However, because the camera doesn"t offer manual aperture and shutter speed control, lack of mechanical image stabilization is not as much of a liability as it might seem.
Face detection is present, but only in three shooting modes: Portrait, Self-portrait, and Natural Skin Tone modes. It is not available in Auto Picture, Program, or Green Mode.
Finally, there are tons of extra options such as filter effects, decorative frames, and sound recording. You can even attempt to recover deleted images from your card. And, of course you can edit and crop images in-camera if you want to bypass the computer and prtin directly from the camera.
Camera Menus
| | | |
| --- | --- | --- |
| Pentax Optio W30 capture display with histogram & info | | Pentax Optio W30 playback with histogram & info |
| Pentax Optio W30 main menu | | Pentax Optio W30 scene modes |

Design
Class 8 waterproofing and Class 5 dustproofing set the Pentax Optio W30 apart from other compact digital cameras. With rubber gaskets on all openings and a sealed, internal zoom lens, the W30 can be submerged to about 9 feet underwater and safely used in any weather.
Left: Waterproof gaskets on the Pentax Optio W30 battery and card slot door
Right: Pentax Optio W30 sealed, internal zoom lens


The Optio W30 has that familiar silver block shape. But unlike most cameras that are the size of a deck of cards, 'it's more elongated like a candy bar or cell phone. The four-way keypad and zoom lens controls fit comfortably under your thumb, and the three extra rear control buttons all make sense.
The candy-bar design makes it easier to shoot two-handed (using the left hand to steady the camera body) but makes it harder for one-handed operation. In fact the Optio W30′s exterior case is one of the trickiest I've used for one-handed shooting. The small body height also makes it difficult for larger hands. If you're shooting wide angle, the knuckles may appear in the lower right corner of the frame. Use two hands whenever possible and shoot one-handed with care. Use of the wrist strap is also highly recommended.
The camera's 2.5-inch LCD monitor is bright and visible in sunlight, but its 115,000 pixels feel rough and grainy compared to some other cameras that have 2.5-inch displays with over 200,000 pixels. Then again, the resolution is adequate for zooming in 8x for focus checks and it's viewable off-axis such as when you hold the camera over your head. The camera's screen also features an adjustable Power-Saving mode that dims to save power after a certain period of time.
The W30 is definitely pocketable, although that depends on the pocket. I find the camera to be of medium weight – not so heavy as to be a burden, but not so light that you forget about it.
Camera Experience
As with the Pentax K10D digital SLR, the Optio W30 helps the photographer by getting out of the way. In most situations the W30′s automatic functions work well for a compact consumer camera, and the menu system and camera controls are straightforward. The Green Button's toggle action makes life easier by giving you quick access to the controls you want while minimizing the physical button clutter on the camera itself.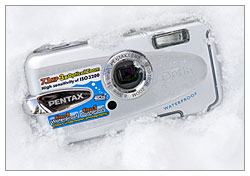 Partly because the W30′s lens is sealed internally, and partly because the whole camera is weatherproofed, I found myself not worrying about taking spur of the moment pictures, wherever and whenever I wished. The camera's durability gave me a confidence that made it easier just to have fun with the camera – and I suggest that this quality shouldn't be underestimated.
There is one area of frustration, however. And that is speed – specifically, auto focus and shot-to-shot times. It can take almost a second for the AF system to lock focus, and the only way to work around this is to obtain a lock via the half-press and hold technique. Shutter lag is not objectionable if focus is locked beforehand. However, the work around is a band-aid at best since repeated shots need to be refocused for each photo. Unlike some other compact digital cameras, mashing the shutter button all the way down in one stroke does not increase speed. Finally, the Optio W30 doesn't have a burst mode that can capture multiple frames while you hold down the button. You can only shoot one frame at a time and you must wait for enough data to be written to the card before taking a second shot. For candid shooting situations where you need to capture a lot of variations, the W30′s limitations force you to work a little harder to get just the right shot.
Image playback is almost as important as capture functionality. The Pentax Optio W30 offers a useful Quick Zoom feature during playback. When this feature is enabled, images played back on the camera may be zoomed in (enlarged) 8x with a single button click. This makes checking focus fast and easy. However, if you want to immediately delete a shot, you must either zoom all the way back out or exit playback mode and reenter it using the playback mode control button (which resets the playback display to full-size). The latter is the quickest solution, but it would be better if you could just use the delete button from the zoomed-in playback. I have some other minor complaints about the menu system but overall the menus don't interfere with the task of making pictures.
The W30′s macro shooting/focusing mode functions well (see two photos above). Because the lens doesn't protrude from the body, composing a macro shot can be a little trickier, but you soon get the hang of it. The lens focuses very close to the camera body and for casual macro work the auto focus delivered consistently sharp photos.
Image Quality
We photographers want it all. Even though the Optio W30 isn't exactly aimed at obsessive pixel-peepers, we still expect it to deliver a reasonably clean, sharp, image with good color. The good news is that the Optio W30 does a fine job in all those departments.
Exposure metering overall was consistent. The W30′s different capture modes function as well as they can and the exposure compensation controls allow you lighten or darken exposures when needed. Highlights are handled well for a compact camera, and I found the brightest areas to be captured with reasonable transitions. An example of this is found in the cyclist's jacket and rider number placard. Colors captured by the Optio W30 look realistic to my eye, and I particularly appreciate the overall color balance. And it's nice to see more shades and pastel tones in Optio W30 photos than there were in photos from older digital cameras. My only quibble is with Caucasian skin tones, where I found the red channel to be a bit overemphasized at times, with faces appearing a bit ruddy.
The Optio W30 has a wide sensitivity range of ISO 64 to ISO 3200. In my opinion, the noise is tolerable at ISO 400 but quickly becomes troublesome past that. Happily, the lower ISOs (particularly ISO 64) look fine and I generally didn't find the noticeable noise-grain to be objectionable. I think this is decent performance for a compact digital camera, but your mileage may vary.
Earlier I mentioned the Green Button and its usefulness. The W30 has a Green (basic shooting) Mode that can be accessed via the Green Button. This is a basic mode so users should be aware that images captured in Green Mode are captured at medium JPEG quality (two star setting), not high-quality JPEG. So if you use the Green Mode, you will not be getting the best possible image quality from the Optio W30.
Conclusion
Overall the Pentax Optio W30 is a good value for people seeking a competent and convenient camera that can be used in all conditions – including in and around water and humid environments. The combination of internal lens, weather sealing and waterproofing gives you the confidence to use the camera just about anywhere. The compact size and battery life means you'll take it just about anywhere too.
Despite the Pentax Optio W30′s shortcomings, I must admit that overall I found it to be surprisingly versatile and competent as a take-anywhere, use-anytime pocket camera. It is not a DSLR replacement by any means. Nor is it the best choice for speedy shooting. But the W30 offers an intangible simplicity that makes the camera easy and fun to use. Compared to the many cameras that require much more second-guessing by the user, the Optio W30 is a point-and-shoot camera that hits the mark for value, functionality, and fun.
Click on thumbnails to view sample photos.
Who Should Buy It
There are only a small number of cameras that can go swimming without an expensive housing, so if you want a carefree, general-purpose camera that doesn't bust the budget, consider the Pentax Optio W30. The W30 is not targeted at photographers seeking specialty features like long telephoto zoom range or action-oriented speed. But like most compact cameras it offers a general balance that performs adequately for the casual shooter. The real strength of the Pentax Optio W30, however, is the compact size and weather-resistant construction; the freedom to shoot in the elements is liberating indeed.
- end -
Contents of the Pentax Optio W30 Box

Pentax Optio W30 Digital Camera
USB Cable
AV Cable
Rechargeable Battery
Battery Charger
AC Plug Cord
Strap
Software
Other Resources:
Shop For Pentax Optio W30 >>
Pentax Optio W30 User Reviews >>
Write an Pentax Optio W30 Review >>
Pentax Optio W30 Camera Specs >>
Pentax Optio W30 Sample Gallery >>
Pentax Web site >>
Pentax Optio W30 Camera Manual >>
All Digital Camera Pro Reviews >>
Digital Camera Buyer's Guide >>
All Digital Camera Studio Sample Photos >>
LRY Profile >>