Over the past few years camera makers have started adding a lot of color options for camera owners. It used to be cameras came in tough guy black or maybe silver, with the odd gold-trimmed Hasselblad, Rollei or Leica for photographers who had more money than they knew what to do with. If red, white, blue, pink, green or purple aren't interesting enough for you, then you might be in the market for a custom camera treatment by PimpYourCam.com. A collaboration between German photography author Jens Brüggemann and Berlin airbrush artist Torsten Rachu, PimpYourCam.com aims to, "transform colourless cameras into distinctive works of art."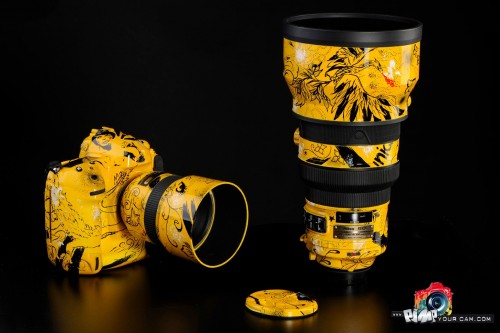 Personally, I like black cameras. The less noticeable my camera is the better. Call me old and conservative, but to my eye, the cameras on the PimpYourCam.com sample gallery look like a cartoon character on acid exploded (check out the PimpYourCam.com Facebook page for more examples). But who am I to judge? Maybe you're a concert photographer, fashion photographer or graffiti artist and want to express yourself all over your camera. If so, PimpYourCam.com has got your back. To get your camera pimped, you place your order via a PDF "Pimp-configurator" form. The press release says they can also work with original artwork including company logos for an extra charge. Company logos actually make a lot of sense to me. I can see magazines and photographers with recognizable brands putting logos on their cameras – especially for shooting events where the cameras might show up in the background of photos and video. That's something I might even do. Of course, I could also just make some PhotographyREVIEW.com and Photo-John stickers and put them on my camera. That would probably be easier and cost a lot less.
PimpYourCam.com is located in Germany. The Pimp-configurator order form is all in German and prices are in Euros and on the steep side. Pimping a camera will set you back €800, small lenses cost €600 and large lenses cost €700 – note you'll pay as much to get your camera pimped as you will to buy a new camera or lens. The PimpYourCam.com Web site doesn't list any North American shops that provide the service but the press release does say it is supposed to be available worldwide as of last month – July, 2012.
What do you think of the pimped cameras on their Web site? Have you had your camera pimped? Tell us about it in the comments section below.
PimpYourCam.com Press Release >>
PimpYourCam.com Web Site >>