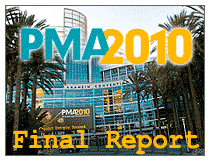 The annual Photo Marketing Association (PMA) tradeshow took place at the end of February in Anaheim California. I was there for all three days with a few community member volunteers and camera in hand to take pictures and make videos of the booths, new cameras, lenses and other photography gear. Since then I've been working my way through all the stuff I accumulated at the show and it's time to share what we've got. I still have some photos and other stuff left to share, but this is my official wrap-up. Follow me now and I'll give you an overview of this year's PMA tradeshow.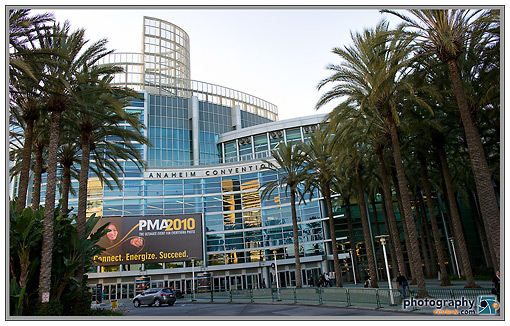 The 2010 PMA tradeshow was a bit of a strange one. For the past ten years it's been in Las Vegas or Orlando. This year it was in Anaheim – a venue I'd never been to. It turned out to be a very nice convention center and most people seemed to be happy the show was in Southern California instead of Las Vegas. On the other hand, the show was small (400 exhibitors compared to almost 700 in 2008) and Canon, one of the most important manufacturers, didn't have a booth. Also notably absent from the show were Epson, Adobe, Apple, Pentax and Leica. I haven't seen any attendance numbers but everyone I spoke to seemed to think that there were far fewer attendees than previous years.
The Photo Marketing Association bills the PMA tradeshow as "the world's largest annual photo/imaging trade show." Over the past couple of years the economy has definitely had an impact on the PMA show. It seems like there might be other, more subtle factors affecting the size of the show, though. The timing of digital camera announcements is no longer tightly synched with PMA. Camera makers are introducing a few weeks before at CES (Consumer Electronics Show), in November at the PhotoPlus Expo in New York City or even without a tradeshow. The biggest announcement at PMA this year wasn't even an actual camera – it was a Sony concept camera. I'm not yet sure if PMA is losing importance or the smaller size of the show is just a reflection of the tough economy. Next year it's back in Vegas and if Canon has a booth again, I think it will feel a lot healthier. I hope that's the case because it's really nice to be able to go to one show to see all of the new camera gear and visit with all the manufacturers.
Compact Interchangeable Lens Cameras At PMA 2010
The main news at PMA this year was the lack of news. Yes, there were a few product announcements, but nothing earthshaking. Most of the announcements were for point-and-shoot cameras. All of the new pro DSLRs were announced last fall and the biggest announcement was Sony's compact Alpha concept camera – basically an interchangeable lens camera with an APS-C DSLR sensor. Sony is the fourth camera manufacturer to get on the compact, mirrorless, interchangeable lens camera bandwagon. Panasonic and Olympus were the first with the Micro Four Thirds System. Samsung followed at CES with their NX10, and now we know Sony is working on a "Compact Alpha" camera. Having four major manufacturers building compact interchangeable lens cameras was the most interesting thing about this year's show for me. For more on that subject, read my, Sony Compact Alpha Announcement And EVIL Cameras At PMA article.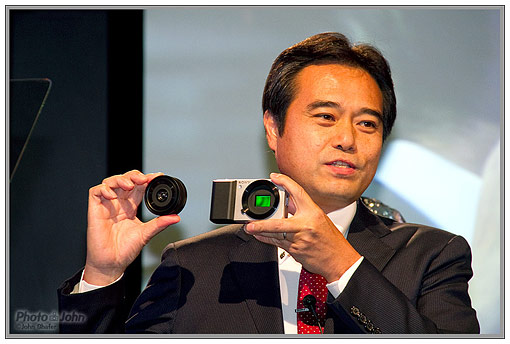 Besides the Micro Four Thirds / "EVIL" cameras, there were a whole bunch of point-and-shoot digital cameras and a few new SLR lenses introduced in Anaheim. There was even some new film from Kodak! A couple of notable point-and-shoot feature trends are HD video and built-in GPS. High-definition video has become almost universal now and lots of new digital cameras have 720p or even 1080p video. Most major camera makers had a high-end point-and-shoot with in-camera GPS. The main purpose isn't to keep you from getting lost. Rather, the GPS information is embedded in the camera's EXIF data so you can search your photos by location. I was skeptical at first but after a couple of demos I think this is a great idea. Sigma showed off a batch of new lenses (Sigma Lens Intro PMA Video), including an image stabilized OS version of their popular 50-500mm superzoom. And Nikon had new wide-angle zoom and prime lenses to show us (New Nikon Lenses PMA Video).
Rugged, Waterproof, Outdoor Cameras At PMA 2010
Last year at PMA, I wrote an article about new waterproof cameras but this year the "rugged" waterproof / shockproof point-and-shoot category really blew up, with new entries from Sony, Fujifilm, Olympus, Panasonic, Samsung and Pentax. I believe the only company that doesn't have one now is Nikon. Read my Waterproof Digital Cameras At PMA 2010 for a complete roundup of what's new in outdoor-friendly point-and-shoots.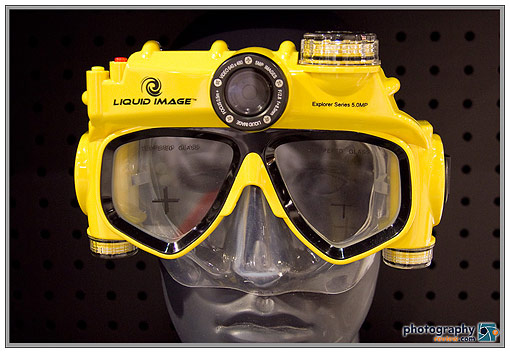 Pocket Superzoom Cameras At PMA 2010
For a few years, Panasonic's Lumix TZ-Series was the only game in town if you wanted a pocket-sized camera with more than a 5x optical zoom range. At PMA this year, everyone had a pocket superzoom camera with a 10x optical zoom. I made it a point to take a close look at them all and a pocket superzoom guide is in the works. For the time being, here are some photos of the most interesting pocket superzooms, including the Casio Exilim HS100, which has a 10x zoom and includes Casio's sweet high-speed capture features.

Film At PMA 2010
I always make it a point to look at what's going on with film at PMA. This year I met with Kodak and stopped by the Freestyle Photo booth to check out their toy cameras and other film and darkroom products. A couple days after the show I followed up with a visit to the Freestyle store in Hollywood (watch for that story). The bottom line is that the film market is shrinking and film is becoming more of a specialty item. Kodak and Fujifilm have to be choosy about what film products they continue to make and they've both had to let some emulsions go. But that doesn't mean film is dying – on the contrary. After talking to Scott and the Freestyle folks, I'm more convinced than ever that analog photography is here to stay. It's just become a niche market now, catering to students, fine art photographers and select professionals who prefer the simpler workflow of film or who have customers how request it.

PMA 2010 – Conclusion
The 2010 PMA tradeshow was smaller than I've seen it in the ten years I've attended and I can't help but wonder if the photography industry might be moving on. I'm glad I was there to see the new cameras and accessories and meet with the manufacturers that attended. But it did feel a bit anticlimactic. Next year the show will be back in Las Vegas and hopefully Canon will have a booth and things will get back to normal. But if Canon doesn't return or other big manufacturers decide not to participate, we could look back and see 2010 as the beginning of the end. I hope that's not the case because I really enjoy PMA and I don't want to have to attend a bunch of shows every year. But I have to acknowledge what I see – and that's a tradeshow that appears to be struggling. Let's hope that doesn't continue. Here's to next year being better for everyone and a strong comeback for the PMA tradeshow.

More PMA Related Content:
2009 PMA Coverage
2008 PMA Coverage
2008 PMA Photo Gallery
All Camera & Photography News
Official PMA Web Site
Thanks to Alan Davis, aka "kafin8ed;" Eric Manacsa, aka "Poker;" and Brian Liles, aka "Kokopelli" for helping out at PMA this year. Alan took pictures and wrote a report, Eric shot video footage, and Brian provided emotional support.