Last week, Samsung announced five new lenses for their NX mirrorless camera system. Like the Panasonic and Olympus Micro Four Thirds cameras and the Sony NEX cameras, the Samsung NX system has interchangeable lenses but eliminates the mirror and optical viewfinder of a traditional SLR and replaces it with an electronic viewfinder or just a rear LCD display. This allows for a smaller, lighter camera and lenses. Samsung officially launched their NX camera in January of 2010 with the 14-megapixel NX10. The five new lenses, which include an 18-200mm zoom, a 16mm f/2.8 pancake lens, and an 85mm f/1.4 portrait lens, make a total of ten lenses for the NX system.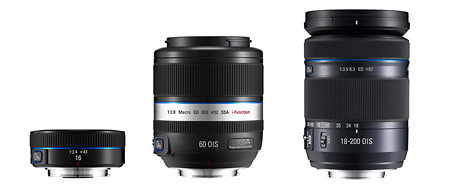 The five new Samsung NX lenses are a 60mm f/2.8 macro, a new 16-80mm f/3.5-4.5 image-stabilized standard zoom, the 85mm f/1.4 prime, super-compact 16mm f/2.8 pancake prime and the image-stabilized 18-200mm f/3.5-6.3 zoom. The 60mm macro and 85mm portrait lens use fast, quiet "SSA" auto focus technology and both offer full-time manual focus touch-up, even when the lens is in auto focus mode. The large f/1.4 aperture on the 85mm makes it great for portraits or other photos where you want a sharp subject and out-of-focus background. The 18-200mm and 16-80mm zooms use Samsung's Voice Coil Motor (VCM) technology for fast, silent auto focus that won't make any intrusive noise when the camera is in movie mode. All five of the new lenses work with Samsung's recently introduced i-Function system, which offers access to key camera controls (shutter speed, aperture, exposure compensation, white balance, ISO) via a button on i-Function-compatible lenses.
Besides the 20-50mm kit lens that will be sold with the NX100, Samsung has six more i-Function NX lenses scheduled for the next year. There are four prime lenses: a 16mm, an 85mm, a 60mm macro and a 20mm f/2.8 pancake lens; and two zooms: an 18-200mm and a 16-80mm. The i-Function concept is certainly a great idea and looks like it could be a big step forward for intuitive camera controls. I wonder if it will be one of those things that all camera systems are using in a couple of years and we all wonder how we ever lived without it.
Samsung has introduced three NX cameras since the system was announced, early last year. The NX10 and NX11 are both SLR-style cameras with electronic viewfinders. The Samsung NX100 is a smaller, interchangeable lens camera with no viewfinder. For more information on mirrorless / EVIL (Electronic Viewfinder Interchangeable Lens) cameras and to discuss the Samsung NX and similar cameras, visit our EVIL & Micro Four Thirds Cameras Forum.

Related Content:
All Samsung Camera User Reviews
Interchangeable Lens / Digital SLR User Reviews
EVIL & Micro Four Thirds Cameras Forum
Samsung Digital Cameras Web Site