The new Sony Alpha NEX-5N is their fourth compact, mirrorless system camera and builds on the NEX platform with new features, improved performance and some interesting new accessories. Sony calls the NEX-5N a, "a giant step forward from its predecessor in terms of still image and HD video quality, Auto Focus and speed-of-capture performance." The key improvements Sony gave the NEX-5N are full HD video, improved auto focus, a 3-inch touchscreen LCD display and better speed and response time.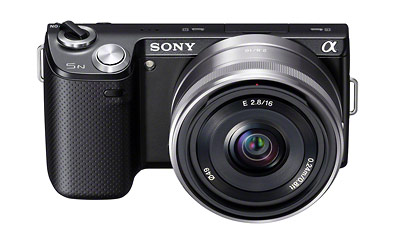 Sony Alpha NEX-5N Key Features and Specs:
16.1-megapixel Exmor APS HD CMOS sensor
Lightweight magnesium alloy body
1920 x 1080 AVCHD Progressive (Ver2.0) full HD with stereo sound, capable of 60 FPS
3-inch Xtra Fine tilting LCD display
Improved auto focus performance
10 FPS burst in Speed-Priority mode
Sensitivity: ISO 100 to 25600
Manual exposure controls (M, A, S, P)
Photo Creativity Touch interface
Picture Effects
I combed through the features and specs of the new Sony Alpha NEX-5N and previous NEX cameras to find out what's new and what isn't. Compared to 2010′s top-of-the-line NEX-5, the NEX-5N is pretty much improved across-the-board. The most obvious updates are the new 16.1-megapixel APS-C CMOS sensor (also used in the NEX-C3, announced in June), full HD AVCHD video and a 3-inch tilting touchscreen LCD display. Although these new features are definitely cool, arguably the most important changes are internal ones – improved speed and auto focus performance. The 5N's shutter-lag has been decreased to 20 milliseconds, " the fastest of any interchangeable lens digital camera." And the auto focus algorithm has been improved resulting in auto focus performance, "significantly faster than the current NEX-5 model." The NEX-5N also has faster sensor "readout," which means it's able to do 60 FPS full HD slow-mo video as well as class-leading 10 FPS still photo bursts in Speed-Priority mode. Sony also claims the movie mode continuous auto focus and subject tracking have been improved. With the exception of Sony's SLT cameras, digital SLR and mirrorless camera continuous auto focus performance has been pretty poor. So it would be a significant achievement if Sony has improved the continuous auto focus enough to make it really useable.
For the experience photographer, the Sony Alpha NEX-5N has a full range of exposure modes, including full manual, aperture priority, shutter priority and program. For beginners, Sony has added a new Photo Creativity Touch interface that makes it easy for beginners to understand and control creative photo elements like background focus and subjects in motion. Photo Creativity was actually introduced with the NEX-C3 but the NEX-5N adds the touchscreen interface. In-camera Picture Effects, also introduced with the NEX-C3, include HDR Painting, Soft Focus, Miniature, Rich-Tone Monochrome and Soft High-key. The NEX-5N also has Sony's Sweep Panorama, Soft Skin, Auto HDR, Handheld Twilight, Anti Motion Blur and 3D Sweep Panorama modes. I've used Sweep Panorama with the Sony Cybershot TX5 point-and-shoot and the Sony Alpha SLT-A55 and it's one of my favourite creative camera features, ever.
Adding to the potential of the NEX platform are two new accessories, the LA-EA2 Mount Adaptor and the Electronic Viewfinder FDA-EV1S XGA OLED Tru-Finder. The LA-EA2 Mount Adaptor adds Sony's Translucent Mirror Technology to your NEX camera to allow, "phase-detection AF with the majority of A-mount lenses for both still image and video shooting." It's definitely a bit goofy-looking and it seems strange to add a mirror to a mirrorless camera. But it will give the NEX cameras a serious performance boost and no doubt there are situations where it would be very appropriate – like shooting video at the X-Games or some other action sports event. The FDA-EV1S is an optional OLED electronic viewfinder (EVF) that makes it easier to compose and review in bright sunlight as well as adding a third point of contact for slow-speed still photography and handheld video. I believe it's also the only OLED electronic viewfinder and if you haven't experienced an OLED (organic light emitting diode) display, you're missing out. They are much sharper, brighter, more contrasty and they make a real difference in how it feels to use a camera.
Based on the success of previous Sony NEX compact system cameras, I have no doubt that the new NEX-5N is a very nice camera. I'm really curious about whether the speed and auto focus performance are really improved, though. Those are what could really set it apart from the other compact system cameras on the market. The previous Sony NEX cameras already had great image quality so there's no question there. If you want to see how it compares, there are already some sample photos and comparisons floating around on the Web [link]. It looks to me like the image quality might be usable up to ISO 6400 (Sony Alpha NEX-5N sample photos). For photographers who already own a Sony NEX camera, it's got to be good to see that Sony is committed to the NEX line and serious about pushing mirrorless technology and staying ahead of the competition.
The Sony Alpha NEX-5N will be available in September 2011. It will come in black or silver and sell for about $700 with the 18-55mm E-mount kit zoom lens and $600 for the body alone. The transparent mirror adapter and EVF will be available in November and sell for $400 and $350, respectively. There are also three new E-mount lenses, the Carl Zeiss Sonnar T* 24mm f/1.8 ZA, 50mm f/1.8 OSS and 55-210mm f/4.5-6.3 OSS. The 55-210mm is a companion to the 18-55mm kit lens and will be available in October for approximately $350. The Carl Zeiss 24mm and the 50mm primes will be available in December for $1000 and $300, respectively.
Sony Alpha NEX-5N Press Release >>
Related Content:
Sony Digital Camera User Reviews
All Digital SLR User Reviews
EVIL & Micro Four Thirds Cameras Forum
Sony Cameras Forum
Sony Alpha NEX Cameras Web Site