Sony has introduced a second power zoom lens to their E-mount NEX lens line. Actually, the 11x E PZ18-200mm F3.5-6.3 OSS power zoom lens was already introduced as the kit lens for Sony's NEX-VG30 camcorder. But it's now available on its own for Sony's NEX still cameras as well as the NEX-mount camcorders. Why the power zoom feature some of you are no doubt asking? It's a video thing – that's why it was initially introduced with the NEX-VG30 camcorder. The power zoom lever, located on the lens barrel, makes it easy to zoom smoothly, something that's pretty much impossible with a manual zoom ring. With compatible Sony camcorders, the power zoom can also be controlled from the camera body.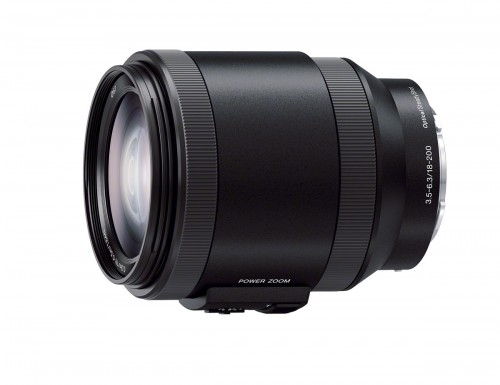 Sony E 18-200mm OSS Power Zoom Lens Key Features & Specs:
Focal length: 18mm to 200mm
Focal length equivalent: 27mm to 300mm
Image stabilization: Optical SteadyShot
Aperture range (max): f/22 to f/40
Aperture range (min): f/3.5 to f/6.3
Minimum focus distance: 1ft / 0.3m (wide); 1ft 8 in. / 0.5m (telephoto)
Aperture construction: 7 blades
Weight: 22.9 oz. (649g)
Dimensions: 3-3/4 x 4 inches (93.2 x 99mm)
I love 18-200mm zoom lenses for APS-C sensor cameras like Sony's NEX mirrorless line. The zoom range covers everything from wide to seriously telephoto and at a reasonable size and weight. It's the perfect all-purpose zoom lens. To help keep the 300mm equivalent telephoto end of the zoom range steady, the new 18-200mm power zoom includes Sony's Optical SteadyShot (OSS) image stabilization.
The new Sony E PZ18-200mm f/3.5-6.3 OSS power zoom lens (model SELP18200) is scheduled to be available in March of 2013 for US $1200.00.
Related Content:
Sony Digital Camera User Reviews
Sony Cameras Forum
Digital Cameras Forum
More Sony News And Articles
Sony Cybershot Digital Camera Web Site