I photograph a few big, multi-day events every year and it's always a challenge dragging around all my photo gear and trying to keep my camera comfortably accessible. Anyone who's ever spent the day with a camera bag and a camera around their neck will know what I'm talking about. Needless to say, I'm always looking for better camera carrying solutions for event photography. So I was psyched to check out the Spider Camera Holster at the recent Outdoor Photo Expo in Salt Lake City. The Spider Holster keeps your camera comfortably and securely mounted on a belt, where it's accessible when you need it. You can even carry two cameras on the belt if you want!

There are a lot of creative options available to event photographers now – camera straps with swivels, vests, belt systems, and small, quick-access lens bags. What I like about the Spider Holster is it eliminates the pendulum action of the camera on a strap and comfortably carries the weight on your hip where it will do the least damage to your arms, shoulders, neck and back. If you carry two cameras with different lenses, the Spider Holster also eliminates camera strap tangle problems. The bottom line is the Spider Holster is safer for your body and camera gear and should keep your working longer with less fatigue.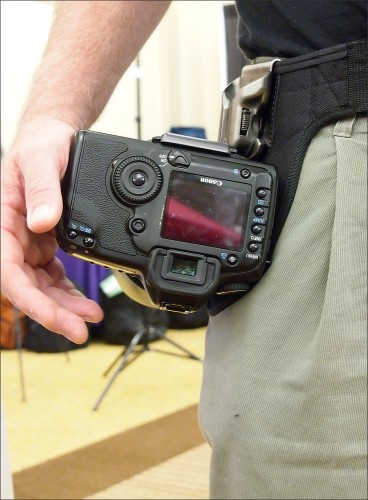 I haven't actually used the Spider Holster to shoot an event (yet). But I did strap one on when I was visiting the Spider Holster booth at the Outdoor Photo Expo. I tried out the hefty, machined metal SpiderPro with a Canon EOS 5D Mark II and 24-70mm f/2.8L pro zoom lens – a hefty chunk of camera and one a wedding or event photographer would be likely to use. After a couple of tries I had the motion for removing the camera from the belt down and could get it up to my eye in a flash. I'm sure after an hour, removing the camera from the holster would become intuitive and automatic and you'd never think about it again. The camera felt secure and comfortable resting on my hip. I was able to shake it loose but I had to dance around like an idiot and it never actually fell out of the mount. If you do need to dance around like an idiot or run away from an angry bear, mob or bride, the Spider Holster has a lock that ensures you won't lose your camera.
Spider Camera Holster Intro Video:
The machine work and design on the all-metal SpiderPro is beautiful and everything is burly and well made. I can't imagine it ever breaking. The basic, single-camera SpiderPro holster sells direct for $135 and a two-camera package sells for $235. For amateur photographers with entry-level digital SLRs, there's also a lighter, more affordable BlackWidow camera holster. It sells for $49 and you can mount it on your own belt – or add a Black Widow belt for $15.
If you've got one of the Spider camera holsters, please tell us how you like it in the comments section, below!