It's summer vacation time again. For many people, that means it's also time for a new digital camera. This guide will help you decide on the best digital camera for your summer travels. There are a few different vacation camera strategies. You might want one that's small and easy to keep handy. Or you might want a full-featured digital camera that can do it all. You might even be thinking your camera phone will be the best tool for summer photos. No matter what your budget, experience, or inclination, we can help you choose the best digital camera. Read on to learn about different digital camera types, useful camera features, and digital camera accessories that will help you capture and save your summer vacation memories.
Camera Types
There are lots of ways to classify digital cameras. For summer vacation, I think the best way to break them down is pocket-sized, weatherproof (and waterproof), full-featured/super-zooms, and digital SLRs. To be honest, this isn't really any different from normal digital camera breakdowns. But we're going to take a look at these digital camera categories from a summer vacation perspective.
Pocket-Sized Digital Cameras are small enough to fit in your pocket. They're compact, inconspicuous, and you can keep them with you all the time. A camera that's with you all the time will get more pictures than a big one you'll be tempted to leave at home or in the car. There are lots of pocket cameras available, with all kinds of features. You can get a pocket camera with any resolution and almost any features you want. A couple of features you won't get are a long zoom lens or a tilt/swivel LCD. But the lenses are getting better and there are current pocket-sized cameras with 5x and 7x zoom lenses. That's a lot of lens for a digital camera that fits in your pocket.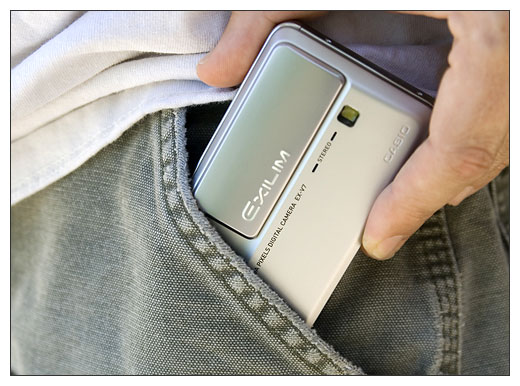 Super-Zoom Digital Cameras have 10x or longer zoom lenses, usually have image stabilization to keep photos sharp, and include a full range of exposure modes. Super-zooms are sometimes called "bridge" cameras because they bridge the gap between normal compact digital cameras and digital SLRs with changeable lenses. Because of their long lenses, super-zoom digital cameras are usually more bulky than most digital cameras. But the long lenses and full feature-sets make them very powerful. A 10x zoom lens that's equivalent to a 350mm lens on a 35mm camera can pull in distant subjects for landscape photos and make angles and framing possible that you could never get with a more conservative camera. Unless you have thousands of dollars for lenses, a super-zoom compact digital camera even offers more reach than a digital SLR. If you're a more creative photographer and want maximum control and flexibility, then a super-zoom digital camera might be right for you. I think super-zooms are the ideal vacation travel cameras for most people.
8 to 10-Megapixel Super-Zoom Digital Camera Reviews >>
6 to 7-Megapixel Super-Zoom Digital Camera Reviews >>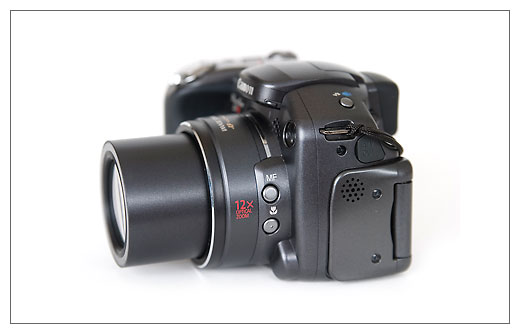 Waterproof and Weatherproof Digital Cameras are more specialized, but they are definitely the best choice for some people's summer vacations. If you plan to spend time in or near water, or you'll be exposed to the elements while hiking or biking, then a waterproof or weatherproof model may be the best digital camera for you. A camera that can take a dousing means you'll worry less and take pictures when you might be inclined to leave another camera in the car, motel, or camera case. Underwater housings are also available for lots of digital cameras now. I'll talk a little more about those later. But they are another option for people who are going to spend a lot of time around water.
Waterproof and Weatherproof Digital Camera Reviews:
Olympus Stylus Digital Cameras >>
Pentax Optio W30 >>
Pentax Optio W20 >>
Pentax K10D Digital SLR >>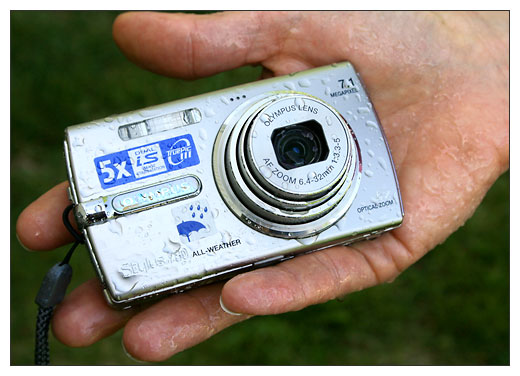 Digital SLR Cameras are the top-of-the-heap with digital cameras. They have superior image quality, speed, maximum flexibility, changeable lenses, and you can use external flashes and all kinds of other accessories. Even the smallest digital SLR is heavy and bulky compared to most compact digital cameras. And big cameras can be very tempting to leave in the bag, in the car, or even at home in the closet. A camera that isn't with you means missed photo opportunities. But if you want the best image quality, a digital SLR is absolutely the way to go. Because of the superior sensor technology used in digital SLRs, no compact digital camera compares in the image quality department.
Digital SLR Reviews >>
Discuss Digital SLRs >>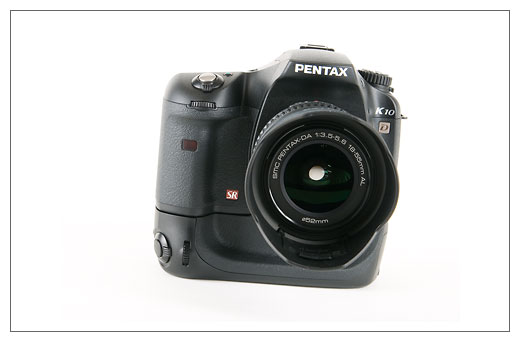 Digital Camera Features
As well the type of camera you choose, you should also consider what features will be best for your summer vacation camera. Having the right features will ensure that you bring home the best possible photos of the places, people, and events you experience in your vacation travels. I think image stabilization, low-light sensitivity, and a variety of scene modes will be the most useful for most people.
Resolution is not as important as the camera companies would have us believe. We've been taught that the number of pixels is the most important measure of a digital camera's quality. The truth is, although image quality may vary because of resolution, most digital cameras with at least 6-megapixel sensors have very good image quality. Resolution is still an important consideration – especially since digital cameras are often categorized by the number of pixels they can capture. I recommend cameras in the 7 to 8-megapixel range. More is nice, but not really necessary for most people and purposes. I think the next features I'm going to describe offer more real benefits to the average digital photographer.
Image Stabilization is one of the most valuable features you can have in a digital camera. It helps eliminate blur caused by shaky hands and keeps your photos sharp when you're taking pictures in low light or zooming in from a long distance. For more on how image stabilization works and how it can improve your photos, read the Image Stabilization Guide in our Learn section.
Low-Light Sensitivity is called high ISO performance on digital cameras. Look for the ISO sensitivity specifications of cameras you're interested in. Generally, the higher the number, the better the pictures will be in low light. This particular camera feature was improved by leaps and bounds in 2007. So a camera introduced after March of 2007 will likely have much better high ISO image quality than one from last yeat – even if the ISO numbers are the same (e.g. ISO 800 or ISO 1600).
Scene Modes are auto exposure modes designed for specific types of subjects or photographic situations. Ninety-nine percent of the available compact digital cameras have scene modes and the entry-level digital SLRs offer them as well. Some typical scene modes are Sports, Portrait, Landscape, and Party. Some cameras even have dedicated underwater scene modes. If you've got experience with manual exposure modes, then you probably don't need the scene modes. However, they are a quick and simple way to access settings that help make great photos in different circumstances. And for people who don't have any experience with manual controls, they offer some creative options and access controls and settings that help ensure they get the shot. A good example is low-light and night photography. If you don't understand ISO, aperture, or shutter speed, there's almost always a Night scene mode that does understand those things and will automatically choose the best settings for your subject. Same goes for action photos. The Sports mode will choose camera settings that help freeze your subject in action, even if you don't know how to. Scene modes will make sure you get more photos in a variety of circumstances, on your vacation.
Digital Camera Accessories
Just buying a new digital camera for your vacation isn't enough – especially if you plan to take it on a trip for a few days or weeks. You need to consider how you're going to protect your camera, how often you're going to be able to recharge the batteries (if your camera has rechargeables), and what you're going to do with all the digital picture files you take.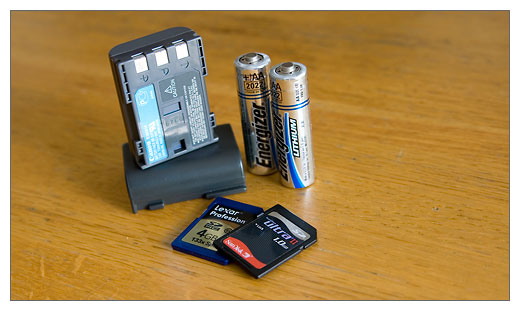 Camera Cases are very important. A good camera case protects your camera, helps organize your memory cards and batteries, and keeps your camera available when you need it. If you're traveling, it's good to get something inconspicuous that doesn't shout "Camera!" at potential thieves you pass on the street.
Batteries are easy to take for granted. Most digital cameras now use proprietary, rechargeable batteries and have very good battery life. But if your batteries die when you're on a tour bus in the middle of nowhere, what are you going to do? The best thing is to have at least one extra battery and make sure to charge them both up every night. You might also consider digital cameras that use AA batteries, since AA batteries are readily available all over the world. But for most people and purposes, two rechargeable batteries and recharging every night will be adequate.
If you'll be camping, without access to power, plan accordingly. I would recommend testing the battery life of your camera, multiplying it out by the number of days you'll be away from civilization, and buying enough batteries to cover that time – plus one. Better to have too many than not enough.
Extra Memory is an important consideration. You never want to discover that your memory card is full, right when you're about take the most important photo of your vacation. It's better to always have more memory than you really need. Memory cards are so cheap now, there's no reason not to have at least a couple of gigs. If you travel with a laptop, you can transfer your files every night. That's what I do. But if you don't want to carry a laptop, buy some extra memory cards so that you don't run out while you're traveling. Do some calculations to figure out how many photos you take per day, how much memory they'll require, and multiply by the number of days you'll be traveling. Buy enough memory to cover the result – and then buy some more. Better to have too much than not enough.
Underwater Housings are available for many compact digital cameras, and if you're willing to pay, for digital SLRs, too. If you plan to spend time at the beach or around water this summer, you may want to invest in one. You can buy a waterproof digital camera. But an underwater housing will give you more camera choices. Sine the major camera manufacturers all make underwater housings, you can choose your camera first and a housing second. A digital camera with an underwater housing will cost more and be much bulkier than a dedicated point-and-shoot underwater digital camera. But if features and image quality are your top priority, than a better camera with an underwater housing might be the right decision.
Using a Camera Phone On Your Vacation
No doubt, some of you are thinking a camera phone will be adequate for taking all your summer vacation and travel photos. Camera phones have improved a lot in the last couple of years. They have better resolution, better lenses, and some even have some real camera controls. However, even the best camera phone doesn't offer the control or image quality of a simple 3-megapixel digital camera. No matter what the resolution, the lenses and sensors on camera phones can't match the quality of a decent digital camera from 4-5 years ago. That said, they are very convenient and they will record a scene or event for you. What they won't do is capture quality that prints well. Even prints from the best 5-megapixel camera phone are very poor compared to a current $150 digital camera. So keep that in mind if you're thinking about using a camera phone to take pictures this summer. The convenience factor is definitely an important consideration. But if you appreciate having nice photos to remember your trips and summer events, then I would suggest an actual, dedicated digital camera. This decision is comparable to what I said about batteries and memory. Sure, a camera phone might get the job done. But what if it doesn't? Better to play it safe and buy a camera that can do more than just deliver the minimum.
Conclusion
Hopefully this summer digital camera guide helped you understand what the different camera types, features, and accessories can do for you. Below you'll find links to digital camera guides, reviews, and tips to help you take better pictures with your new camera. And don't forget to share your travel and vacation photos with us on the PhotographyREVIEW.com gallery!
Read Digital Camera Reviews
Digital Camera Buyer's Guide
Digital SLR Guide
Digital Camera Memory Guide
Image Stabilization Guide
Point-and-Shoot Digital Camera Tips
Discuss Digital Cameras