Tamron has announced a new 10-24mm f/3.5-4.5 wide-angle zoom lens for APS-C sensor digital SLR cameras. The Tamron SP AF10-24mm Di II lens has a 2.4x zoom range – the largest in the super-wide zoom range class. It will initially be available for Nikon and Canon digital SLRs with APS-C sensors like the Canon EOS XSi / 450D, recently announced Canon EOS 50D, Nikon D60, and upcoming Nikon D90. Pentax and Sony mount versions will be available at a later date.

Besides the expanded zoom range, the Tamron SP AF10-24mm Di II lens has an "optical design optimized for digital camera characteristics," including multiple aspherical lens elements to reduce chromatic aberration and distortion; and new internal coatings to eliminate ghosting and flare. It's also been designed to minimize light falloff around the edges, a problem common with super wide-angle lenses.
Real wide-angle photography used to be difficult for many digital SLR owners because most DSLRs have APS-C sized sensors, which are smaller than a 35mm film frame. But in the past few years camera makers and third-party lens manufacturers like Tamron have stepped up with ultra wide-angle lenses like the new Tamron SP AF10-24mm Di II and digital SLR owners now have plenty of true wide-angle lens options.
Tamron SP AF10-24mm F/3.5-4.5 Di II LD Aspherical (IF) Lens Press Release
Related Content:
Tamron Lens User Reviews
All Zoom Lens User Reviews
Tamron AF28-300mm F/3.5-6.3 XR Di VC Lens Pro Review
Digitial SLR Forum
All Tamron Lens News
Tamron Web Site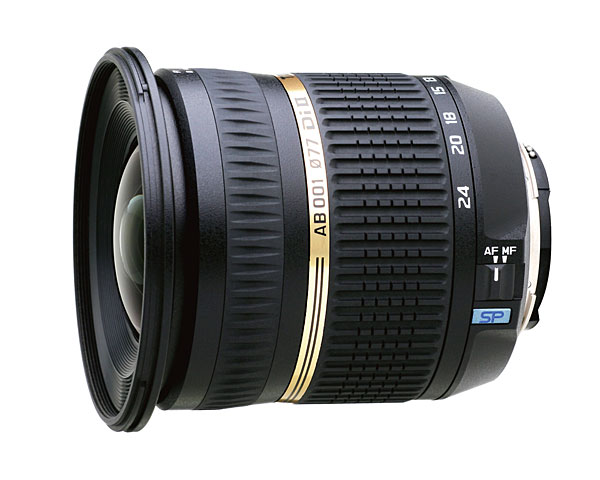 page 2 – Tamron SP AF10-24mm F/3.5-4.5 Di II LD Aspherical (IF) Lens Press Release >>
page 3 – Tamron SP AF10-24mm F/3.5-4.5 Di II LD Aspherical (IF) Lens Specs >>