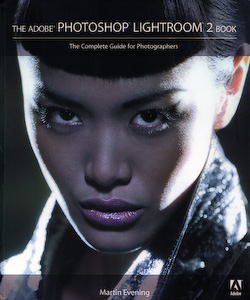 The Adobe Photoshop Lightroom 2 Book: The Complete Guide for Photographers. by Martin Evening. ADOBE PRESS published by Peachpit Press August, 2008. ISBN 0-321-55561-9.
Martin Evening guides fellow photographers through Lightroom 2 in this book. The how and why are presented like a session in Lightroom. The philosophy of flexibility is continued from Evening's Lightroom 1 guide, with more solid examples, details, pointers, tips and great photography.
Adobe Photoshop Lightroom 2 is more new than just an upgrade. The 600 pages of this encyclopedic book details every topic from the new Metadata implementation to integration with Photoshop CS3/CS4.  Setup and configuration details throughout the book are invaluable. Included is access to online version via Safari Books.
WHY YOU NEED THE BOOK
Lightroom 2 as workflow environment has tools and features that need more explanation than at first is apparent to fully exploit. Some highlights of resources in The Complete Guide :
- A 18 page Quick Start guide.
- Information on Module Differences.
- Auto Toning and Preview advances are discussed as to when they are best applied.
- Setup and configuration details for both hardware and software.
- New Metadata Implementation capability.
- Advanced Editing Tools that have many new and not always apparent functionality.
- Shortcuts and Capabilities
- The Photoshop Connection
- Preferences and Settings Appendices
WHY YOU WANT THE BOOK
Workflow needs to be individualized to be efficient. Lightroom excels at this for the digital photographer. Starting with how to begin working and getting photographs in the work area, discussions of organization needs, and then to working with single or multiple images, the book offers an approach to using Lightroom. Variations of how tasks may be accomplished with various features and techniques are discussed.
From shooting tethered in the studio to importing from different sources, Tips and Techniques are included in sidebars and special notes. I find my copy to have several bookmarks at all times. Months after first using the book I still refer to it regularly for some new idea or technique.
The photographer working in Black and White may find the book worthwhile alone for  Chapter 7, The Art of Black and White. Evening comments on his early days as a photographer starting in this medium and the evolution in the digital age of processing of the modern digital B/W image with Lightroom.
PHOTOGRAPH MANAGEMENT
The Guide will stimulate the Lightroom user to rethink how they  process the volumes of information that modern photography produces in shoots that each regularly generate hundreds and even thousands of photographs.
Chapter 5 on Catalogs I wish had been available a year earlier. Decisions on structured organization that is specific to photographic work is vital to getting the most from Lightroom. Helping you decide to use one catalog or many is but one decision that a user can be aided in making with this book.
Another Adobe Lightroom Resource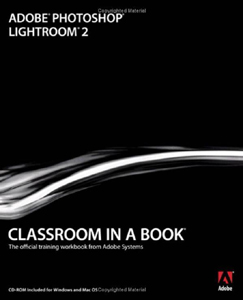 Adobe Photoshop Lightroom 2 Classroom in a Book: The Official Training Workbook from Adobe Systems by Adobe Creative Team. ADOBE PRESS, September, 2008. ISBN-13: 9780321555601
Official Adobe Training product to get the Lightroom user up and running quickly. Book and CD-ROM provide complete training on all or selected portions of Lightroom.
One of many highly regarded Classroom in a Book from Adobe, this is labeled as the one book to buy if you choose only one. Containing mini-tutorials, tips and techniques, and a very good quick guide to Lightroom, these 368 pages will efficiently get Lightroom working for you.
Combined with Evening's book, the amount of information you didn't even know you needed will become available and will make the Lightroom a welcome destination.