During my weekend Web browsing, I stumbled across a must-have mobile app for serious outdoor and landscape photographers. I think this is one of the most exciting and useful photography-related apps I've seen in quite a while. It's called The Photographer's Ephemeris (TPE for short) and it gives you all kinds of data about the position of the sun and moon. Here's their own description, pulled from their Web site: "The Photographer's Ephemeris helps you plan your outdoor shoot, with full details of how the sun and moon move across the land." The key words there are, "move across." I've already got two iPhone apps I use for sunrise and sunset information (LightTracker and PhotoCalc) when I'm planning photos. What makes TPE different is that it works with Google Maps to display sun and moon position in relation to the location you're planning to shoot, giving you a much clearer picture of how the light and local geography will affect your planned photo.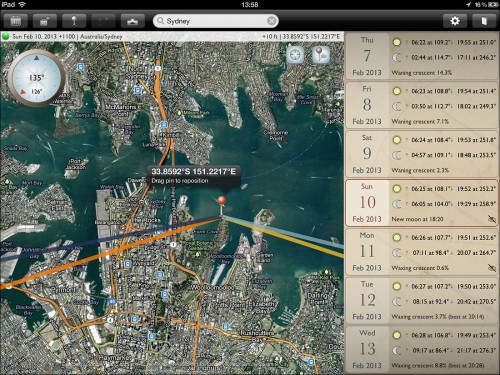 Knowing when the sun rises and sets is useful information for an outdoor photographer. But experienced landscape and outdoor photographers know that's just the beginning. What we really need is to be able to accurately predict where the sun and moon will be in relation to our subject. That way we can truly envision, plan and make a great photo. That's where The Photographer's Ephemeris app comes in. Rather than trying making an educated guess about what the light will be like on a landscape subject, you can use TPE to figure out exactly when the most optimal lighting conditions will occur for your subject. I included a screenshot from the iPad app above and there are some more at the end of this article. However, the app is pretty sophisticated and I recommend watching the tutorial videos on the TPE site to really get a clear idea of how it works and what it can do. There are a couple of impressive examples in the video tutorials that really helped me understand how powerful the software is. In one, they determine the date and time when the sun will rise behind a castle for a dramatic sunrise silhouette. In another they use TPE to figure out what day of the year is best for getting a sunrise shot of a specific peak in Rocky Mountain National Park.
The Photographer's Ephemeris iPad Demo Video:
All Photographer's Ephemeris Tutorial Videos >>
I shoot landscape, mountain biking and skiing in the Wasatch Mountains here in Salt Lake City and I always check the sunrise and sunset times. But I've learned that's really not enough. The truth is, most of the time I'm just winging it and hoping the light will deliver the goods. Installing The Photographer's Ephemeris app on my iPhone, iPad or computer puts me in the driver's seat and let me explore the mountains and lighting conditions before I head out with my camera. Once I choose a subject and location I can use TPE to determine when the sun position will be perfect. TPE is especially valuable for photographers who are planning to travel for photo vacations or paid shoots. The TPE app will help you plan your trip based on when the best light is actually happening, rather than just guessing when it will be good. That means you can book your trip with confidence, knowing the sun is going to deliver the lighting you need to get the job done.
Ultimately, The Photographer's Ephemeris means better photos. It's sort of like the difference between knowing exactly how exposure works and using your camera's auto modes. With auto modes you'll get pretty good photos most of the time. But you'll never really be in control and sometimes the camera just won't do what you hoped and expected. With TPE you won't be guessing and hoping – you can determine when the light will be perfect for your subject (weather excepted, of course) and plan accordingly.
The Photographer's Ephemeris app is available for Android and iOS mobile devices and there's also a free desktop application available for both Windows and Mac. For more information or to purchase the app, please visit the Photographer's Ephemeris Web site:
The Photographer's Ephemeris Web Site >>

Related Content:
Photography Software Forum
All Photography Software News & Articles
The Photographer's Ephemeris Web Site