Think Tank Photo has a new camera bag designed especially for Micro Four Thirds and rangefinder camera systems. The Think Tank Retrospective 5 shoulder bag can carry a complete Micro Four Thirds or rangefinder camera system or a digital SLR with a couple of extra lenses. The throwback canvas styling of Think Tank's Retrospective camera bag line is, "an homage to classic photographers such as Henri Cartier-Bresson and Robert Frank." It also doesn't shout "Camera Bag!" so it's a good option for photographers who want to keep a low profile.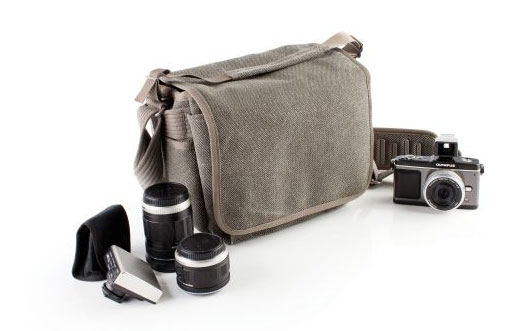 The Think Tank Retrospective 5 camera bag will be available in May in two colors – black and "Pinestone," a sort of weathered-granite gray color. The suggested retail price for the Retrospective 5 is US $129.
Don't know what Micro Four Thirds means? Read my Olympus E-PL1 Pen Micro Four Thirds camera Pro Review and take a look at our EVIL and Micro Four Thirds Cameras Forum!
To learn more about the new Think Tank Retrospective 5, read the official press release, here:
Think Tank Retrospective 5 Press Release >>
Related Content:
All Think Tank Photo User Reviews
All Camera Bag User Reviews
All Camera Case News & Articles
Think Tank Photo Web Site